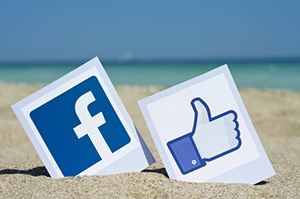 The Facebook stock price has skyrocketed 19.45% so far in 2017 and 30% in the last 12 months. And we expect even more gains are on the way. But many investors overlooked Facebook Inc. (Nasdaq: FB) as a long-term growth investment on March 2 and invested in Snap Inc. (NYSE: SNAP) instead.
That was a mistake, but it's easy to understand why it happened.
Some investors are hoping Snap will be the next Facebook. At a $24 per share opening price, it's tantalizing to think of the 470% profit that could be made if Snap shares trade for $137 like FB shares.
But instead of gambling on Snapchat and making an investment decision based on hope, betting on Facebook CEO Mark Zuckerberg is a better strategy. In fact, our newest Facebook stock price prediction shows FB soaring from its current levels.
Here's why...
Why the Facebook Stock Price Will Skyrocket
Facebook is a better long-term bet than Snapchat because Zuckerberg knows how to maximize and increase profits through diverse products and services.
One new innovation from Zuckerberg is allowing companies to post job openings on their Facebook pages in the next few weeks. While companies have been able to indirectly do this over the years, Facebook is now going to improve the process and make money from it.
Want to Make Money? Here's how to make over $100,000 starting with a small amount of money... rolling stocks over and over again. Click here for this proven investing method...
According to Engadget, the application process can be streamlined with forms that are automatically filled out with details from a user's profile.
Companies can then pay to promote their listings to reach more candidates or specific demographics.
Zuckerberg has also shown his forward-thinking skills on increasing shareholder value through Instagram...
Zuckerberg Turns Instagram into a $5.8 Billion Behemoth
Wall Street pundits couldn't understand why Zuckerberg paid $1 billion for the picture app in 2012.
But now they know...
In 2013, 350 million pictures were shared on Facebook per day, according to Business Insider. And the growing popularity of picture sharing has made Instagram a key component of Facebook's revenue growth.
Statista estimated Instagram accounted for 10.7% of Facebook's overall U.S. mobile ad revenue in 2015. In 2017, Statista estimates Instagram will account for 27% of Facebook's overall U.S. mobile ad revenue.
In three years, analysts estimate Instagram will generate $5.8 billion by 2020.
Outside of Instagram and Facebook's push into the job market, it's also expected to generate billions from messaging services WhatsApp and Messenger. Analysts from Deutsche Bank AG (USA) (NYSE: DB) believe WhatsApp and Messenger will generate as much as $10 billion annually in revenue by 2020
And because of these reasons, Money Morning Director of Tech & Venture Capital Research Michael A. Robinson has a bullish price prediction you can't afford to miss...
The Facebook Stock Price Today Could Nearly Double Your Money