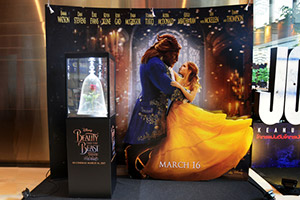 The top stocks to watch today (Wednesday) are Walt Disney Co. (NYSE: DIS), GlaxoSmithKline Plc. (NYSE ADR: GSK), and Express Inc. (NYSE: EXPR).
This morning, we received an unofficial update on the overall health of the global economy. The International Air Transport Association reported a 9.6% increase in revenue passenger kilometers over last year. The increase marks the fastest growth since April 2011 and indicates the global economy is improving.
In other global economic news, China posted a trade deficit of $8.75 billion despite Trump's accusations that the Chinese were taking advantage of Americans in trade. This is the first trade deficit the country has reported in three years. Imports grew almost 45%, while exports only grew 4%.
Now that we know what's moving markets, here are three top stocks to watch today...
Top Stocks to Watch Today: Walt Disney Co. (NYSE: DIS)
Disney stock dropped 0.7% in early morning trading today as investors wait for the annual meeting that starts at noon today.
URGENT: An incredibly rare gold anomaly is shaping up in the markets as we speak -- one that has occurred ONLY twice in the past 20 years. And it's about to happen again. Details here...
Last quarter, the company reported a larger than expected decline in revenue. One of the reasons for the decline is the troubled ESPN network. Subscribers have been abandoning ship as consumers drop cable. In 2011, ESPN had over 100 million subscribers. By 2016, it had less than 88 million subscribers.
Another point of interest for investors is CEO Bob Iger's contract extension. Iger announced in February he would be willing to stay on board past his contract's end in June 2018, when he was set to retire. No replacement for Iger has been found yet.
DIS stock is trading at $110.86 for a gain of 6.37% so far this year.
Top Stocks to Watch Today: GlaxoSmithKline Plc. (NYSE ADR: GSK)
Glaxo stock is down 1.4% in early morning trading.
The company's stock has been in decline since Monday, when House Republicans announced their plan to replace Obamacare.
Yesterday, the healthcare company fell almost 1%. That drop was a little more severe than the healthcare sector as a whole, which dropped 0.81%.
GSK stock is trading at $41.44 a share for a gain of 7.61% year to date.
Top Stocks to Watch Today: Express Inc. (NYSE: EXPR)
The biggest loser on the stocks to watch list today is Express stock. The company's stock is down 12% in early morning trading after posting a disappointing earnings report.
Express announced earnings per share (EPS) of $0.29, which is down from $0.67 EPS for the same quarter the year before.
Sales for same stores dropped 13% over the last year, fueling a revenue decline. Last year the company reported revenue of $765.6 million, while this year it was only $678.8 million.
EXPR stock currently trades at $10.67 for a loss of 0.87% for 2017 so far.
Unusual Theory Made an Ordinary Investor into the World's Greatest Stock Picker: A little-known business analyst from Pittsburgh has recorded 217 double- and triple-peak-gain winners since 2011. A record that's 100% genuine and documented... and flat out the best stock record we've ever seen.  What's even more amazing is how he does it. Today, he reveals his secret. Learn more.
Follow Money Morning on Facebook and Twitter.