The 124-year-old retailer is facing its biggest – and arguably its most drawn-out – crisis ever.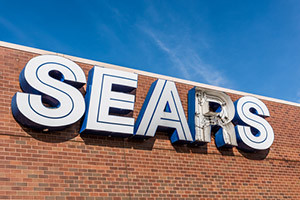 You see, over the past five years Sears Holdings Corp. (NYSE: SHLD) has been bleeding money and selling off precious assets in order to stay afloat. Just on Jan. 4, Sears entered into a $500 million committed secured loan facility secured by mortgages on 46 Sears properties.
The beleaguered company even tried to stay afloat by selling its signature Craftsman brand that month, in addition to shuttering over 150 stores and laying off thousands of employees.
Indeed, Sears is a victim of the most volatile time in consumer spending history.
We're calling it the "Retail Ice Age."
Here's how America's most beloved department store failed and who we expect to follow suit…
The Slow Death of Sears
So what went horribly, horribly wrong?
Former and current Sears staff members who spoke to Business Insider early this year put the blame squarely on Sears' CEO for destroying the iconic American brand.
Eddie Lampert took over as CEO in 2013. At the time, he was a Wall Street prodigy promising a turnaround. But it didn't take long for Lampert's unconventional management style to strike a nerve with employees…
Lampert rarely made an appearance at Sears' headquarters, BI reported. In fact, the chairman prefers to stay off the coast of Miami behind a desk dressed up with the Sears logo.
"The only way you see Eddie is through a screen," one former executive told BI. "We used to joke about who had to go upstairs to get fixed and see Oz."
And allegedly, on the rare occasion that Lampert did personally attend a meeting, the outcome was usually bleak.
Lampert has been known to get so angry in these meetings, particularly when challenged, that employees gossip about who is getting ushered into the conference room on any given day to "get their knees cut off," one former manager told BI.
Lampert's behavior may be the cause behind numerous employees giving up on the retailer…
You see, there have been an unusual number of high-level departures from Sears in the past several years. At least 67 executives – vice-president level or higher – have left the company just within the past two years, according to LinkedIn data gathered by BI.
"There are so many people running for the door not just because the ship is sinking, but because the captain of the ship is screaming at them, blaming it on them, and telling them it's their fault," one former vice president said to BI.
This Stock Is About to Skyrocket: This tiny $5 company just passed each of the seven benchmarks in this secret stock-picking method. Learn how to get in before its revenue surges an estimated 4,709%. Read more…
"No one believes in Eddie's vision," a former employee told BI on Jan. 7. "He has just gone rogue."
"He would find a hole in the data and then explode," another executive told Business Insider.  "Then there would be a 45-minute rant."
"Lampert's physical absence might be better received if Sears, which also owns Kmart, was in better shape," Business Insider reported on Jan. 8.
Human capital isn't the only thing the 131-year-old company hasn't been able to hold onto…
Sears Has Been Hemorrhaging Money for Years
When formerly bankrupt Kmart bought Sears in November 2004, the company was valued at $11 billion and had 3,500 stores. Today it's valued at $1.6 billion (a decline of over 85%) and, according to Reuters, has just under 1,700 stores (a decline of 51%) as of March 16.
Sales are down 37% since early 2013, Sears' debt load has spiked to over $1.6 billion, and the company is losing well over $1 billion annually, according to data from Business Insider on Jan. 8.
We warned you about the imminent death of Sears last year…
"Many [Sears] stores are in terrible shape, falling apart, and sporting bare shelves," Money Morning Global Credit Strategist Michael E. Lewitt told Money Morning members in November 2016.
"People only shop at Sears if they have to, not because they want to. Have you heard anybody talk about wanting to shop at Sears? That's like saying they want to go to the dentist, or they want to have a colonoscopy. Sears is a shopper's last choice. And that's why it's heading for the bone yard," warned Lewitt.
SHLD has fallen over 20% since Lewitt's warning.
And the centenarian isn't alone — other well-established brick-and-mortar retailers are struggling to stay afloat because of e-commerce giants like Amazon.com Inc. (Nasdaq: AMZN), which was estimated by Slice Intelligence on Dec. 19 to account for over 55% of e-commerce growth.
This next company tops our "retail death watch" list…