Despite a 6% retreat this month, our 2017 platinum price forecast remains extremely bullish. In fact, Money Morning Resource Specialist Peter Krauth expects the price of platinum to soar 34.2% to $1,300 by the end of the year.
You see, platinum's recent decline has only been caused by short-term factors. The biggest drag on the platinum price this month has been the expectation of a rate hike, which eventually came on March 15. Dollar-denominated metals typically see a quick downward reaction to higher interest rates because they become more expensive to other currency holders.
But platinum prices are already recovering from the news, up a solid 3.4% to $968.80 over the last week. And we just came across another platinum catalyst that reinforces our strong platinum price prediction.
First, here are two reasons why Krauth - a 20-year veteran of the gold, silver, and platinum markets - is bullish on platinum prices in 2017...
2 Reasons Why the Platinum Price Could Surge 34.2% to $1,300 in 2017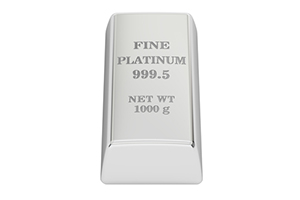 Reason No. 1: It's One of the World's Rarest Metals
The most important thing to know about platinum is that it's extremely rare to find - much rarer than gold and silver.
While platinum trades via futures contracts similar to gold and silver, far less platinum is actually extracted from the Earth each year. That's because it's overwhelmingly difficult to mine, which leads to sky-high operating costs and thinner profit margins.
According to Statista, the five largest platinum-mining countries are South Africa, Russia, Zimbabwe, Canada, and the United States, respectively. These nations produced 168.9 metric tons of platinum last year, making up 98% of total global output. Total gold output, on the other hand, came out to 3,100 metric tons. That's 17 times more output than platinum.
Platinum's natural rarity will remain a fundamental boost for platinum prices over the long term.
Reason No. 2: Platinum Is Crucial to the Growing Auto Industry
Platinum plays a huge role in the auto industry due to its use in catalytic converters.
A catalytic converter is a pollution-control device used in cars that makes emissions less toxic for the environment. Since 1975, the EPA has required auto manufacturers to install catalytic converters in everything from cars to motorcycles.
Platinum is a primary component of catalytic converters. About 43% of all consumed platinum is used in the converters, making it the biggest source of industrial platinum demand. It even beats out the 35% used in the jewelry market.
And platinum's use in catalytic converters will grow as auto sales in Western Europe increase...
IHS Markit says total auto sales in Western Europe - which includes France and the UK - will rise by 1% in 2017. That would be an increase from roughly 14 million auto sales in 2016.
Remember, this is a conservative estimate. Analysts are waiting to see how the Brexit and elections in France and Germany will influence consumer spending this year.
If sales beat those expectations, the metal could also beat our 2017 platinum price forecast of $1,300. That's a 34.2% return for investors who buy in at today's $968.80 price.
What's more, we've just come across new data showing how traders and investors are becoming more confident in platinum's long-term profit potential.
Here's why this bullish platinum catalyst could help lift prices this year…
This Catalyst Reinforces Our Bullish 2017 Platinum Price Forecast
[mmpazkzone name="end-story-hostage" network="9794" site="307044" id="138536" type="4"]
The big news fueling our platinum price outlook is the recent surge in platinum ETF inflows.
Despite the 6% dip in platinum prices this month, Bloomberg reported the number of platinum ETF holdings last week increased for the sixth week in a row. That marks the longest streak since November.
The number of long futures contracts on platinum has soared from roughly 5,000 in late September 2016 to 40,000 this month. That's a stunning sevenfold increase in the number of people who think long-term platinum prices will rally from recent lows.
Analysts cite simple supply-and-demand dynamics as reasons behind the surge in bullish sentiment. According to data compiled by Bloomberg, U.S. platinum inventories tracked by the New York Mercantile Exchange dropped last week for the fourth consecutive week.
And a forecast by the World Platinum Investment Council said consumption will surpass supply by about 120,000 ounces this year. This would make 2017 the fifth straight year of a platinum deficit.
The Bottom Line: Platinum prices have tumbled 8% this month due to speculation surrounding the Fed's interest rate hike. However, this was clearly a short-term factor as prices have rebounded 3.4% since the March 15 decision. Krauth expects the platinum price to gain 34.2% to $1,300 per ounce by the end of 2017. The rally will be fueled by the metal's growing use in catalytic converters and scarce U.S. inventories.
Editor's Note: An incredibly rare gold anomaly is shaping up in the markets as we speak -- one that has occurred ONLY twice in the past 20 years. And it's about to happen again. Details here...
Alex McGuire writes for Money Morning. Follow him on Twitter for more 2017 platinum price coverage.
Like Money Morning on Facebook.