When most investors think of the booming cannabis sector, they don't automatically think "high tech" or the life sciences.
That's a mistake - a potentially costly one.
For one thing, cannabinoids can be used to treat all sorts of ailments, from cancer to arthritis to insomnia, not to mention the high-tech applications exploding in the growth and consumption of legal marijuana.
But more importantly, cannabis investing is out on the "frontier."
As you'll see, that's one of the most profitable places you can be...
Get In (Way) Before the Crowd - It Pays
It's axiomatic in investing: Grab a good investment before it goes mainstream and everyone else, especially Wall Street, finds out about it, and you're looking at more upside. You can score massive gains moving into a technology or concept out on the "frontier."
And it doesn't have to be risky, either, when you've got the research to back up your thesis.
I'll show you what I mean; I've got a long history in frontier investing. Last year, I recommended a play in an "unattractive" stock Wall Street had written off as "just another player" in the crowded video game niche.
But my research told me this was an explosive, revolutionary disruptor in a potentially huge segment. A year later, my readers and I had the last laugh… and 264% in profits to show for it.
And we did it again in 2017 on another stock Wall Street wasn't paying attention to, booking 213% in gains on another play in the same space.
You can bet they're paying attention now.
Bitcoin was another "frontier" niche I broke into. When it was trading at roughly $100, I predicted it would come roaring back in 2013, and by the end of the year, the price had topped $1,200 - a 1,100% gain in just a couple of months.
That was just the beginning.
I've Seen This Kind of Potential Before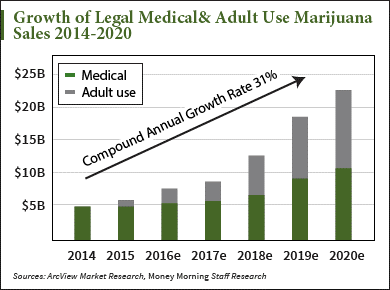 So, in tech, "frontier" is a synonym for huge wealth opportunities. And marijuana investing most definitely qualifies. Growth, retail, research, biotech, distribution, consumption - marijuana is a huge, diverse sector rich in profit opportunities, and we're adding more all the time.
You see, I've covered Silicon Valley for more than 32 years, and in the cannabis sector, I'm seeing the same level of innovation, creativity, leadership, and profitable risk-taking that's taken tech to the multitrillion-dollar heights it occupies today.
Heck, in some cases, chief technology officers, chief executives, visionaries, and other Silicon Valley wizards are actively moving into the cannabis sector, marrying marijuana and high tech.
It's a potent partnership.
Let me give you an illustrative example of the kind of intellectual "cross-pollination" underway here.
According to an interview in SFGate, former CEO Jessica Billingsley and web operations honcho Amy Poinsett jumped on the huge opportunities opening up in Colorado's legal market, designing software solutions for tracking each cannabis plant "from seed to sale."
There are dozens more tech leaders out there doing the same, creating profit potential for us.
They can do the same for you, too.
Join the conversation. Click here to jump to comments…
About the Author
Michael A. Robinson is a 36-year Silicon Valley veteran and one of the top tech and biotech financial analysts working today. That's because, as a consultant, senior adviser, and board member for Silicon Valley venture capital firms, Michael enjoys privileged access to pioneering CEOs, scientists, and high-profile players. And he brings this entire world of Silicon Valley "insiders" right to you...
He was one of five people involved in early meetings for the $160 billion "cloud" computing phenomenon.
He was there as Lee Iacocca and Roger Smith, the CEOs of Chrysler and GM, led the robotics revolution that saved the U.S. automotive industry.
As cyber-security was becoming a focus of national security, Michael was with Dave DeWalt, the CEO of McAfee, right before Intel acquired his company for $7.8 billion.
This all means the entire world is constantly seeking Michael's insight.
In addition to being a regular guest and panelist on CNBC and Fox Business, he is also a Pulitzer Prize-nominated writer and reporter. His first book Overdrawn: The Bailout of American Savings warned people about the coming financial collapse - years before the word "bailout" became a household word.
Silicon Valley defense publications vie for his analysis. He's worked for Defense Media Network and Signal Magazine, as well as The New York Times, American Enterprise, and The Wall Street Journal.
And even with decades of experience, Michael believes there has never been a moment in time quite like this.
Right now, medical breakthroughs that once took years to develop are moving at a record speed. And that means we are going to see highly lucrative biotech investment opportunities come in fast and furious.
To help you navigate the historic opportunity in biotech, Michael launched the Bio-Tech Profit Alliance.
His other publications include: Strategic Tech Investor, The Nova-X Report, Bio-Technology Profit Alliance and Nexus-9 Network.