When targeting the best stocks to short this month, there's one thing all three of these companies have in common: overinflated adjusted earnings per share.
Adjusted earnings per share (EPS), or "non-GAAP earnings," are used by companies when one quarter's finances may appear abnormal because of one-time events. These "events" could include a restructuring or a companywide technology upgrade. However, some companies use this tool excessively to boost the appearance of their bottom lines.
Those are the types of companies we're targeting today with our best stocks to short list.
Small adjustments in EPS for issues involving currency exchange or one-time investments are normal. But one of these companies on our list has made adjustments of over 1,400% in a single quarter, mostly due to pension fund adjustments. That is not normal...
The adjustments for the pension fund didn't actually make the company more profitable, though, landing it at the number one spot on our stocks to short list this month.
Here are all three of our top stocks to short...
Best Stocks to Short No. 3: Time Warner Inc. (NYSE: TWX)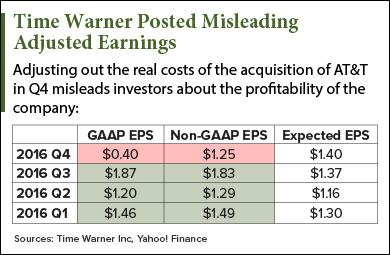 For the first three quarters of 2016, Time Warner Inc. (NYSE: TWX) adjusted earnings slightly. The changes mostly reflected currency exchange rate fluctuations.
The problem came in Q4. Time Warner started adjusting out the costs of the AT&T Inc. (NYSE: T) merger. This is something investors should note.
No one really knows how long or what the total cost will be when it comes to a merger. While the merger is a one-time event, the charges are likely to affect profits for two years or more as the merger is finalized. That means buying based on the adjusted profits could get you in trouble.
To add to the profitability issue, the merger deal has not been formally approved, so the companies may need to modify asset holdings in order to secure approval.
Don't Miss: Check out our "how to" guide for shorting stocks.
While the deal is expected to be approved, there is no guarantee. With that in mind, take a critical look at the adjusted EPS of Time Warner. The merger will impact profitability all this year. Until the merger is approved, the amount it will need to pay for the costs associated with the deal is unknown. That's why it is a great stock to short this month.
In addition to the merger adjustments, six analysts have downgraded their positions on Time Warner since December, while none have upgraded their positions. The downgrades are likely due to the fact that analysts are projecting a decrease of 2% for next quarter's earnings compared to the year prior.
Currently, TWX stock is trading for $98.18 for a gain of 1.7% year to date (YTD).
While Time Warner may be misleading about its merger costs, this next company only adjusts EPS when it misses expectations...
[mmpazkzone name="in-story" network="9794" site="307044" id="137008" type="4"]
Best Stocks to Short No. 2: Finish Line Inc. (Nasdaq: FINL)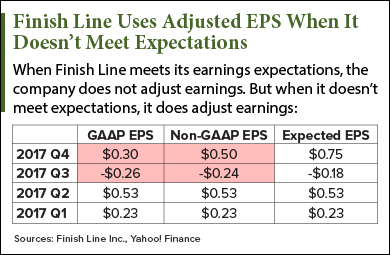 Finish Line Inc. (Nasdaq: FINL) had no adjustments to EPS for the first two quarters of fiscal year 2017. Incidentally, these quarters met analysts' expectations as well.
The second two quarters of the year showed adjustments to EPS and miss analysts' expectations. There are a couple of things that need to be discussed in regard to the adjusted earnings.
The first is that, while small, the Q3 adjustments dealt with severance packages. While this could very well be a one-time event, I wouldn't bet on it.
Finish Line is a traditional retailer and has been struggling, like its peers. Analysts are expecting sales to drop 4.5% for the current quarter over last year. Next quarter, analysts expect sales to drop 5.6% compared to last year. That drop in revenue will likely lead to more layoffs, meaning more severance packages.
Which leads into the second issue with the adjustments. The Q4 EPS adjustments were largely due to store impairment charges, meaning assets aren't as valuable as they used to be or were thought to be.
Don't Miss Out: Here's our new, free service to help you make more money.
While adjusting goodwill and other non-tangible assets once a year is mandatory, the size of the write-off is concerning. The adjustment accounts for almost half of the reported adjusted EPS.
This large of an adjustment attributed to store impairment costs is a red flag. Given that Finish Line operates in the retail sector, it is a good bet the stock will continue to drop, making it a good stock to short.
In December, six analysts downgraded their rating from "Buy" to "Neutral" (hold). That brings the company's average recommendation to 2.8, or just above the "Hold" level.
Currently, FINL stock is trading at $14.26 a share for a loss of 24.1% YTD.
Best Stocks to Short No. 3: FedEx Corp. (NYSE: FDX)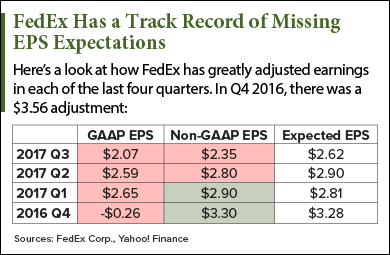 FedEx Corp. (NYSE: FDX) is an example of why adjusting earnings for a merger is not a one-time deal.
Each of the last four quarters saw adjustments for TNT Express NV integration expenses and restructuring costs. These costs accounted for most of the adjustments so far in FY17, which are about 10% of EPS. The acquisition of TNT was finalized in May 2016, with the costs lingering almost a year after the agreement was finalized.
While the costs for integrating an acquisition can have a lingering affect, the pension adjustments are far more concerning. The adjustments accounted for $3.47 of the $3.56 in adjustments for Q4.
The problem with pension accounting adjustments is twofold. First, pension contributions and payouts are real expenses that occur regularly and affect profitability. You would not adjust out payroll to show you are profitable, yet adjusting out pension payments is acceptable.
The second issue is you don't know the costs versus paper losses. If the account dipped because the markets were down, those losses don't reflect profitability. On the other hand, if you had to pay out that money and sell those shares to realize those losses, that does affect profitability.
Regardless of whether the losses in profitability were actual or bookkeeping, this is a red flag that adjusted earnings may not be giving you an accurate picture of the company's profitability.
When polled, the low one-year price target that analysts gave FedEx was $144.00. That's a potential 18% drop in value from today's price. Analysts base their price targets on expected revenue and profit potential, so a target price lower than the current price shows a bearish outlook for the company.
Currently, FDX stock is trading at $196.06 for a gain of 5.3% YTD.
Start Making More Money Now: Get stock picks and research that could put an extra $125,000 in your pocket delivered straight to your inbox for just pennies a day. Read more...
Follow Money Morning on Twitter @moneymorning, Facebook, and LinkedIn.