Last week, I showed you just how profitable "frontier investing" can be.
It's a deceptively simple, powerful approach I take for my Nova-X Report readers: Research a good investment, build a thesis, target the best stock before Street analysts know it exists, and let the profits come to you as the crowd piles in.
Silicon Valley is a hotbed of this kind of investing; one where my readers have been able to make a killing. Biotech and the life sciences are two others.
Cannabis investing is the latest and most profitable.
It's easier now than it's ever been to get wired into the growth.
And, thanks to what I'm about to show you, there's plenty of that on the way…
The Broadest Exposure to a Booming Sector
As recently as 2013, legally sanctioned "medical marijuana" was worth about $1.5 billion in sales.
But in 2017 – when more than half the states in the Union have some form of legal medical or recreational use laws – the cannabis sector will be worth $6.7 billion… $35 billion by 2020… and $100 billion by 2029.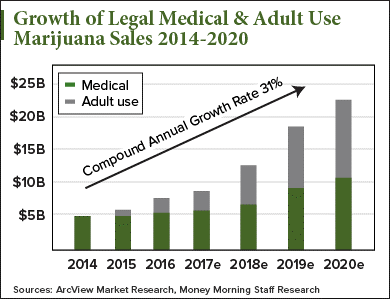 That represents huge, long-term profit potential for investors on the "frontier" right now.
There's been a new development, though, that, as I said, makes it easy to tap into the upside here.
Even better, it represents a massive leap forward in the credibility of the entire cannabis sector – irresistible bait for the "crowd" who are going to pour in and boost early investor profits.
You see, cannabis just joined the ETF game.
This week marked the historic launch of the Horizons Medical Marijuana Life Sciences ETF (TSE: HMMJ) on the Toronto Stock Exchange.
This first-of-its-kind fund is composed of 14 Canadian and U.S. cannabis stocks.
A marijuana ETF offers a "one-stop shot" for broad sector exposure. What's more, it can limit losses and maximize upside, and, therefore, it offers one safe way to play the $6.7 billion North American cannabis market.
Here's why…
ETFs help protect investors through diversification that offsets losses from single stocks – after all, some marijuana stocks can be volatile.
But there's also plenty of "upside volatility"; I've seen individual weed stocks across the market zoom as much as 1,016%, 630%, 243%, 182%, and 158%.
I'm expecting a fresh round of gains to come in, thanks a revolutionary development up across the "frontier" in Canada.
Join the conversation. Click here to jump to comments…
About the Author
Michael A. Robinson is one of the top financial analysts working today. His book "Overdrawn: The Bailout of American Savings" was a prescient look at the anatomy of the nation's S&L crisis, long before the word "bailout" became part of our daily lexicon. He's a Pulitzer Prize-nominated writer and reporter, lauded by the Columbia Journalism Review for his aggressive style. His 30-year track record as a leading tech analyst has garnered him rave reviews, too. Today he is the editor of the monthly tech investing newsletter Nova-X Report as well as Radical Technology Profits, where he covers truly radical technologies – ones that have the power to sweep across the globe and change the very fabric of our lives – and profit opportunities they give rise to. He also explores "what's next" in the tech investing world at Strategic Tech Investor.