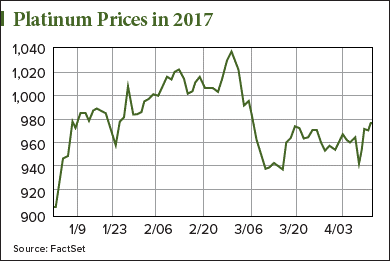 Now more than ever, it's time to consider our pick for the best platinum stock to buy in 2017. That's because the price of platinum is beginning a huge rally right now.
Despite some volatility in March, platinum prices are up 7.9% from $905.70 to $977.40 this year. While that's not a stunning return, Money Morning Resource Specialist Peter Krauth predicts the platinum price could rise another 33% to $1,300 by the end of December 2017.
Those projected gains are why you should invest in platinum stocks this year – and we're going to show you one stock that could soar as much as 40.6% by April 2018.
First, here are the two reasons why platinum will rally another 33% in 2017…
2 Reasons Why Platinum Prices Will Rally to $1,300 This Year
The first bullish reason behind the platinum price in 2017 is the metal's role in the auto industry.
Platinum is the most important component of catalytic converters, which are devices used in cars to reduce toxic emissions. Vehicles send harmful exhaust through the converters, which reduces the gas' harmful impact on the environment. The U.S. Environmental Protection Agency has mandated since 1975 that most automakers install catalytic converters in their cars.
Because of its oxidizing properties, platinum makes harmful hydrocarbon gases cleaner before they're emitted. According to Krauth, about 43% of all platinum consumed in the United States is used specifically for catalytic converters. The auto industry is the biggest source of industrial platinum demand, beating the 35% used in the jewelry industry.
That industrial demand will only grow as U.S. auto sales are expected to rise 1.1% from 18.5 million to 18.7 million by 2020. While that's modest growth, this forecast from Trading Economics is very conservative. Right now, analysts don't know how Trump's initiative to keep auto production in the United States will affect long-term consumer spending on cars.
Urgent: An incredibly rare gold anomaly is shaping up in the markets as we speak — one that has occurred ONLY twice in the past 20 years. And it's about to happen again. Details here…
But our second reason – rising platinum ETF inflows – is even more bullish because it indicates traders are growing more confident in long-term platinum prices.
You see, Bloomberg recently reported that the number of long futures contracts on the price of platinum is surging. They're up from about 5,000 in September 2016 to a whopping 40,000 on March 17. That's a stunning sevenfold increase in the number of traders betting platinum prices will rally in 2017.
Analysts cited strengthening demand as a big reason behind the rise in contracts. Since platinum is one of the hardest metals to mine, there's always a short supply around the world. Only 168.9 metric tons of platinum were produced in 2016, compared to 3,100 metric tons of gold.
According to the World Platinum Investment Council, strengthening demand will likely surpass that short supply. It predicts platinum consumption will outpace supply by about 120,000 ounces by the end of this year. If that happens, 2017 will be the fifth year in a row with a platinum deficit.
Auto industry demand, increasing bullishness among traders, and strengthening supply-demand dynamics will work together to lift the platinum price 33% to $1,300 this year. And rising platinum prices will hand our platinum stock recommendation a huge 40.6% gain.
Here's one of the best platinum stocks to buy right now…
The Best Platinum Stock to Buy in 2017