The days when marijuana "edibles" were limited to a bunch of teens passing around a pan of homemade pot-laced Duncan Hines brownies are long over.
The legal marijuana industry now grosses more than $5.4 billion a year through the sale of cannabis-infused food and drinks – for people who want to avoid the harmful effects of smoking, but still want the drug's potent effects. And as marijuana continues its march to legalization, that number will continue to climb.
Over the past several decades, "edibles" have become one of the most lucrative legal marijuana opportunities on the market.
I want to show you one of my favorite speculative plays in this booming pot-stock niche right now. I recommended it last September in my Nova X-Report "weed investors' bible," The Roadmap to Marijuana Millions, and some of the peak gains we've seen here have been extraordinary.
I can't think of a better way to show everyone the massive profit potential in legal weed investing…
Edibles Are a Huge Slice of Marijuana Business
The Colorado Department of Revenue reported that, in 2014, 5 million marijuana edibles were sold in the state. And according to The Denver Post, marijuana-infused edibles account for roughly 45% of the legal marijuana marketplace. A February report by Bloomberg says that edibles account for 50% of the revenue earned by Colorado dispensaries.
Just look at so-called "microdosed" edibles – one of the fastest-growing sectors of the industry.
Microdosed products – from marijuana-infused chocolates and sweets to barbecue sauce and bottled water – contain just five to 10 milligrams of tetrahydrocannabinol (THC), the psychoactive ingredient in marijuana that gives you the high. With such small doses, eaters feel the beneficial aspects of marijuana but generally won't get the unwanted side effects, like feeling "too high."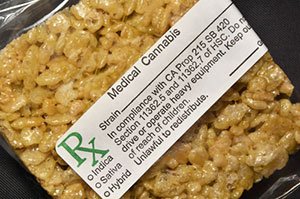 Dr. Dustin Sulak, the medical director for Integr8 Health in Maine, has been exploring the benefits of microdosed edibles with patients.
Last year, he told United Patients Group, "I discovered that most people have a certain threshold dosage of cannabis, below which they'll actually experience a gradual increase in health benefits over time, and above which they'll start building tolerance, experiencing diminishing benefits, and more side effects." Dr. Sulak explained that he has witnessed cancer patients respond much better to lower doses than the usual higher dose recommended – while emphasizing the need to experiment as each individual is different.
On the consumer front, companies like Kiva Confections are revolutionizing the microdosing game. Kiva Terra Bites, for example, are bite-sized candies coated in milk and white chocolate infused with marijuana extract. A tin averages $18 and contains 24 servings.
Now, Kiva is a small, privately held business, one I'm watching closely because it may go public in the future.
But there are investment opportunities aplenty in the edible market. Here's one I really like…
Join the conversation. Click here to jump to comments…
About the Author
Michael A. Robinson is one of the top financial analysts working today. His book "Overdrawn: The Bailout of American Savings" was a prescient look at the anatomy of the nation's S&L crisis, long before the word "bailout" became part of our daily lexicon. He's a Pulitzer Prize-nominated writer and reporter, lauded by the Columbia Journalism Review for his aggressive style. His 30-year track record as a leading tech analyst has garnered him rave reviews, too. Today he is the editor of the monthly tech investing newsletter Nova-X Report as well as Radical Technology Profits, where he covers truly radical technologies – ones that have the power to sweep across the globe and change the very fabric of our lives – and profit opportunities they give rise to. He also explores "what's next" in the tech investing world at Strategic Tech Investor.