The following list shows the top oil penny stocks to watch in May, ranked in order of biggest gains so far this month...
| | | |
| --- | --- | --- |
| Oil Penny Stock | Current Price | Month-to-Date Gain |
| Zion Oil & Gas Inc. (Nasdaq: ZN) | $1.65 | +29.2% |
| Rex Energy Corp. (Nasdaq: REXX) | $0.43 | +26.4% |
| Ocean Rig UDW Inc. (Nasdaq: ORIG) | $0.24 | +18.7% |
| Approach Resources Inc. (Nasdaq: AREX) | $2.43 | +17.4% |
| Eco-Stim Energy Solutions Inc. (Nasdaq: ESES) | $1.26 | +16.8% |
| U.S. Energy Corp. (Nasdaq: USEG) | $1.01 | +16.2% |
| Calumet Specialty Products Partners LP (Nasdaq: CLMT) | $3.94 | +9.6% |
| CARBO Ceramics Inc. (NYSE: CRR) | $7.50 | +9.5% |
| Geopark Ltd. (NYSE: GPRK) | $7.66 | +7.7% |
| Eca Marcellus Trust I (NYSE: ECT) | $2.20 | +7.3% |
The oil sector has been beaten down lately as oil prices struggle to stay in the mid-$50 range. The WTI crude oil price - the U.S. benchmark for oil prices - is down 8.8% to $46.14 so far in Q2. On May 4, it closed at $45.52 - the lowest settlement since Nov. 29, 2016.
This Could Make Big Oil Obsolete: One gallon of this new fuel could produce enough energy to power a car for 42,325 miles. It's being hailed by many experts as energy's "Holy Grail." Read more...
Still, six oil penny stocks have managed to post solid double-digit returns in May. The best-performing oil penny stock has been Zion Oil & Gas. Shares of ZN stock have gained 29.2% to $1.65 over just six sessions so far this month.
Those gains show how penny stocks can offer big returns in just a matter of days.
But here at Money Morning, we do not recommend buying into any of the top oil penny stocks listed in the chart above. While these firms are much safer than the ones listed over the counter (OTC) or on the pink sheets, you should always study a company's finances to make sure their shares are safe enough for your portfolio.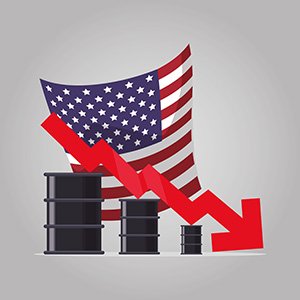 The volatile nature of the oil sector over the past three years has made this research even more important. After all, oil prices are still in the midst of one of their worst bear markets in history. Over the last three years, WTI has crashed 53.9% from $100 per barrel to $46.14 due to the growth of U.S. fracking. This - combined with OPEC's repeated refusal to cut production up until last November - has dragged both global and U.S. prices lower.
But Money Morning Global Energy Strategist Dr. Kent Moors still looks for profitable oil stocks in this unpredictable sector. In fact, he's recently recommended an oil transportation and storage company that stands to benefit from a $1 trillion oil boom called "Permania."
"Permania" refers to the production growth happening right now across the Permian Basin, a massive oil region spanning Texas and New Mexico. The U.S. Geological Survey last year discovered as much as 20 billion barrels of oil in just one region of the basin. And Moors' stock pick could rake in millions in new revenue from the discovery.
Although his recommendation isn't a penny stock, it offers investors the perfect combination of strong growth potential and a very big dividend.
Here's one of the best oil stocks to buy right now...
This Oil Stock Could Offer a Big Double-Digit Return by May 2018