Retail companies are shuttering hundreds - even thousands - of bricks-and-mortar locations as a response to the shift in consumer spending habits in favor of e-commerce.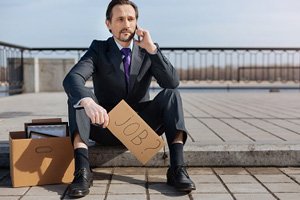 And as a result, thousands of American retail workers are finding themselves jobless.
So what exactly is happening to retail companies across America - and more importantly, how can you profit from the retail sector's downfall? Let's take a look...
The Death of Retail
The latest U.S. Labor Department data revealed the U.S. retail sector just had its worst two-month stretch since 2009 - the tail end of the Great Recession.
During that same period, there were nine retail bankruptcies - as many as all of 2016, according to The Atlantic. And 21 retailers announced store closures. That's over 3,591 store locations that are now shuttered.
Some malls are even repurposing shuttered retail spaces for non-retail uses, such as doctor's offices, town libraries, and even high schools, according to a report published by Wells Fargo on March 5.
Imagine... your local mall is now a space to get your teeth cleaned and return your library books.
And we're only five months into 2017...
Analysts estimate over 6,600 more stores will close throughout the rest of the year.
Special Report: Cannabis Is the Gold Rush of the 21st Century - 30 Stocks to Invest in Now
"With the growth of online shopping and increasing online apparel sales starting to explode, it's no wonder America's bricks-and-mortar apparel retailers are closing stores across the country!" said Money Morning Capital Wave Strategist and retail sector expert Shah Gilani to readers on April 28.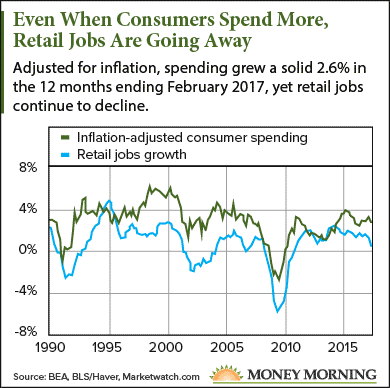 In fact, "if these trends continue, and researchers expect them to, Wall Street analysts say we could see 50 retail bankruptcies in the next 12 to 24 months," according to Shah.
Where Does That Leave American Jobs?
The U.S. retail sector lost 60,600 jobs in February and March, according to the latest Labor Department data.
For comparison, retailers cut 45,000 workers in February and March of 2009, during the height of the Great Recession. And the trend is expected to continue as more retailers feel the pinch from e-commerce giants like Amazon.com Inc. (NYSE: AMZN).
However, these tough times for retail are particularly interesting given the pace of consumer spending. Adjusted for inflation, spending grew a solid 2.6% in the 12 months ending in February, according to U.S. Commerce Department data. Yet retail jobs continue to decline.
Just look at these staggering numbers:
Macy's Inc. (NYSE: M) just announced it would be cutting over 10,000 jobs in a press release on Jan. 4. These cuts are in addition to the 5,000 employees Macy's let go in 2016.
Wal-Mart Stores Inc. (NYSE: WMT) slashed over 1,000 jobs in early 2017 in an effort to "operate more efficiently."
JCPenney Co. Inc. (NYSE: JCP) is planning to lay off over 6,000 workers this year as the struggling retailer closes 130 to 140 stores.
And some companies, like this next one, are taking steps to compete with online retailers like Amazon, yet it's still making mass layoffs in the process...
Lowe's Companies Inc. (NYSE: LOW) announced on Jan. 13 it would be eliminating almost 3,000 positions in order to shift to a new online shopping model in an effort to attract and retain customers.
"What's happening to bricks-and-mortar retail is more like an extinction event, like dinosaurs dying off," said Shah to readers.
But investors can profit from these dinosaurs' death rattles -- and steer clear of the risk...
How to Make a Killing from Retail's Downfall
Almost every traditional bricks-and-mortar retailer has seen its stock get cut to pieces as it falls victim to the "Retail Ice Age."
"So many hedge funds and traders are short these stocks, and the thinking on the Street is that the whole 'short retail' trade is overdone," said Shah.
Shah's advice: Don't be duped. These plays are fool's gold.
Instead, if you want to cash in big from retail's unstoppable downfall, you should be doing this...
Editor's Note: Doomed-to-fail companies could be your entry ticket to millions. In fact, targeting the worst stocks in America is the BEST way to get rich - if you know how to do it. We've created The Bankruptcy Almanac that pinpoints more than 40 companies and could help you make $1.6 million or more. Don't wait -- get your copy now...
Follow Money Morning on Twitter @moneymorning, Facebook, and LinkedIn.
Related Articles: