(Kitco News) - World stock markets were mostly lower overnight, on growing tensions in the White House that could cripple the Trump presidency in the coming months, or worse. News that a special counselor has been procured by Congress to investigate Russia's involvement in the last U.S. presidential election is the latest shoe to drop on a Trump presidency that is now in crisis mode.
The U.S. stock market sold off sharply Wednesday and had its worst day in several months, following reports Trump asked the just-fired FBI director James Comey to drop his investigation of Trump's former national security advisor Michael Flynn.
Many market watchers now fear Trump's administration is paralyzed and won't be able to enact its pro-business legislation. U.S. stock indexes are pointed toward further losses when the U.S. day session begins Thursday.
Safe-haven assets gold and U.S. Treasuries have seen their prices spike up on the keen political uncertainty in the U.S.  Gold, T-Bond and T-Note futures prices are firmer Thursday morning, following their sharp gains Wednesday. Look for the safe-haven markets to continue to see buying support in the near term. The Trump crisis will not fade any time soon.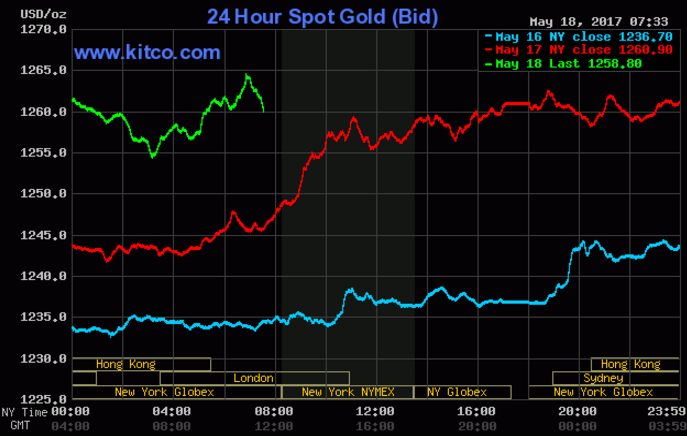 The U.S. dollar index hit another six-month low overnight and has been pressured in large part recently by the Trump Administration turmoil. Up to this week, the marketplace had been mostly ignoring the politics in Washington, D.C.
Nymex crude oil futures prices are lower in early U.S. trading today, on a corrective pullback from recent good gains.
U.S. economic data due for release Thursday includes the weekly jobless claims report, the Philadelphia Fed business survey and leading economic indicators.
By Jim Wyckoff, contributing to Kitco News; jwyckoff@kitco.com
Follow Jim Wyckoff @jimwyckoff for breaking news.