Blue Apron is holding its IPO in less than a week, so we are bringing you our Blue Apron stock and IPO guide to help you prepare.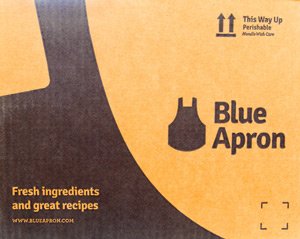 Blue Apron Holdings, the meal-kit delivery service founded in 2012, filed its IPO paperwork on June 1. Retail investors will be able to buy Blue Apron stock on Thursday, June 29, 2017, the expected Blue Apron IPO date.
Today, we're going to provide Money Morning readers with everything they need to know about Blue Apron, as well as discuss whether they should buy Blue Apron stock during the IPO.
First, we'll start with how the five-year-old food-kit delivery company works...
How Does Blue Apron Work?
Blue Apron ships recipes and ingredients needed to make a full dinner to its customers each week.
Its first option is a two-person plan, which includes three meals that can serve two people. The three recipes create a total of six servings and are delivered in one shipment each week.
Some of the meal options include salmon and cilantro-lime rice, seared chicken and pasta salad, sweet and savory Korean rice cakes, summer squash and quinoa burgers, and fresh basil fettuccine pasta.
The price per serving is $9.99, for a total of $59.99 per week for six servings. That adds up to $239.96 a month and $2,879.52 for an entire year of meal deliveries.
Video
How Blue Apron Works
That may sound expensive, but it's on par with current millennial food budgets for dining out. According to a 2014 report from the U.S. Department of Agriculture, 44% of millennials spent $2,921 annually on eating out.
And millennials are Blue Apron's target market. In a 2013 Bloomberg interview, Blue Apron said that its key demographic is usually young professional couples and young families.
Besides having a competitive price compared to millennial food spending habits, Blue Apron has another advantage over typical restaurants and restaurant delivery services that could start to win over more customers.
Busy, health-conscious individuals know the exact recipes and ingredients used in all of their meals are fresh when they use Blue Apron.
According to a 2015 Nielsen Global Health & Wellness Survey, 32% of millennials (ages 20 to 34) said they were willing to pay a premium for healthier products. In comparison, only 21% of baby boomers (roughly age 50 to mid-60s) were willing to pay a premium for healthier food products.
The food delivery company also offers a Family Plan that can feed a family of four. The eight-serving delivery costs $69.92 per week, which is $279.68 per month. Yearly, the family plan would cost $3,356.16.
Millennial Food Spending Compared to Blue Apron Prices
| | | | |
| --- | --- | --- | --- |
| Option | Avg. Weekly Cost | Avg. Monthly Cost | Avg. Yearly Cost |
| Eating Out (1 Person) | $60.85 | $243.41 | $2,921 |
| Blue Apron 2-Person Plan | $59.99 | $239.96 | $2,879.52 |
| Blue Apron Family Plan | $69.92 | $279.68 | $3,346.16 |
Blue Apron is also expanding its market beyond meal kits.
In September 2015, Blue Apron launched a direct-to-consumer wine delivery service. Customers receive six red and six white 500 mL bottles of wine for $65.99 per month.
The wines are created exclusively for Blue Apron, and the delivery includes tasting notes, pairing tips, and the backstory of every wine.
Now that you know the background on how the company works, here's how it all got started.
Who Is the Founder of Blue Apron?
In 2011, Matt Salzberg (CEO) left his job as an associate at Silicon Valley investment firm Bessemer Venture Partners to start a business with his friend Ilia Papas (CTO).
According to Business Insider, the duo tested different startup ideas before landing on a food delivery concept. Salzberg told BI that he and Papas loved food, but they found the process of cooking at home expensive and time consuming.
The duo wanted to create a business that delivered recipes and perfectly portioned ingredients to customers within a 24-hour window so they could eat a fresh meal for dinner.
Play IPOs Like the Pros: Sixty-six companies have gone public in 2017, but how do you know if a new issue is worth your investing dollars? Take the guesswork out of IPO investing with this special report...
However, neither of the two cofounders had food industry knowledge. Salzberg called upon family friend Matt Wadia (COO), who was a wholesaler of truffles and avocados.
With the leadership in place, the trio boxed and shipped Blue Apron meals to early testers in August 2012.
While Blue Apron was one of the first companies to ship ready-to-prepare meals to customers, other competitors have jumped into the market...
Who Are Blue Apron's Competitors?
According to a March 2017 Forbes report, there are 150 meal-kit delivery companies in the United States. The most-well known include Sun Basket, HelloFresh, Plated, Home Chef, and Purple Carrot.
However, Blue Apron's biggest competitor is Amazon.com Inc. (Nasdaq: AMZN).
Over the past year, Amazon has created strategic partnerships in the food delivery business. The e-commerce giant announced a partnership with Tyson Foods in May 2016 to launch a recipe delivery service.
The ready-to-cook meals include everything from Irish stout beef stew to Korean-style steak tacos.
And unlike Blue Apron, Amazon shoppers aren't locked into a subscription. That's appealing to customers who may not have time to make the three to four recipes a week that come with a subscription from other services.
Amazon also created a partnership with Martha Stewart in March 2017. Martha Stewart's meal kits, Martha & Marley Spoon, launched on Amazon Fresh on March 14. Martha & Marely Spoon meals are available to customers in Philadelphia, Dallas, San Francisco, and New York, according to Forbes.
Amazon also acquired Whole Foods on June 16, which it could incorporate into its meal-kit delivery plans.
What Is the Blue Apron Stock Symbol?
Blue Apron will list its shares on the New York Stock Exchange (NYSE), and its stock symbol will be "APRN."
Shares of Blue Apron are expected to be available to the public on June 29, 2017.
When Blue Apron stock officially trades, it will be listed under the company's full name, Blue Apron Holdings (NYSE: APRN).
How Much Is Blue Apron Worth?
The Blue Apron IPO offering price is set between $15 and $17 per share. At the top end of its IPO offering price, Blue Apron would be worth $3.2 billion.
And early investors are willing to value the company so highly because of its fast-paced revenue growth. In 2014, Blue Apron recorded net revenue of $77.8 million, $340.8 million in 2015, and $795.4 million in 2016.
From 2015 to 2016, revenue growth climbed 133%.
A Better Path to Profits: Lyft isn't publicly traded yet. But you can get stock picks and research that could put an extra $125,000 in your pocket delivered straight to your inbox for just pennies a day. Learn more...
But Money Morning readers need to focus on more than just revenue growth...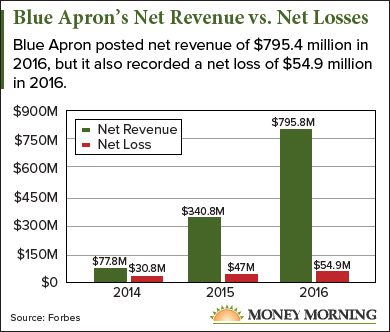 Despite growing revenue, the meal delivery company posted a net loss of $30.8 million in 2014, $47 million in 2015, and $54.9 million in 2016. Net losses increased by 16.8% from 2015 to 2016, and losses have increased each year since 2014.
And of a lot of those losses are because of marketing, which could increase as the food-kit delivery business gets more competitive. In 2016, Blue Apron spent $144 million on marketing. And just in Q1 2017, it spent $60.6 million, 42.08% of the company's entire 2016 marketing expenses.
What Is the Blue Apron Stock Price?
For IPOs, there's a misconception on how pricings work. There's an IPO offering price that is offered to hedge funds, big banks, large institutions, and well-connected investors, and then there's the price retail investors will pay when Blue Apron stock becomes available to the public.
The IPO offering price is less expensive than what retail investors will have to pay on the Blue Apron IPO date.
For example, the Snap Inc. (NYSE: SNAP) IPO offering price was $17 per share for wealthy insiders. But when SNAP stock was made available to retail investors on March 2, it opened at $24 per share.
Unfortunately, retail investors will not be able to purchase Blue Apron stock at the IPO offering price. Retail investors will have to wait until the Blue Apron IPO date and buy shares through a brokerage firm.
Editor's Note: For more information on finding the right brokerage for you, click here.
This leads us to the most important question investors will ask themselves when the Blue Apron IPO date is official: "Should I buy Blue Apron stock?"
Money Morning Director of Tech & Venture Capital Research Michael A. Robinson has a very clear answer for potential investors...
Should I Buy Blue Apron Stock?