Today, we are bringing you our BuzzFeed Stock and IPO guide to help you prepare ahead of the media company's IPO.
While there isn't an official BuzzFeed IPO date yet, some early investors in the company are anxiously awaiting a return on their initial investment, according to Fortune. That pressure could lead to an IPO as early as 2018…
In fact, the BuzzFeed valuation has remained exactly the same over the past two years.  According to a March 29 Fortune report, BuzzFeed is currently valued at $1.7 billion, the same valuation it received in 2015, when NBCUniversal invested $200 million into the media platform.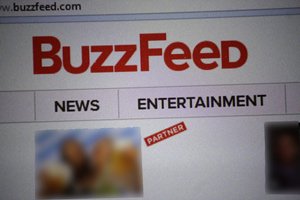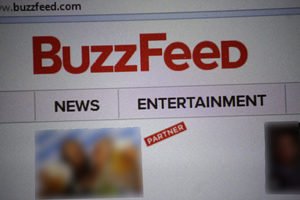 That stagnant valuation has early investors looking toward an IPO as a way to boost their returns. And it's always insiders who make the most money.
"I generally tell retail investors to avoid buying an IPO at the open because the insiders have already made all the money available at the debut," Money Morning Director of Technology & Venture Capital Research Michael A. Robinson told me.
A Better Path to Profits: BuzzFeed isn't publicly traded yet. But you can get stock picks and research that could put an extra $125,000 in your pocket delivered straight to your inbox for just pennies a day. Learn more…
Our BuzzFeed stock and IPO guide will show you everything you need to know about the company so you can be fully prepared ahead of the IPO, including how to profit from Buzzfeed right now…
How Does BuzzFeed Work?
BuzzFeed is an Internet media company based in New York that provides breaking news, celebrity updates, food recipes, and quizzes. BuzzFeed designs its diverse content to elicit reader engagement and to encourage readers to share their content on social media.
For example, two of its top trending stories on July 5 were "NPR Tweeted the Declaration of Independence and Some Trump Supporters Were Offended," and "22 Outrageously Hipster Foods That Must Be Stopped." These headlines ignite readers' curiosity and entice them to click through to the site.
It's applied the same viral marketing strategy to its series of humorous quizzes, including:
"If You've Eaten 30/39 of These Foods Then You're a True Brit"
"Do You Know Enough About Cali to Be a True Californian?"
"Your Taylor Swift Preferences Will Reveal Which Theme Park You Should Visit Next"
"Pick 5 Clothing Items and We'll Tell You Which Pet to Get"
"Choose 8 NYSNC Songs and We'll Tell You Which Office Supply You Are"
BuzzFeed's content strategy works, which is why the company gets over 200 million monthly unique visitors, according to its website.
The company doesn't disclose its finances. But according to an April 2016 CNBC report, the digital media provider generated around $170 million in revenue for 2015 and projected $250 million for 2016.
In comparison, the New York Times Co. (NYSE: NYT) reported $209 million just in digital ad revenue for 2016.
Now that you know the background on how the digital media company works, here's how it all got started…
Who Are the Founders of BuzzFeed?
CEO Jonah Peretti, John S. Johnson III, and Chair Keneth Lerer founded BuzzFeed in 2008.
Peretti started BuzzFeed as a side project while working at The Huffington Post in 2008. Originally, BuzzFeed did not have a writing staff or editors. Instead, it used an algorithm to find stories around the web that could go viral (content that spreads rapidly and reaches huge audiences).
The site originally used an instant-messaging bot, called "BuzzBot," to send users a link to popular content. Eventually, Peretti started hiring curators to describe the content that was going viral, which eventually led to BuzzFeed creating its own content.
Since then, BuzzFeed has expanded into more traditional media roles. He hired well-known political blogger Ben Smith to assemble a news operation team in 2011.
BuzzFeed now has 18 offices and 1,300 employees across the globe.
And because of the rapid growth, early investors and retail investors alike are anxious for a public offering…
When Will BuzzFeed Go Public?
BuzzFeed is planning to go public at some point in 2018, according to a March 29 Axios.com report, but BuzzFeed has not announced an official IPO date.
According to the Axios.com report, Peretti has turned down an unspecified amount of private acquisition offers in the past because he had always planned to take BuzzFeed public.
And until Peretti files for a public offering with the U.S. Securities and Exchange Commission (SEC), we will not know the official BuzzFeed stock symbol…
What Is the BuzzFeed Stock Symbol?
BuzzFeed doesn't have a stock symbol since it isn't publicly traded yet.
When it files official paperwork to go public with the SEC, the media company will choose to list shares of BuzzFeed stock on either the New York Stock Exchange (NYSE) or Nasdaq.
BuzzFeed will most likely select "BUZZ" as its stock symbol.
However, you won't be able to get in on owning shares early like the insiders…
How Do I Buy BuzzFeed Stock?
The underwriters for the BuzzFeed IPO will set an "IPO offering price" before BuzzFeed stock is available to the public, but that won't be the price for everyone.
Video
BuzzFeed Going Public in 2018
The IPO offering price is less than what retail investors will pay, and only hedge funds, large institutions, big banks, and well-connected investors can buy in at this price.
For example, these insiders were able to buy Snapchat stock for $17 per share before the Snapchat IPO on March 2. But retail investors had to pay $24 per share when SNAP started trading to the public.
By the time the markets closed on the first day of trading, the Snapchat stock price closed at $24.48 per share. Insiders made a one-day profit of 44%, while retail investors who bought SNAP at its opening price only made a 2% profit that day.
That discrepancy is why we are cautious about IPOs here at Money Morning.
However, we have a "backdoor" investment strategy that allows you to make a profit from BuzzFeed without buying a single share of BuzzFeed stock.
You can actually buy stock in one of Buzzfeed's early investors. Since this company is already publicly traded, there's no waiting around for an IPO. You can start profiting right now.
Shares of this stock are up 11.56% so far in 2017. For comparison, the Dow Jones Industrial Average is up just 8.22% in the same time frame.
Must Read: Take the guesswork out of IPO investing with this special report…
And if you missed out on those gains, that's okay. In the next 12 months, one investment bank projects this company's stock price will climb nearly 30%.
On top of that, this company also pays its shareholders a dividend yield of 1.65%.
Here's how to profit from Buzzfeed before its IPO with this proven winner…
How to Make a 30% Profit Before the BuzzFeed Stock Symbol Is Revealed