We've talked about some truly revolutionary tech developments rocking the entire defense sector right now, like laser weapons, advanced drones, fifth-generation bombers and fighter aircraft, battlefield AI, and global awareness.
It all sounds very sci-fi, but it's happening now (and making us some serious money).
I want to talk about something a little less flashy but perhaps even more important to keeping our armed forces effective when boots are on the ground.
It's not headline-grabbing, and you certainly couldn't call it "state of the art." In fact, at less than $5 billion, it's a relatively small, overlooked niche in one of the world's most lucrative, high-profile sectors.
That's just one of the reasons why I love it right now. The upside is huge, market-crushing, and it's all likely headed to this European company with a U.S. presence…
Big Changes Are Coming to Europe
The world has changed over the past eight months. Defense spending is coming out from under the onerous "sequestration" limits that kept it tightly capped for years.
What's more, U.S. President Donald Trump has put America's European Union (EU) and NATO allies on notice that they will have to beef up their defense spending to meet the treaty's "2% obligation," even if he's mistaken about precisely why they must do so.
That's going to have some unintended knock-on effects, and this is exactly the right time to get in front of them.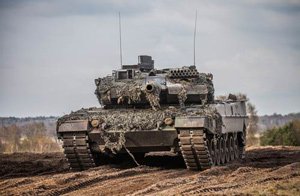 You see, historically, much of Western Europe's defense spending ends up here in the United States, with our defense contractors. This was done largely because NATO was content to let the United States take a leading role in collective defense. There are European defense firms, of course, but mostly they're absolutely dwarfed by the likes of Lockheed Martin Corp. (NYSE: LMT), say, or Northrop Grumman Corp. (NYSE: NOC), or Boeing Co. (NYSE: BA).
Now, NATO has seen some changes in its 68-year history. The end of the Cold War, for instance, opened up the alliance to several former Warsaw Pact adversaries, and the Sept. 11, 2001, attacks on New York and Washington, D.C., "refocused" the organization on security concerns like global terrorism.
The new administration in Washington means change is coming again. The Europeans see they might not be able to take a leading U.S. role for granted any more, and there's quiet acknowledgement that defense spending in the alliance will have to increase in the face of Vladimir Putin's resurgent, ambitious Russia.
The plan is now for NATO and the EU's member states to develop a more robust, "homegrown" pan-European defense posture, with European defense contractors set to reap the most business.
Up till now, each country has built up a national defense force, by and large, with their own equipment.
Just last month the head of the European Union noted that while the United States has one main battle tank for its armed forces, Europe has 17. Wheeled and tracked vehicles are absolutely critical to fielding armies, getting them where they need to be, and keeping them supplied.
Harmonizing and rationalizing these vehicles among Europe's allied militaries means big opportunities for military contractors with the capacity and technical knowledge to provide said vehicles for the future European defense force.
Unfortunately for U.S. contractors, most European countries are more interested in building up their own countries' defense firms than handing the builds and maintenance contracts over to American firms.
Join the conversation. Click here to jump to comments…
About the Author
Michael A. Robinson is a 36-year Silicon Valley veteran and one of the top tech and biotech financial analysts working today. That's because, as a consultant, senior adviser, and board member for Silicon Valley venture capital firms, Michael enjoys privileged access to pioneering CEOs, scientists, and high-profile players. And he brings this entire world of Silicon Valley "insiders" right to you...
He was one of five people involved in early meetings for the $160 billion "cloud" computing phenomenon.
He was there as Lee Iacocca and Roger Smith, the CEOs of Chrysler and GM, led the robotics revolution that saved the U.S. automotive industry.
As cyber-security was becoming a focus of national security, Michael was with Dave DeWalt, the CEO of McAfee, right before Intel acquired his company for $7.8 billion.
This all means the entire world is constantly seeking Michael's insight.
In addition to being a regular guest and panelist on CNBC and Fox Business, he is also a Pulitzer Prize-nominated writer and reporter. His first book Overdrawn: The Bailout of American Savings warned people about the coming financial collapse - years before the word "bailout" became a household word.
Silicon Valley defense publications vie for his analysis. He's worked for Defense Media Network and Signal Magazine, as well as The New York Times, American Enterprise, and The Wall Street Journal.
And even with decades of experience, Michael believes there has never been a moment in time quite like this.
Right now, medical breakthroughs that once took years to develop are moving at a record speed. And that means we are going to see highly lucrative biotech investment opportunities come in fast and furious.
To help you navigate the historic opportunity in biotech, Michael launched the Bio-Tech Profit Alliance.
His other publications include: Strategic Tech Investor, The Nova-X Report, Bio-Technology Profit Alliance and Nexus-9 Network.