Ethereum prices are down by 21.62% since July 1. Two recent events might be responsible for the Ethereum price drop.
But cryptocurrency investors don't need to worry. These two events were both just temporary pullbacks.
Here's a closer look at the two events that temporarily hurt Ethereum's price, plus where we think the digital currency is headed next…
The Ethereum "Flash Crash" Caused a Panic
The first event was the June 21, 2017, Ethereum "flash crash." On the GDAX, an exchange that allows investors to buy and sell digital currencies, the Ethereum price plummeted from $319 to a low of just $0.10.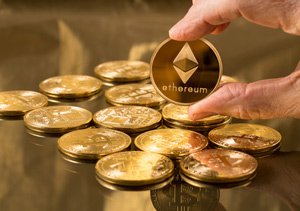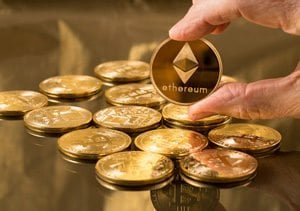 According to Bloomberg, the crash happened in just 45 milliseconds after a multimillion-dollar sell order triggered 800 additional stop-loss orders. Stop-loss orders automatically sell a stock or commodity if its price drops to a specific amount set by the individual investor. Some investors use stop-loss orders to limit losses (or lock in a profit) when a stock or commodity's price drops.
It's unclear why this particular digital currency investor sold millions of dollars' worth of Ethereum. But it triggered some stop-loss orders between $317.81 and $224.48 to fill. From there the price kept falling, and stop-loss orders were filling at a low of $0.10.
Profit Alert: Get stock picks and research that could put an extra $125,000 in your pocket delivered straight to your inbox for just pennies a day. Read more…
After the crash, GDAX Vice President Adam White wrote in a June 21 blog post that there were no indications of wrongdoing. In the blog post, he said the execution of stop-loss orders operated as intended.
The Ethereum price rebounded to $323.47 on June 25, but a rumor on June 25 caused the price to fall once again…
Ethereum Prices Dropped by 6.25% in One Day Thanks to This Rumor
On June 25 at 4:00 p.m., a 4Chan (an online message board) user posted an update that Vitalik Buterin, the creator of Ehtereum, died in a fatal car crash.
The title of the post read "Vitalik Buterin confirmed dead. Insiders unloading ETH" (ETH is the abbreviation for Ethereum). The "story" went on to say "the entire crypto sphere is in big trouble."
Some cryptocurrency traders panicked once again. The Ethereum price was trading at $303.25 on June 25, but dropped 12% at 10:00 p.m. to $284.65 because of the hoax.
After learning about the rumor, Vitalik took to Twitter Inc. (NYSE: TWTR) to dispel it with a picture of himself, alive and well. The Ethereum price rebounded just before midnight to $303.25 by the end of June 25, but that was still a loss of 6.25% on the day.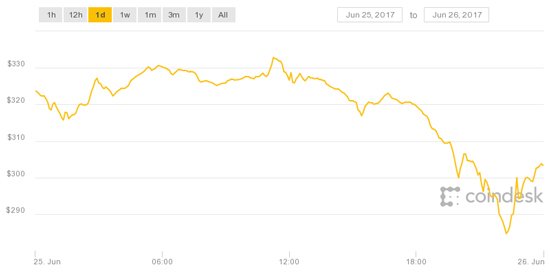 These two events may have caused some investors to lose confidence in the digital currency. But what Money Morning readers need to remember is Ethereum prices are still near all-time highs.
Over the last 12 months, the Ethereum price has skyrocketed 1,936%.
And despite the short-term sell-offs, prices could continue to climb and reach a $500 price target by the end of 2017.
Here's everything you need to know about this bold Ethereum price prediction.
Follow Money Morning on Facebook, Twitter, and LinkedIn.