If you do enough research on penny stock investing, you're bound to run across several alarming stories of penny stock scams. That's because they're actually common, with over 1,300 stocks suspended from trading between 2012 and 2014 for fraud investigations, according to The Wall Street Journal.
We'll show you how a recent penny stock scam worked, plus how to avoid scams with our expert's small-cap stock recommendation...
In many cases, penny stock scams involve "pump-and-dump" tactics. A pump-and-dump scam is when a dishonest business owner or stock promoter will buy up millions of shares in a nearly worthless company. Sometimes, the business is a complete fraud or shell company with no physical assets.
Then, they begin spreading false statements about the stock's profit potential. They promote the stock through a variety of methods like social media, e-mail, or mailed brochures.
All of this new attention will create excitement and lead unwitting investors to buy shares, driving up the stock price. After that, the scammers will dump all of their shares at the newly inflated price, while investors lured in by the promotions will be left with losses.
And one of these schemes just happened three years ago and involved a notorious con artist who has been sentenced to 12 years in prison...
One of the Worst Penny Stock Scams of the Decade Involved a Fake Social Media Firm
As penny stock schemes go, Cynk Technology Corp. (OTCMKTS: CYNK) is an excellent case study.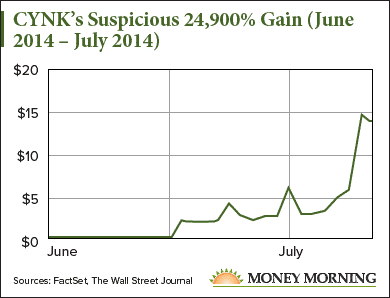 On June 17, 2014, shares of CYNK skyrocketed 3,650% from $0.06 to $2.25. By the end of July, the share price had jumped another 567% to just shy of $15 a share, for a total gain of 24,900% in just over a month.
This insane 24,900% rally gave Cynk a $6 billion valuation in less than two months. But this rally also placed it under the microscope of the U.S. Securities and Exchange Commission (SEC) and the U.S. Department of Justice.
But the scam started becoming transparent by Sept. 11, 2014. That was when CYNK stock had plunged to $0.20 per share - less than 1/100th of the mid-July peak of $21.95.
The SEC probe into Cynk Technology found that the firm was dormant from its creation in 2008 to 2012 when it filed to go public. It claimed to be a social media network that would compete with the likes of LinkedIn Corp. (NYSE: LNKD) and Facebook Inc. (Nasdaq: FB). The company's angle was that it would sell users introductions to major business contacts and celebrities, bypassing the need to "network" for professional connections.
Video
3 Strategies for Investing in Penny Stocks
The probe also found that Cynk was nothing more than a shell company. It never made any revenue or had any physical assets on record. The company's only purpose was to create a $300 million pump-and-dump that involved at least 100 investors.
In 2015, U.S. investigators conducted a sting on Cynk's so-called headquarters in Belize, where they arrested six Belizean residents and one Canadian citizen.
Trending: The Best Stocks to Buy for Mega-Profits in 2017
But the leader of the penny stock scam is a man named Gregg Mulholland...
Mulholland is a California stock promoter that arranged a network of investors for the purpose of manipulating CYNK's stock price for his own profit. Once the heavily promoted CYNK lured enough buyers, he sold his shares at the inflated price for a profit upward of $300 million.
Mulholland was arrested in June 2015 and pled guilty to money laundering and stock fraud. In February, Mulholland was sentenced to 12 years in prison for his role in the Cynk penny stock scandal.
Despite hearing about penny stock pump-and-dump scams like this, not every tiny company is dangerous. You just have to do your homework and research the company's financials, including digging into annual 10-K filings and quarterly earnings reports. These will tell you if penny stocks are fraudulent by showing you whether the company is legitimate and profitable or not.
But Money Morning Small-Cap Specialist Sid Riggs likes to do the research for you...
In fact, he recently found a company that has crushed analyst expectations four quarters in a row by an average of 57.6%. This indicates the stock is undervalued by Wall Street right now.
Here's one of the best small-cap stocks to buy in 2017...
One of the Best Small-Cap Stocks to Buy This Year
[mmpazkzone name="in-story" network="9794" site="307044" id="137008" type="4"]
We recommend OraSure Technologies Inc. (Nasdaq: OSUR), a Pennsylvania-based developer, manufacturer, and supplier of oral fluid diagnostic products.
The company also develops other diagnostic products for in vitro tests, as well as systems for the collection and storage of genetic material for molecular testing. In addition, OraSure sells over-the-counter cryosurgical products throughout the North, Central, and South Americas, Europe, and Australia. These allow people to freeze warts and other lesions off of their skin to destroy possibly infected tissue.
Some of the company's best-selling products are designed to detect diseases like HIV, HCV, and influenza. It also have products that can detect the presence of alcohol or narcotics in a person's system.
The best thing about OraSure is its wide range of products and their proven quality. In fact, the company has a strong track record of FDA approvals, receiving three in a row over a three year timespan...
This started when it received approval for its blood and fingerstick HCV tests in 2010 and 2011, respectively. This was followed up in 2012 by an FDA approval for an at-home HIV test.
All of this has made OSUR stock rocket higher this year. Shares have exploded 112.3% from $8.78 to $18.65 in 2017. And over the past four quarters, the company has beat earnings estimates by an average of 57.6%.
Thomson Reuters analysts conservatively predict shares of OSUR to gain as much as 7.3% from the current $18.64 price to $20 by July 2018. But with the company consistently smashing analyst expectations, Sid expects the stock price to keep rallying, which could urge those analysts to up their estimates.
"Analysts have almost perennially underestimated the company's potential - something they won't do for long," Sid said. "Which is why you don't want to delay for a New York minute if you're as interested as I am."
The Bottom Line: Penny stock scams like the Cynk pump-and-dump serve as reminders that penny stock investing is risky. However, all you have to do is carefully conduct research into a company's financials to ensure you don't fall victim to these scams. For a safe investment that has consistently outperformed expectations, Sid recommends OSUR stock. The company's strong earnings and robust record of surpassing expectations make it one of the best small-cap stocks to buy today.
Cash Windfall: Marijuana stocks are seeing triple-digit gains of 224%... 378%... even an exceptional 751%. Learn how to start investing in marijuana with this "pot investment" plan. Read more...