Last week, we showed you one possible way our current standoff with North Korea might end.
To me, it's been clear since the outset what the North Koreans' own endgame was here. And it was clear that Pyongyang's weapons program was developing faster than the "experts" realized – or faster than the Pentagon was willing to publicly admit.
The truth is, the failed policies of the West, and of the United States in particular, have brought us squarely to where we are today: "Between the Devil and the deep, blue sea," as the old chestnut goes.
Today, I'm going to show you six options the Trump administration has for bringing this to resolution.
None of them are great, and some are downright nightmarish.
There are, however, a couple of really great opportunities for savvy investors who follow this story and know the places to cash in.
Here they are…
Six Ways to Play… With Each, We Pay
Option No. 1: Lean on Beijing
From a geopolitical point of view, this is the best option for Washington. China shares an 880-mile border with North Korea. And there was once a lot of cross-border trade. Despite pressure from the United States, Beijing is reluctant to ramp up the sanctions it's already put in place and really put the hammer to Pyongyang. The reason: China fears both the economic fallout (from failed businesses and the loss of cheap labor) and the potential for a mass of North Korean refugees to surge into China (since 85% of North Korea's trade is with China). Beijing didn't respond well to the Trump administration's most recent efforts to strong-arm China into playing the heavy with Pyongyang.
The takeaway: The whole "doing nothing themselves" bit is telling. Beijing won't help without "incentives" – which brings us to the next option.
Option No. 2: A Total "Sellout" to Beijing
With its attempt to militarize the South China Sea, Beijing has roiled the waters with its Asian neighbors. But it can probably handle them one-on-one. That's why it wants the United States out of the South China Sea. Also, Beijing wants the U.S. Terminal High Altitude Area Defense (THAAD) ballistic missile defense system out of South Korea – worrying that the system's powerful "X-band" radar will let the Pentagon "see" into mainland China. But China's "THAAD tantrum" failed. Now, to get Beijing to really lean on Pyongyang, Trump will have to surrender both THAAD and the South China Sea – and perhaps Taiwan, too.
The takeaway: For the United States, this would be a disaster. Like it or not, the nexus of global trade is moving from North America to Asia. Two-thirds of "real GDP" ($114 trillion) is due to China and Emerging Asia, while the former "Big Three" only account for 29% of what the world produces. By abdicating its Asian foothold – both by retreating physically and "selling out" some of the smaller countries that want our involvement in the regional dispute, like Vietnam, the United States risks long-term economic irrelevance.
Option No. 3: Get Nasty with Beijing
As University of Texas Professor Austin Bay recently wrote, "Strategic patience with Chinese posturing will [eventually] end." And Bay said that Beijing's efforts to position itself as the "global adult" during the Trump era will ultimately be exposed as a sham because it's backing the un-backable in North Korea. And thanks to America's newfound energy independence – something China doesn't have – the United States has much more of an opportunity to damage that country than it does this one. What's more, the United States and its allies could block needed access to raw materials, shut down China's exports, and cut off that country's big surge to buy U.S. farmland and real estate. This stops when Pyongyang denuclearizes.
The takeaway: This will definitely lead to a tit-for-tat trade war, which will hurt China more than the United States. But both countries will be damaged – and at a point in time when sky-high stock prices and a long-of-tooth U.S. expansion are at their most vulnerable.
Option No. 4: Do Nothing and Pretend It Goes Away
I'm being a bit facetious here, but just a little. This is essentially the strategy we've followed for decades. And it's what has us at this juncture now. It means "accepting" a world where North Korea is a nuclear power – eventually with the ability to hit us with long-range missiles and submarine-launched ballistic missiles (SLBMs), a technology Pyongyang has been quickly developing and that we've been warning about here.
The takeaway: This strategy, and the failed policies that fueled it, has us in the current situation – facing an unpredictable leader who has nukes. Kim Jong Un has repeatedly stated his intent to hit the mainland United States with a nuclear-tipped ballistic missile. And folks I've talked to that have been inside North Korea say that anti-American sentiment runs deep. Indeed, I've shared the story with Private Briefing subscribers about my talk with a former foreign correspondent for a major news network who showed slides of a propaganda poster that's widely disseminated inside North Korea. The poster shows a shredded American flag and an exploding U.S. Capitol dome being struck by additional North Korean missiles. It was a sobering presentation. Especially since this poster is apparently quite popular inside the Hermit Kingdom.
Option No. 5: Cut Off the Head of the Snake"
An assassination of Kim Jong Un is certainly an option being discussed in the darkest levels of the Pentagon.
The takeaway: There's no guarantee this would work. Even the drone strikes on terrorists have caused blowback. And killing a head of state – no matter how despised – would be much trickier.
Option No. 6: Launch a Preemptive Strike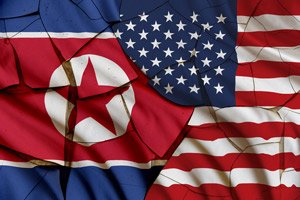 We talked about this last week, when we detailed Israel's 2007 air strike on a nuclear weapons reactor in Syria. But this strike would be much, much more complex. First, North Korea's reactor is fueled, meaning there'd be massive fallout. Washington and Seoul have a "4D Strategy" (Detect, Defend, Disrupt, and Destroy) to hit Pyongyang's missiles. But that wouldn't be easy either, because those weapons are spread about, some housed in deep caves or other underground facilities. You'd be looking at a joint strike of aircraft, ship- and sub-launched cruise missiles, "bunker-buster" bombs, smart bombs, and probably more than 2,000 conventional bombs – all hitting within a window of as little as 10 minutes. Targets would include the missiles, launch sites, airfields, air defenses, radars, communication centers, and weapons storage sites. The United States and its allies would also have to be certain to have their ballistic missile interceptor systems ready in case of a counterstrike. And this initial attack would be followed by a number of additional clean-up strikes in the days and weeks that followed. You're essentially talking about a restart of the Korean War.
The takeaway: There are risks in doing this and in not doing this. This kind of strike won't improve America's standing on the world stage. And the potential human and economic cost is staggering. North Korea has thousands of artillery pieces lined up to blast away at its southern neighbor's capital, Seoul, a city of 26.5 million people – not to mention a global economic command center with a GDP of $1.5 trillion.
So what could be North Korea's rationale for doing this in the first place? I'll show you.
Join the conversation. Click here to jump to comments…
About the Author
Before he moved into the investment-research business in 2005, William (Bill) Patalon III spent 22 years as an award-winning financial reporter, columnist, and editor. Today he is the Executive Editor and Senior Research Analyst for Money Morning at Money Map Press. With his latest project, Private Briefing, Bill takes you "behind the scenes" of his established investment news website for a closer look at the action. Members get all the expert analysis and exclusive scoops he can't publish... and some of the most valuable picks that turn up in Bill's closed-door sessions with editors and experts.