Imagine it's early 1939...
...German troops occupy Bohemia and Moravia. Czechoslovakia ceases to exist.
...Spanish national troops take Barcelona with Italy's help.
...Adolf Hitler orders the German military to plan for the invasion of Poland.
...French Foreign Minister Georges Bonnet proposes a "peace front" of France, the Soviet Union, Great Britain, Poland, and Romania to deter Germany.
...The fourth and final bear market of the 1930s begins after an August buying panic that takes the Dow to a peak of 155.
If you're like most people, you can't shake the nagging feeling that something sinister is just around the corner.
After a decade of feckless political leadership, bailouts, and corporations that are getting bigger at your expense, your wallet is definitely pinched. Wages are flat to middling.
Your next move... uncertain.
Your temptation... to run for the hills.
Yet, in one of the greatest investing moves of all time, a single quiet and unassuming man named John Templeton borrows $10,000 and buys 100 shares of every stock trading on the New York Stock Exchange for under $1. All but four would turn out to be profitable investments.
Years later, he would go on to become an investing legend by refining and following the same strategy - "buying when others are despondently selling."
Every $10,000 invested with Templeton when he set up his fund turned into at least $2 million by the time he retired. Eventually, he became so wealthy he gave away more than $1 billion to charity.
Fast forward to 2015...
Change the names and places, and it's Russian strongman Vladimir Putin who threatens global stability. Farther south, ISIS is expanding its influence in a grotesque orgy of barbarity.
Just as they did in 1939, the stock markets are pushing new highs thanks to meddling from the U.S. Federal Reserve.
All the while, our politicians act as if they've got the situation under control, which is almost a guarantee that they don't. Once again, it's tempting to head for the hills.
But sitting on the sidelines is exactly what you don't want to do as an investor.
How do I know?
Because chaos almost inevitably produces the biggest profits.
Sir John Templeton waded into the markets on the eve of global chaos in 1939 because he knew that investors' emotions almost always get the better of them. He understood that they were driven to make exactly the wrong decisions over and over again - buying when they should be selling and selling when they should be buying.
You and I have talked about that many times over the years because investors are still prone to that counterproductive way of thinking. Investors who make emotional decisions doom themselves to poor returns, often trailing the returns of the markets by hundreds of percentage points over time, according to research from DALBAR Inc. and others.
Those who make logical decisions day after day become the real champions in the investing world.
There's something else we talk about a lot, too. And it's equally important, especially right now.
Templeton was so successful because he didn't just fling his money around. Like us, he preferred unglamorous stocks.
Sir John tapped into "must-have" investments - investments dealing in sectors humanity can't survive without - every chance he got, just like we do in all my investing services, from Total Wealth to the Money Map Report to High Velocity Profits.
Like you and me, Templeton hated gambling. He saw no need to take unnecessary risks.
But he understood clearly that calculated risks were part of the game, especially when it came to finding value others didn't see or recognize.
Were he alive today, I have no doubt that Sir John Templeton would be making the case just as I am that...
...NOW is precisely the moment to invest in Russia.
I won't hold it against you if you recoil at the idea.
In fact, I'm counting on it, because that's what makes our timing so perfect... 99% of all investors are missing out and would never invest in Russia right now. So there's a true "first mover" advantage.
Instead, they'll sit back and wait for things to "get back to normal" before making their move.
As usual, they'll miss the truly extraordinary profits.
In fact, Russian market ETFs have risen 24% from their December 2014 lows, and they're among the world's best performers year to date. But there's a lot more ahead, as I'll show you.
The question you need to be asking yourself right now is not whether to invest in Russia, but rather, how you will feel in the future knowing that you've been left behind (again) if you don't.
Five Reasons to Invest in Russia Today
1) Just about everybody who is going to sell has already sold.
Standard & Poor's downgraded Russian debt to only one notch above junk last January. Investors pulled more than $151.5 billion out of Russia in 2014, according to Reuters. Analysts are comparing what's happening in Russia to the Great Depression. Even Russia's own finance minister, Anton Siluanov, has said that the economy could contract another 4% in 2015.
The sell-off has been so extreme that the Russian markets are trading at around a PE of five times earnings. The S&P 500, by comparison, is trading at a PE of around 18.95.
Investing in Russia now means that you are significantly likely to outperform more expensive global markets for the next decade - possibly more because the worst is already priced in.
Any shift from "terrible" to "merely bad" could result in a 30% run in Russian stocks in general.
2) Your neighbors will think you've lost your mind.
Sir John Templeton's secret was understanding emotion. He understood that the best returns came from doing things others would consider ludicrous. Some call this contrarian investing, but really it's finding value where others don't see it.
The fact that most global traders and the mainstream media are almost universally against Russia right now is a glaring signal that emotions are running high. Given that we know they are almost always wrong, the logical move is to take the other side of the trade.
3) Negative headlines about Russia are on the covers of several major magazines, including The Economist.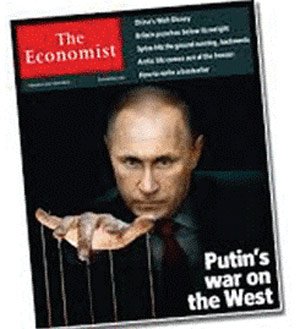 That's a dead giveaway that it's time to make your move, as far as I am concerned.
That's because the mainstream media almost always latches on to what it knows will sell. After all, their job is to sell popular narratives, so they want to tap into the emotions we've just talked about. Never mind that in doing so, they lead millions down exactly the wrong financial path.
I've written a lot about this over the years because the "magazine cover" indicator is extremely powerful.
4) Oil is firming up.
While short-sighted analysts will look at the collapse of oil prices relative to last summer and bemoan the loss, forward thinkers will look to price projections for the future. And as WTI crude oil prices seem to have stabilized in the $46-$50/barrel range as of early March, numerous forecasts - ranging from the U.S. Energy Information Administration (EIA) to private research firms like Deloitte and McKinsey - expect that the growth in demand for oil will far exceed supply in the years to come. That puts a floor on the price.
This long-term picture of steady recovery in oil prices is also an enormously bullish development for investments in Russia.
Not many people realize this, but fully 50% of Russia's federal budget revenue comes from oil. That's understandable when you consider that it accounts for nearly 70% of Russia's exports and approximately 25% of its gross domestic product.
So any upside, any price stability at all is a boost. And Putin knows it. But the vast majority of Russia-leery investors don't.
5) Putin needs the West even as he hates the West.
I know that's hard to believe given the hardball Putin is playing and what's going on the Ukraine right now. But take a step back for a minute.
Russia may have political problems with the West based on a centuries-old xenophobic posture, but the country is upgrading its infrastructure, building technology, maintaining open currency markets, and even engaging Western companies doing business there.
The process is not yet smooth by any stretch of the imagination. Corruption is still a national sport, and there's still a long way to go for Russia's political evolution. But no one can dispute the fact that Putin wants Moscow to be a global financial center, just as the Chinese want Shanghai to become one.
And that means he will continue to change his tune along with his wallet over time.
Now if this resonates with you as an extraordinary profit opportunity - the way it does with me - here's how I suggest you play it right now.
Here Are 10 "One-Click" Ways to Earn 10% or Better on Your Money Every Quarter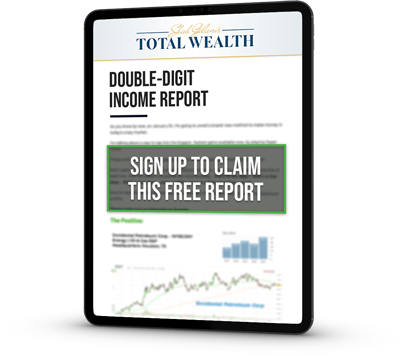 Appreciation is great, but it's possible to get even more out of the shares you own. A lot more: you can easily beat inflation and collect regular income to spare. There are no complicated trades to put on, no high-level options clearances necessary. In fact, you can do this with a couple of mouse clicks – passive income redefined. Click here for the report…
About the Author
Keith is a seasoned market analyst and professional trader with more than 37 years of global experience. He is one of very few experts to correctly see both the dot.bomb crisis and the ongoing financial crisis coming ahead of time - and one of even fewer to help millions of investors around the world successfully navigate them both. Forbes hailed him as a "Market Visionary." He is a regular on FOX Business News and Yahoo! Finance, and his observations have been featured in Bloomberg, The Wall Street Journal, WIRED, and MarketWatch. Keith previously led The Money Map Report, Money Map's flagship newsletter, as Chief Investment Strategist, from 20007 to 2020. Keith holds a BS in management and finance from Skidmore College and an MS in international finance (with a focus on Japanese business science) from Chaminade University. He regularly travels the world in search of investment opportunities others don't yet see or understand.