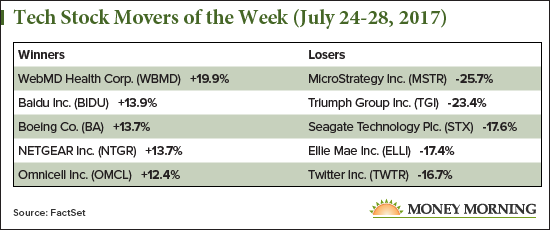 For the first time in eight weeks, Asia Equity Exchange Group Inc. (OTCMKTS: AEEX) did not make our list of tech stock* movers of the week.
AEEX fell a modest 5.4% last week, not enough to make the jump to biggest losers. We'll see if this is the end of the stock's volatility.
WebMD Health Corp. (Nasdaq: WBMD) was the big winner after last Monday's announcement that the web-based health information provider would be acquired by Internet Brands for approximately $2.8 billion. Owned by KKR & Co. LP (NYSE: KKR), Internet Brands adds WebMD to a portfolio of sites that includes CarsDirect, ApartmentRatings.com, and Wikitravel. The deal is expected to close in the fourth quarter but is subject to a legal investigation into whether WebMD board members acted to maximize shareholder value. Shareholders will receive $66.50 per share if the deal goes through as is. WBMD shares shot up from $55.19 to $66.10 on Monday, then stayed remarkably flat for the rest of the week. The stock never closed more than $0.10 away from Monday's price.
Last week Baidu Inc. (Nasdaq: BIDU), China's leading Internet search provider, reported a second-quarter earnings per share (EPS) increase of 97% over the same quarter last year. That obliterated analyst expectations by 56%. That sent shares soaring, finishing the week with a 13.9% gain. Baidu also announced a new partnership to link its online payment system with PayPal Holdings Inc. (Nasdaq: PYPL). The move will give each company access to a wider merchant base overseas, just as China's other top payment firms are making similar moves to extend their global reach.
Urgent: An $80 billion cover up? Feds use obscure loophole to threaten retirees… Read more…
This earnings season has been dominated by companies beating expectations. So MicroStrategy Inc. (Nasdaq: MSTR) stood out last week when it announced its EPS of $0.96, missing expectations by 38%. Shares tumbled immediately and closed the week down 25.7%. MicroStrategy was one of the poster children of the dot-com bubble but has repaired its image in the 17 years since. It was valued as high as $26 billion before the collapse in 2000. It now sits around $1.6 billion.
Triumph Group Inc. (NYSE: TGI) was another unfortunate standout, missing EPS estimates by a whopping 71%. At $0.24 per share, earnings were down 77% from a year earlier. The stock plunged 18.1% on Wednesday and closed the week down 23.4%. The aviation manufacturer pinned the disappointing figures on the end of two legacy programs.
*Stocks have a primary listing on a U.S. exchange, a market cap greater than $1 billion, and are in either the Technology Services or Electronic Technology sector. Data and analytics provided by FactSet.
Turn a Small Stake into a Fortune: A new earth-shattering government announcement could completely change the legalization of marijuana – forever. In fact, thanks to this historic legislation, tiny pot stocks trading for under $5 are getting set to double, triple, or quadruple. In an exclusive interview with Money Morning, pot stock expert Michael Robinson shares all the good news – including details on five tiny weed stocks that could potentially turn a small stake into $100,000. Click here to continue.
Follow Money Morning on Facebook, Twitter, and LinkedIn.
Join the conversation. Click here to jump to comments…
About the Author
Stephen Mack has been writing about economics and finance since 2011. He contributed material for the best-selling books Aftershock and The Aftershock Investor. He lives in Baltimore, Maryland.