(Kitco News) – There is keener anxiety and risk aversion in the marketplace Wednesday after U.S. President Donald Trump warned North Korea there would be "fire and fury like the world has never seen" if North Korea keeps threatening the U.S.
North Korea, meantime, responded by saying it may fire a missile toward the U.S. territory of Guam. North Korea had recently threatened to use its nuclear weapons against the U.S. after the United Nations slapped more sanctions on the rogue nation. Some U.S. lawmakers have criticized Trump for his remarks Tuesday on North Korea, saying he should tone down his rhetoric.
World stock markets sold off Wednesday on the heightened U.S.-North Korea tensions. U.S. stock indexes are pointed toward lower openings when the New York day session begins.
Gold prices are solidly higher on safe-haven demand. U.S. Treasuries are also seeing safe-haven buying after Trump's North Korea remarks to reporters in New Jersey on Tuesday.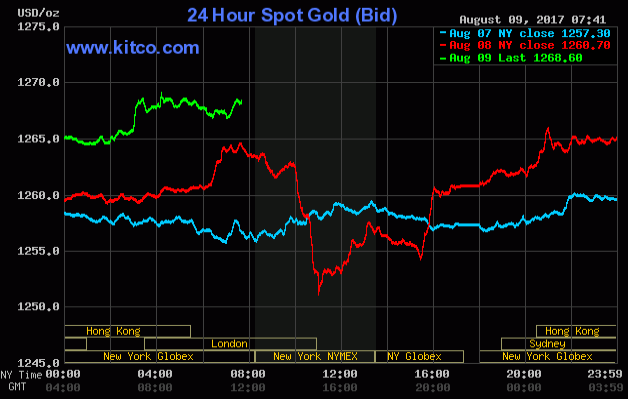 The U.S. dollar index is slightly weaker in early U.S. trading Wednesday. The index has been trending lower all year long and the bears have the strong near-term technical advantage. However, more price strength in the greenback this week would begin to suggest a market bottom is in place.
Meantime, Nymex crude oil futures are slightly up and trading just below $50.00 a barrel. OPEC members are meeting this week in Abu Dhabi. That meeting will be closely monitored by energy market watchers.
In other overnight news, China's consumer price inflation ticked down in July. China's consumer price inflation was reported at up 1.4% in July, year-on-year, versus a rise of 1.5% in June. The July number was slightly lower than expected and continues a string of reports from major world economies that show still-very-low inflation levels.
There was another apparent terror attack in France Wednesday. Several were injured when a car rammed several French soldiers.
U.S. economic data due for release Wednesday includes the weekly MBA mortgage applications survey, preliminary productivity and costs, monthly wholesale trade and the weekly DOE liquid energy stocks report.
By Jim Wyckoff, contributing to Kitco News; jwyckoff@kitco.com
Follow Jim Wyckoff @jimwyckoff for breaking news.