Online fashion service Stitch Fix reportedly filed confidential IPO paperwork with the U.S. Securities and Exchange Commission in July. But we won't know the Stitch Fix stock symbol until CEO Katrina Lake files the final paperwork needed to take her company public.
However, we have a few details about Lake's company to help you prepare before the Stitch Fix IPO…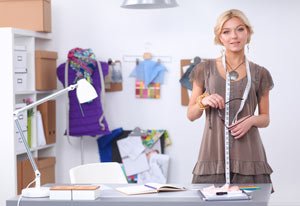 We do know that Stitch Fix's revenue is growing quickly. Its revenue jumped 192% between 2015 and 2016.
Forbes estimated Stitch Fix generated $250 million in revenue for 2015. According to a May 10 Recode report, Stitch Fix generated $730 million for its fiscal year ending in July 2016.
BRILLIANT: Average Americans Are Becoming Marijuana Millionaires
And Stitch Fix's CEO expects revenue numbers to increase even more…
Before the Stitch Fix Stock Symbol Is Revealed, CEO Eyes $1 Billion in Revenue
Before the $730 million revenue figure was revealed in July, Lake said at a March 20 conference that her company hadn't "hit $1 billion" in revenue, but she was excited about Stitch Fix's growth.
Lake did not say if her company was waiting to reach $1 billion in sales before going public. Though waiting to cross the $1 billion mark could psychologically help retail investors feel more comfortable about buying Stitch stock.
For example, before going public in 2012, Facebook Inc. (Nasdaq: FB) reached $1 billion in profit and $3.7 billion in sales in 2011.
To reach $1 billion for this fiscal year, revenue would only need to increase by 36% from the $730 million in 2016.
Video
The Secret to Stitch Fix's Success Story
But if Stitch Fix's revenue keeps growing at its current pace – like the 192% growth it experienced between 2015 to 2016 – the revenue for this fiscal year could climb to over $2 billion.
It's very impressive that Lake went from shipping clothes out of her apartment in 2011 to running a company with nearly $1 billion in sales in 2016.
But investors shouldn't buy stocks solely based on revenue growth or a compelling story…
Before the Stitch Fix IPO date is determined, we want Money Morning readers to be prepared and to not get caught up in hype. In our official Stitch Fix Stock & IPO Guide, we provide our readers with the most important details about the company, including:
How Stitch Fix started
Stitch Fix's competitors
When Stitch Fix could go public
Most importantly, we will also answer the question of whether Stitch Fix stock is a good investment. You can access this free and exclusive guide, right here.
A Better Path to Profits: Uber isn't publicly traded yet. But you can get stock picks and research that could put an extra $125,000 in your pocket delivered straight to your inbox for just pennies a day. Learn more…
Follow Money Morning on Twitter, Facebook, and LinkedIn.