Some Wall Street analysts are issuing a new stock market crash warning, but we think it's way too early to make that call…
Business Insider reported that a "growing chorus of strategists and investors across Wall Street" see the stock market heading for a "rude awakening."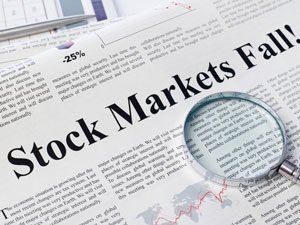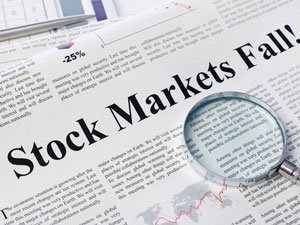 Why?
They say volatility is too low.
The CBOE Volatility Index (VIX) – also known as Wall Street's fear gauge – hit its all-time intraday low on July 26 when it fell to 8.84. Even after rising from 9.5 Tuesday to 14.8 today, following U.S. President Donald Trump's threat of "fire and fury" to North Korea over its nuclear weapons program, volatility is still 22% below its historical average.
This might not mean the next stock market crash is imminent, but JPMorgan's Marko Kolanovic told Business Insider it "indicates we may be very close to the turning point."
Don't Miss: How to Make a Killing…When Everyone Else Is Panicking
While we believe this warning is premature, it underscores why it's a good idea to plan ahead and invest in some of the most resilient stocks on the market in case there is a downturn…
Why This Stock Market Crash Warning Is So Premature
A low VIX score is a sign investors are confident about the status of the market. Because the VIX is calculated based on the amount of options being traded – and thus where traders expect the market to go in the future – a low VIX means traders aren't expecting stocks to drop.
It sounds counterintuitive to think record-low volatility is a bearish sign, but there's reason to pay attention to it.
A record-low VIX has some analysts concerned about a potential market crash in 2017, because with the VIX so low it has nowhere to go but up. In other words, because markets never stay the same forever, and since traders are at peak bullish sentiment, a reversal is more likely.
But we still think a market crash prediction is premature…
Must See: This Great Depression-Era "Secret" Helped Transform Two Teachers into Millionaires. Read more…
Money Morning Chief Investment Strategist Keith Fitz-Gerald says there's some risk that the Fed's unwinding of its $4.5 trillion balance sheet could slow the stock market down. That may lead to a small pullback in mid-2018.
But that's no reason to leave the market.
A pullback of 10% or 15% is actually healthy for the market. Keith thinks we'll see a small pullback of that nature starting in 2018, which will set up the S&P 500 for a run up to the 3,000 level one or two years afterward.
And investors tempted to time the pullback and take their profits before a market correction could be costing themselves money.
Investors make the most gains when they stay in the market and ride out the ups and downs instead of trying to exit and jump back in at the right time. "Timing the market never works," Keith says.
It's impossible to predict when the market has hit its peak or its bottom, and investors who try to guess the right time to enter or exit leave profits on the table.
Just look at how holding stocks could have racked up 22% gains compared to an investor trying to time the markets just right…
"Bottom line: Stay in to win," says Keith."Or you won't."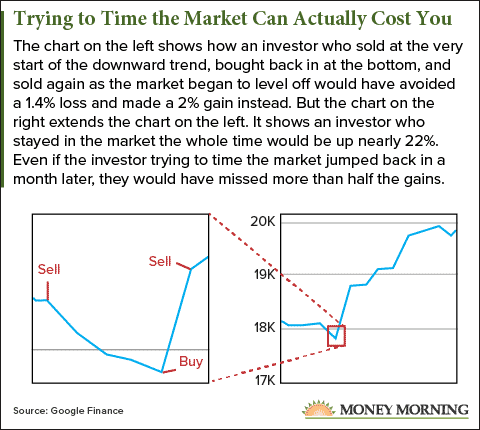 While we don't believe in timing the market, you can be strategic with your investments.
Resilient stocks in must-have industries, especially stocks with well-paying dividends, are the best stocks to own during a stock marketcrash. You can even profit while the market slides…
Prepare for - and Profit from - a Market Correction