The Lyft IPO date isn't set yet, but the ride-hailing company could receive a major investment from telecommunications giant SoftBank before it takes place.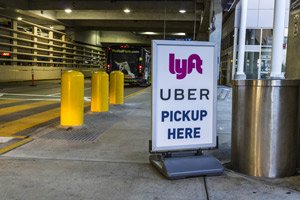 SoftBank is the largest investor in transportation services Didi Chuxing (China), Ola (India), Grab (Southeast Asia), and 99 (Latin America), according to TechCrunch. However, it does not have an investment in the North American market.
But that could quickly change with its potential investment in Lyft, and that has investors wondering if Lyft stock will be worth buying now...
SoftBank Could Provide Massive Funding Round Ahead of the Lyft IPO Date
According to an Aug. 7, 2017, TechCrunch report, SoftBank CEO Masayoshi Son was asked about investing in Lyft or Uber at a Q&A session following the announcement of his firm's Q1 2017 earnings.
BREAKING: New Legislation Could Turn Tiny Pot Stocks into Millions. Click Here...
He didn't provide a timeline of when he would invest, but Son said he was "very interested" in the U.S. market. And because of the Uber's scandals in 2017, an investment in Lyft would make the most sense right now.
His past investments in transportation services have been in the hundreds of millions of dollars...
SoftBank and Didi Chuxing invested a combined $2 billion in Grab, according to a July 23, 2017, Recode report. Also, SoftBank led a $250 million Series D funding round in 2014.
On top of that, SoftBank led a $159 million funding round for driverless car tech startup Nauto also in July 2017.
Video
Masayoshi Son's SoftBank Eyes Stake in Uber, Lyft
Because Son could invest in Lyft before the Lyft IPO date, Money Morning readers have been asking us if they should buy Lyft stock too.
In our free and exclusive Lyft Stock & IPO Guide, we provide Money Morning readers with everything they need to know before the Lyft IPO date, including:
How Lyft works
Lyft's biggest competitors
When Lyft could go public
We'll also show you how to buy Lyft stock, but more importantly, we'll tell you whether you should buy it.
You can find this free and exclusive guide, right here.
A Pot "Bombshell" Just Hit Canada: For our neighbors to the north, it's shocking news. But it could be the best news of all time for marijuana stock investors. In fact, this single "bombshell" event could unleash a new pot stock boom that will blow the doors off anything we've seen up to this point. And by putting a couple of hundred bucks into a handful of tiny Canadian weed companies, you could pocket life-changing gains - turning a few hundred bucks into a fortune overnight. Watch this now to get all the details...
Follow Money Morning on Twitter, Facebook, and LinkedIn.