Medical marijuana could quickly become a solution to the ongoing opioid crisis. And we've just found the best marijuana stock to buy that could soar 92.3% thanks to a new opioid-fighting initiative.
While the nationwide opioid epidemic has been worsening for years, it's just now reaching alarming levels...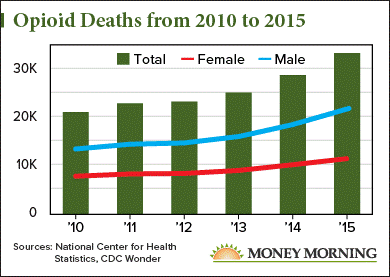 Six states - Alaska, Arizona, Florida, Virginia, Maryland, and Massachusetts - have declared it a public health emergency. The number of opioid-related deaths rose 75%, from roughly 20,000 in 2010 to 35,000 in 2015. According to a June 5 report from The New York Times, opioid-based drugs kill more than 100 Americans every day.
But medical marijuana appears to be helping the crisis, which is why our marijuana stock pick - courtesy of Money Morning Executive Editor Bill Patalon - could bring you a potential 92% profit...
How Medical Marijuana Is Fighting the Nationwide Opioid Crisis
Researchers across the country are quickly noticing how medical marijuana can lower the rate of opioid overdoses. That's because marijuana can be used as a non-addictive pain reliever, which patients turn to as an alternative to opioids.
Sign up for SMS so you never miss special events, exclusive offers, and weekly bonus trades.
In 2014, the University of Pennsylvania's Dr. Marcus Bachhuber examined the relationship between legalized cannabis and opioid overdose deaths between 1999 and 2000. The results of his study found that states with legal marijuana laws had an annual opioid death rate 25% lower than states without legalized marijuana.
Must See: Marijuana stocks are seeing triple-digit gains, and the next wave of wealth is coming. Learn how you could turn a small $100 stake into a fortune. Read more...
Another study conducted in 2016 by New Mexico-based nurse practitioner Anita Willard Briscoe had similar results. According to Rolling Stone, Briscoe collected self-reported data from 400 patients from 2015 to 2016. The data showed that 25% of the surveyed patients quit using opioids thanks to marijuana's similar ability to relieve pain.
Now marijuana's effectiveness in reducing opioid deaths has caught the attention of pharmaceutical companies.
Pharmaceutical companies are now developing cannabis treatments as a substitute for opioid treatments. As these firms develop more cannabis medicines, the medical marijuana market will grow. According to cannabis analytics firm New Frontier Data, medical marijuana sales are expected to grow 183%, from $4.7 billion last year to $13.3 billion in 2020.
"The developers of cannabis-based medicines are already positioning themselves to replace opioids," said Money Morning Director of Technology & Venture Capital Research - and renowned cannabis industry expert - Michael Robinson.
This is also where Bill's marijuana stock recommendation comes into play. The company we're about to show you is known for its leading opioid-based treatment, but it's now pivoting away from opioids in favor of marijuana-based medicines.
That's a sign of medical marijuana's potential to not only slow the opioid crisis, but to take over the opioid drug market.
In fact, this company just released a new cannabinoid-based drug that targets cancer-related pain back in July. Bill argues that this could be a catalyst for the stock, which analysts expect to climb 92.3% in one year...
This Is the Best Marijuana Stock to Buy in 2017