The Spotify IPO will use a unique strategy that has retail investors excited, but we've found a backdoor way to profit from the music-streaming company…
Spotify will list its shares on the New York Stock Exchange (NYSE), according to a May 12 Fortune report, but we don't know if it will happen this year.
However, we do know Spotify has a unique plan for its IPO.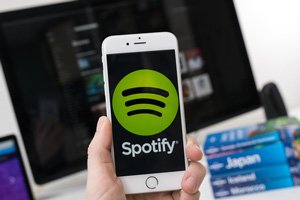 Today, we're going to tell you everything you need to know about Spotify and its unusual IPO strategy. We'll also share how to profit ahead of the public offering.
First, here's how the music-streaming site works…
Ahead of the Spotify IPO Date, Learn How the Music Streamer Works
Spotify is a Swedish streaming music service that was founded in 2006. The Spotify app streams music, podcasts, and video from media companies and record labels.
Energy Breakthrough: One gallon of this new "crystal fuel" could get you from New York to L.A. and back… seven times! Read more…
The app provides basic services for free, but a paid subscription has more advanced and expanded features. Spotify Premium costs $9.99 per month and allows users to download music, skip as many songs as they want, and it's commercial free.
The company generates income through its subscription plans and by selling advertising to third parties.
Video
Spotify CEO on Video, Competition, and Artist Backlash
But despite its popularity, Spotify still isn't turning a profit. Between 2013 and 2015, the company's net losses actually accelerated. In 2015, the company lost its all-time high figure of $173 million.
The music-streaming site has not provided revenue totals for 2016.
Now that you know how Spotify operates, here's more details on its unusual public offering strategy…
How Spotify's IPO Will Be Different Than Other IPOs
Spotify will be using a direct listing for its IPO instead of using underwriters to help sell the stock.
When most companies go public, they hire big banks to underwrite their IPOs and lead them through the process. This helps the company set a price and find interested buyers before it lists on an exchange, but it's also costly.
For example, Snap Inc. (NYSE: SNAP) went public on March 2, 2017. By the time the company's Q2 financials were released, we learned SNAP spent a whopping $2 billion connected to its IPO.
But what makes a direct listing so unique – and interesting to retail investors – is it eliminates the special IPO offering price only available to hedge funds and large investment firms.
Before retail investors could buy shares of Snap, big banks, hedge funds, and well-connected investors were able to buy shares at $17, the Snap IPO offering price set by its underwriters.
Retail investors had to wait until the market opened to buy the stock, which was instantly priced at $24 per share. A direct listing means that every investor will be able to buy the stock at the same price on the day it opens. This gives retail investors the same opportunity as the hedge funds.
But even if this seems like a "level playing field," we recommend Money Morning readers avoid buying Spotify stock. Spotify still isn't a profitable company, and a company's stock price after an IPO can have volatile price swings.
However, we do have a backdoor strategy that lets you profit off of Spotify without owning a single share. You see, Spotify has a supplier that it needs to pay to keep its business operating.
So no matter what happens with the Spotify stock price, this supplier is still going to profit from the music streamer.
And if you own this backdoor investment, you could profit from Spotify without taking a risk on an IPO…
Profit from Spotify's Success Now with This One Investment