We don't know which exchange Uber stock will trade on, but that doesn't mean you can't prepare for the Uber IPO…
According to Uber's new CEO, Dara Khosrowshahi, the company is focusing on becoming profitable before going public.
He said the Uber IPO may not happen until 2019 and could be as late as 2021, so anxious investors still have to wait to get their hands on Uber stock.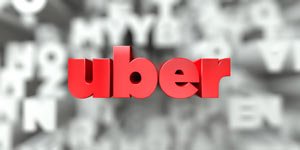 But the good news is the new CEO is giving us a much clearer plan for the Uber IPO. Uber's former CEO, Travis Kalanick, told Business Insider in 2016 that Uber may not go public until 2026.
And since we now know Uber's IPO plans are more definitive, we want our readers to be prepared for the IPO, including the best way to profit…
Potential Roadblocks Before a Successful Uber IPO
Uber has dealt with almost too many scandals to count in 2017. Not only did the scandals lead CEO and founder Travis Kalanick to step down, but it has potential investors concerned if the stock will be worth owning.
Throughout this year, the company faced allegations ranging from sexual harassment to Alphabet Inc. (Nasdaq: GOOGL) alleging Uber stole its technology. Uber was also accused of subverting regulators with a program called "Greyball."
And just this past month, a brand new Uber scandal broke. According to a Sept. 8 New York Times report, Uber is now under investigation by the FBI for using software to monitor the actions of Lyft drivers to potentially subvert its business. The program, called "Hell," targeted drivers who worked for both services and then gave financial incentives to those drivers to ditch Uber's competitor.
Video
Who Is Dara Khosrowshahi?
Throughout 2017, Uber also lost top management, including its senior VP of engineering, VP of product & growth, president, and CEO.
This Could Make Big Oil Obsolete: One gallon of this new fuel could produce enough energy to power a car for 42,325 miles. It's being hailed by many experts as energy's "Holy Grail." Read more…
With all of these issues, Khosrowshahi has a lot of issues to fix before the IPO.
But if he can change Uber's culture, our readers have been asking us if it's a good idea to buy Uber stock when it becomes available.
Here's the safest way to profit from Uber…
You Don't Have to Wait for Uber Stock to Trade to Profit