According to Money Morning Options Trading Specialist Tom Gentile, "making changes to your portfolio based on headlines is the fastest way to lose your money in the stock market."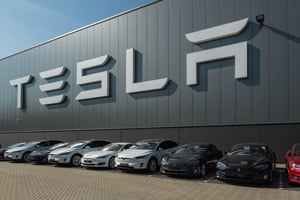 But that's exactly what's been happening with Tesla stock this month…
Last week, the National Transportation Safety Board (NTSB) found that Tesla Inc.'s (Nasdaq: TSLA) autopilot and the driver of the other vehicle both share blame in a May 2016 fatal crash.
That announcement brought out a parade of gloom and doom for Tesla stock from analysts…
"Tesla will be a money-losing business until 2020, analyst says"
"Analyst started coverage of the electric car company with a bearish underweight rating, citing concerns over valuation"
And from earlier this year in April, when Tesla stock traded at $308.71:
"AutoNation CEO scoffs at Tesla's 'inexplicable' market value." He then called the company a "Ponzi scheme."
Despite the prognostications of doom, the Tesla stock price has soared 74.5% year to date. Today, TSLA stock trades at $372 and change. It is hard to take the media and analysts seriously when Tesla stock proves time and time again that these are challenges to overcome and not the end of the road, so to speak.
Energy Breakthrough: One gallon of this new "crystal fuel" could get you from New York to L.A. and back… seven times! Read more…
In late June, the stock started to ease lower from what was then an all-time high. Then, in early July, the headlines read that Tesla's new Model 3 car got disappointing results from the Insurance Institute for Highway Safety. And to add insult to injury, its deliverables data were weaker than expected.  The stock plunged, and within eight trading days, it had reached what pundits call "bear market territory," with a drop of more than 20%.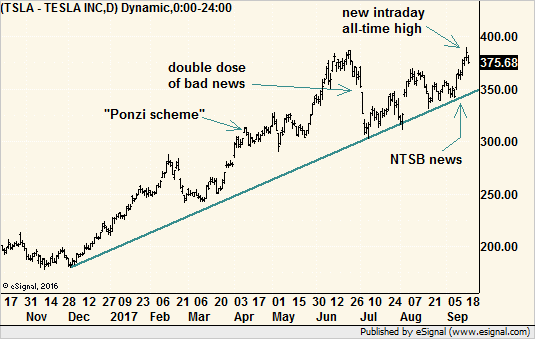 Just look at it now. Immediately after the fall, the stock started to rally and regained every penny it lost over the summer. So much for bad headlines.
Investors who sold Tesla stock on July 6, would have missed gains of more than 20% in just two months.
And selling on any downturn could lead to similar missed profits…
Why Tesla Stock Remains a Long-Term Buy Today