Money Morning Options Trading Specialist Tom Gentile has just released the best ETF to buy today to Money Morning Members that could provide triple the gains of the broader markets for short-term investors.
Make no mistake, this is for investors who understand the risks and appreciate Gentile's method of mitigating them. Gentile is an options trader, always looking for fast profits and not often holding positions for the long term.
And his pick is showing some very bullish signs right now thanks to the Fed...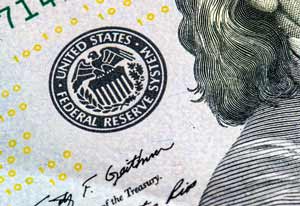 After nearly a decade of bond-buying programs and near zero percent interest rates, the Federal Reserve has already begun to unwind these policies. It's been a slow start with only one quarter-point increase in the fed funds rate to 1.25% in June. The market expects a second quarter-point hike in December, and Fed Chair Janet Yellen confirmed this intention in a recent speech.
Financial stocks like banks react well in a rising rate environment, especially when long-term rates move up faster than short-term rates. Analysis of the yield curve - the difference between long-term and short-term Treasury rates - suggests that long rates will indeed rise faster.
The question is which financial stock is the best one to buy under this scenario. Is it a big bank, a regional bank, or some other financial services company?
With the ETF Gentile is bringing readers today, you don't have to worry about finding that one stock out of hundreds...
Forget the Needle, Buy the Haystack
Gentile says that searching for that single stock - that needle in the haystack - can be a daunting task.
Instead, he recommends removing some of that stress by finding a group of stocks that run together. Not only does it make the selection process easier, but it also reduces the risk of the ups and downs of one single stock. Trading a whole group will let you profit even if one of the stocks is underperforming.
Must See: This Great Depression-Era "Secret" Helped Transform Two Teachers into Millionaires. Read More...
He calls it trading the haystack, not the needle.
The most practical way to do that is with exchange-traded funds (ETFs). They trade as easily as a single stock and do a good job of reducing single stock risk.
But you can't just pick any ETF and expect to beat the market. That's why Gentile is giving readers the following pick. In fact, he thinks it's the best ETF to buy now...
This Is the Best ETF to Buy Today