A coming $112.8 billion increase to the defense budget is going to be one of the top catalysts for drone stocks next year, and that's great news for investors...
The Senate passed a $700 billion National Defense Authorization Act (NDAA) for 2018 on Sept. 18, 2017.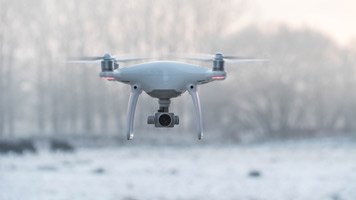 Last year's budget earmarked $587.2 billion for military spending, with $4.61 billion for drone-related spending.
Now that the budget is getting a $112.8 billion increase for 2018, more money can be allocated to unmanned aerial vehicles.
And by getting in early on the drone craze, you could profit from a potential 4,636% gain.
A gain like this would be the equivalent of turning every $50 you invest into $2,318, every $2,500 into $115,900, and every $10,000 into $463,600.
We'll have more on this profit opportunity in just a bit.
But first, we want to make sure Money Morning readers know more on why the government is dedicating billions of dollars to drones.
The Latest NDAA Act Will Be a Boon for Drone Stocks
The government needs to keep missions and strategic plans classified, which is why there is a lack of information on how and when the U.S. military uses drones.
Investing in Drones Will Be Like Investing in Smartphones in 2009: If you've thought of drones in military terms or just as toys, this is a wake-up call. Find out more.
However, we do know drones can be used to fight terrorism while also protecting the lives of U.S. military personnel.
According to MyDroneLab.com, unmanned aerial vehicles (UAVs) can be classified by functions, which include:
Target and decoy UAVs provide aerial and ground gunnery
Reconnaissance UAVs relay intelligence information back to an UAV operator
Combat UAVs can be used for attacks on high-risk missions
And we do know drones have been used to stop terrorist operations from growing.
Video
Get In on the Drone Craze Now, Before Sales Quadruple
In 2016, a series of U.S. drone strikes and airstrikes in Somalia killed 150 suspected militants at what U.S. officials called a training camp for terrorists, according to The Guardian.
Because of how effective drones are in military combat, the government will keep increasing its spending on drones and drone research.
But it's not just drone makers that can cash in on the billions in spending. Investors are profiting too.
Sources are saying there could be $127 billion in new wealth being created in the drone market as we speak.
And this is beyond anything Money Morning Executive Editor Bill Patalon could have imagined...
Financial Guru Bill Patalon Just Uncovered Your Next Profit Opportunity