Investors are right to look up the CarGurus stock symbol. Since the company just went public today (Oct. 12, 2017), its stock is already up 75% from its IPO offering price…
The stock is listed as CarGurus Inc. (Nasdaq: CARG), and investors are already asking, "should I buy CarGurus stock?"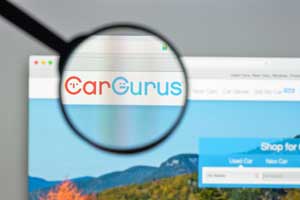 As of 1:00 p.m., shares have skyrocketed 75% to $28 per share from the IPO offering price of $16 per share. But it's unlikely you were able to buy in at the IPO price, and that means buying CARG stock now is much less attractive.
Here's the truth about investing in IPOs…
Should I Buy CarGurus Stock?
Before retail investors could buy CARG stock, well-connected investors like hedge funds and large banks could buy CARG stock at $16 per share.
This is called the IPO offering price.
However, retail investors had to pay $29 per share when the stock opened to the public this morning.
That means retail investors have already lost money because the CARG stock price is trading below its opening price that retail investors could have first bought shares at.
That's why Money Morning Director of Technology & Venture Capital Research Michael Robinson doesn't believe retail investors should invest in overhyped IPOs.
"I generally tell retail investors to avoid buying an IPO at the open because the insiders have already made all the money available at the debut," Robinson said.
You see, prices can soar for a few days after a company goes public, which nets early investors the biggest gains. However, retail investors are often buying in at an inflated price, and stock prices after a public offering can be extremely volatile.
When there are opportunities to profit from public offerings, we let our readers know through our free Profit Alerts service.
You can find out more about it, right here.
Tiny Company Poised for a 28,700% Sales Surge: Bill Gates and the billionaires at Google have invested millions in a technology that's about to transform medicine as we know it. Wall Street insiders have boosted their holdings by as much as 2,000%. Now, after an epic legal battle, a tiny $6 million company has just won in a shocking patent verdict. With 40 registered patents and 500 patents pending, it's positioned to dominate the U.S. medical markets for decades to come – and an imminent announcement could ignite a 28,700% revenue surge. Go here now for full details…
Follow Money Morning on Facebook, Twitter, and LinkedIn.