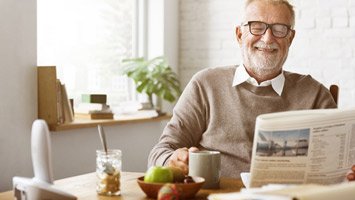 The top dividend stocks for retirees to buy now can provide those in their Golden Years the extra income and capital growth they need to live the retirement of their dreams.
For those retirees who have already created and executed a plan for their financial future and still have extra money to invest, Money Morning has a strategy to supplement your main retirement funds and provide extra income.
But let's get one thing straight first: This is not a retirement plan. It is extra income on top of what you've already got. And these investments should only be made with the extra money you have.
Simply put, these are the best dividend stocks to buy if you're a retiree. As any financial planner would advise, they provide excellent dividends and are also from solid, stable companies.
Even better, they fit nicely into Money Morning Chief Investment Strategist Keith Fitz-Gerald's "Unstoppable Trends." These companies operate in sectors that won't see a decrease in demand if the market turns down...
"Unstoppable Trends" Are the Key to Stable Investments
The key to making huge profits is to find "must-have" companies that fall into what Fitz-Gerald calls the six "Unstoppable Trends." These trends are backed by trillions of dollars that Washington cannot derail, the Fed cannot meddle with, and Wall Street cannot hijack. They are:
Medicine
Technology
Demographics
Scarcity and allocation
Energy
War, terrorism, and ugliness (also known as "defense")
Investing in companies that tap into these trends will pay off huge. It is the sweet spot of the changes that will drive the economy forward long into the future.
That's why we're targeting these trends for retirees looking to buy some stock with their extra cash.
Here are the three top dividend stocks for retirees today...
Top Dividend Stocks for Retirees, No. 3: Arlington Asset Investment Corp.
The first stock on our list today is Arlington Asset Management Corp. (NYSE: AI), which primarily acquires and holds mortgage-related assets. The company's portfolio consists mostly of agency-backed mortgage-backed securities (MBS) and private-label, residential MBS. The best part is its massive 17.4% dividend yield.
AI has nearly $5 billion in its portfolio and is massively profitable. In fact, its profit margin is 38.8%. Plus, AI is likely to continue growing its dividend.
Must See: This Great Depression-Era "Secret" Helped Transform Two Teachers into Millionaires. Read More...
Fitz-Gerald likes AI because of its long-term stability, which is essential for it to keep paying such a spectacular dividend. The company has raised its dividend 92% since 2010.
Allied stock is down 14.3% this year, but that has not stopped investors from pouring money into its shares. Technical indicators that measure money flows and serve as proxies for demand have been rising since March.
Analysts remain bullish on AI stock, with an average price target of $13.71 per share. That represents a modest gain of 8.1% from today's price. One analyst has a target of $14.50, good for a 14.4% return. Those gains would be in addition to the whopping 17.4% dividend yield...
Top Dividend Stocks for Retirees, No. 2: Lockheed Martin Corp.
The second dividend stock on our list is defense contractor Lockheed Martin Corp. (NYSE: LMT). While its dividend yield is not as spectacular as Arlington's, it pays investors $2 every quarter for each share they own. That's good for a 2.5% dividend yield, which still beats 10-year Treasuries and does not even include LMT's growth potential.
With a profit margin of 10.37% and total revenue of $47.2 billion annually, the company is raking in a profit of nearly $5 billion a year. And in 2017, the company announced it was increasing its yearly profit projections by 5%.
The company is exceptionally well-managed, with billions in government contracts across the world.
It is also the prime contractor on THAAD, the Terminal High Altitude Area Defense ballistic missile system now deployed in South Korea. Basically, this is a "missile shield" that can intercept and destroy any missiles fired at the United States or its allies.
As the North Korean threat escalates, demand could rise.
Lockheed Martin stock is up 27.5% this year and has also outperformed the market since 2012.
Now, here's the top dividend stock for retirees to buy today, which boasts a 3.03% dividend yield...
[mmpazkzone name="in-story" network="9794" site="307044" id="137008" type="4"]
Top Dividend Stocks for Retirees, No. 1: ABB Ltd.
Finally, the top dividend stock on our list today is ABB Ltd. (NYSE: ABB), a Swiss company specializing in the development and provision of power and automation technologies.
The company has been a Global Fortune 500 company for 23 years. It is also a logical choice for the $3.2 trillion to $5 trillion that will be spent worldwide over the next nine years on new and aging power grids.
But that is not all...
Fitz-Gerald says the company is actually billing itself as a "technology leader" rather than an industrial supplier, and that's important for its future. It's a subtle distinction most investors miss, but an important one, because it tells you a lot about where management is headed at a time when the world is pivoting irreversibly towards bits and bytes.
"Not many investors realize this, but more than 55% of ABB's sales are already from software and digitally enabled devices," he added.
That means ABB's future is looking bright, but its income potential is what attracts us to it here.
ABB stock is up 19.5% this year and pays a healthy 3.03% dividend yield.
Fitz-Gerald is a believer in the maxim that "price is what you pay, but value is what you get," and ABB delivers value.
Seventeen Triple-Digit Winners This Year... and Counting
Keith Fitz-Gerald's Money Map Report subscribers who have followed along with his recommendations are now sitting on 17 triple-digit winners this year - including a 201.68% return and 132.35% gain that closed out in the same week.
Each week, Keith shows everyday Americans how to tap into the world's biggest high-profit trends, ahead of the crowd.
There's nothing complicated or overly risky - and no guesswork involved.
Right now he's looking at another double-your-money opportunity, and there's still time to get in on it. Find out how to subscribe and access all of Keith's recommendations by clicking here now.
Follow Money Morning on Twitter @moneymorning, Facebook, and LinkedIn.