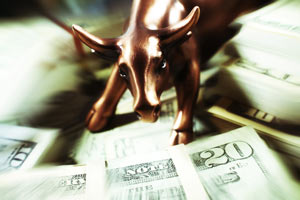 In his latest stock market prediction, Money Morning Chief Investment Strategist Keith Fitz-Gerald says the S&P 500 has plenty of upside potential ahead in this current bull market. Today, we'll share with readers exactly how high he sees the markets climbing by the end of 2017…
It's a bold view in a bull market that is already the second-longest on record without at least a 20% drop. And while Keith remains bullish, many Wall Street "experts" keep claiming stocks are too highly valued.
These pundits point to the battles in Washington over taxes and healthcare. The U.S. Federal Reserve is ready to increase interest rates. And the threat of escalating tensions in North Korea looms large.
"Despite it all, rather than melting down, the market is far more likely to move higher," Fitz-Gerald said.
Here are his top three reasons why the market should move significantly higher before the bull market is over. Plus, we'll show you exactly how high he sees the market climbing before the end of 2017…
Why We're Bullish: The Herd Is Almost Always Wrong
Right now, so many investors are worried about the end of the bull market that many are just sitting on the sidelines.
"Millions of investors are bracing for doom and gloom," Fitz-Gerald said. "Historically speaking, that's a dead giveaway and an ultra-reliable sentiment indicator that the opposite is far more likely to happen for the simple reason that the 'herd' is almost always wrong."
Urgent: An $80 billion cover-up? Feds use obscure loophole to threaten retirees… Read more…
In the beginning of a bull market, the prevailing mood is usually quite fearful. It gradually turns to hopefulness and, as the masses accept the fact that stock prices are rising, it becomes confident.
However, as a bull market nears its end, people become overconfident. They overlook problems that start to appear and think, "this time it is different." That is far from the case today.
Think about the dot-com bubble of 1999-2000. Stock prices moved up so fast that standard valuation methods could not keep up. It did not matter that a company had no earnings. Instead of price/earnings ratios, some espoused price/advertising ratios. It was insane.
Such excessive bullish sentiment gave way to a bust in stock prices as people woke up.
A similar feeling was prevalent at the top of the housing bubble just before the financial crisis in 2007.
The opposite happens at major bottoms.
In March 2009, after months of financial asset price destruction, sentiment was so bearish that more than 70% of investors surveyed by the American Association of Individual Investors were bearish. The long-term average of bears in the survey is only 30.5%. Bearishness was at a record high.
When the vast majority think one way, the market usually goes the other way. Why? Because everyone who wanted to sell theoretically already has sold.
And in bull markets, sentiment gets so bullish that everyone who wanted to buy theoretically already has bought. Again, with such skepticism out there, this cannot be the case.
Why We're Bullish: Unlocking Vast Piles of Cash at the Stroke of a Pen
The whisper of actual tax reform will send markets screaming higher.
"Critics don't believe this is possible, especially now that the markets have run up an incredible 23% since Trump's election on nothing more than hope and a bull market that's a whopping eight-and-a-half years old," Fitz-Gerald said.
"Then imagine what happens when there's actual reform," he continued.
U.S. non-financial companies hold a staggering $1.84 trillion on their balance sheets, of which $1.3 trillion is held overseas. That's according to research from Moody's. Apple Inc. (Nasdaq: AAPL), which is notorious for avoiding taxes, holds roughly 47% of that total.
That is a big number, so let's put it into context. The U.S. gross domestic product (GDP) is approximately $19 trillion. The amount of cash held overseas equals 6.8% of the U.S. GDP.
And it's equal to more than one-third of the $4.1 trillion U.S. federal budget for fiscal year 2018.
Editor's Note: Get stock market updates and moneymaking opportunities delivered directly to your inbox with free Profit Alerts. Click here to sign up now…
Even if only half of that money comes home, it would represent a huge opportunity for businesses to grow, to invest, and to hire workers. And that does not even take into account the ripple effect of workers being able to spend more money. They will buy goods and services of others who then, in turn, have more money to spend.
"Again, most people don't believe it will happen," Fitz-Gerald argued. "There are huge disagreements about which rates to cut and how much, which deductions to ditch, and whether or not the tax package would be revenue neutral."
"None of which matters."
Fitz-Gerald says investors only need to remember that perception eventually becomes reality.
Why We're Bullish: Money Is on the Move
"Third, the economy is in a lot better shape than most people think," Fitz-Gerald said.
Many investors have a hard time believing it, and that's linked to their fears in the stock market.
Here are just a few of the data points Fitz-Gerald cited in his forecast.
Manufacturing activity is at a 13-year high.
Service sector activity is at a 12-year high.
Airlines passenger loads are at record levels.
Median home prices are up 5% over last year.
A record 6.2 million jobs are available in this country right now.
Unemployment is 4.2%, its lowest level since 2001.
A record 43% of Americans surveyed believe the economy is in excellent or good shape, according to CNBC's All America Economic Survey – a 10-year high.
"What most investors are missing (or simply refuse to believe) is that huge piles of cash are flowing into the world's stock markets in search of the world's best investments," Fitz-Gerald said. Capital flows to where it's treated best and can grow the fastest.
Capital does not have emotions. It does not care about what investors fear.
And right now, it is flowing into global stock markets. Money flowing in means huge demand for stocks. And huge demand leads to rising prices.
Interestingly, Fitz-Gerald is not the only one who thinks a big rally could be lurking in the wings.
Bill Stone, chief investment strategist for PNC Management, made the case on CNBC recently that the S&P 500 could jump aggressively in the very near future. He primarily based that on where consensus earnings were for 2018.
Here's exactly how high Fitz-Gerald sees the S&P 500 climbing from here…
Here's Our Bold New Stock Market Prediction for the End of 2017