The last November OPEC meeting sent oil prices rocketing 20% higher in less than a month, and this year's Nov. 30 meeting will be just as important for the energy market...
OPEC's current agreement - the one negotiated during last November's meeting - caps the total oil production of OPEC and 11 other countries. The agreement limits oil production to 32.5 million barrels a day, a 1.8 million-barrel-per-day reduction from last year.
By capping oil production below 2016 output, the cartel is helping end the global oil glut that sent prices tumbling from $107.95 a barrel in June 2014 all the way down to $26.19 by February 2016. That was a 75% drop.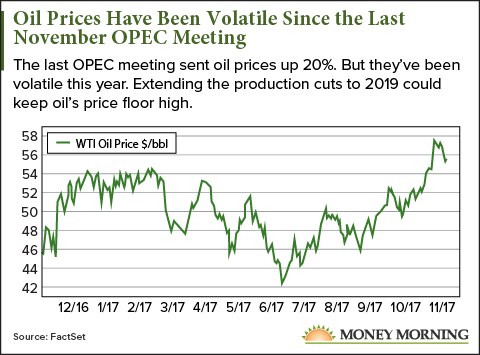 In fact, the compliance rate among OPEC members for the production cap reached a high of 120% in September. That means they cut even more oil than the agreement asked them to.
But the agreement is set to expire in March 2018, just as oil prices are rising again.
The price of WTI crude is up 30% since it hit a 2017 low in June of $42.19 a barrel. Now that the IEA lowered its oil demand forecast for 2018 by nearly 200,000 barrels, OPEC's ability to maintain the production cap is even more important.
Here's what the November OPEC meeting means for oil prices in 2018, including what's really going to drive oil prices higher in 2018...
Will OPEC Extend Its Production Cut Agreement?
Barring an emergency meeting, this will be the last time OPEC meets before the March 2018 deadline. So, if it doesn't agree to extend the deal on Nov. 30, it will most likely expire in March.
A failure to reach an agreement could send oil prices tumbling.
And the media aren't convinced OPEC will get an agreement in place during the meeting in Vienna.
"The outcome is far from certain," according to a Bloomberg report on Nov. 15.
Saudi Arabia's $100 Billion Plan to End Big Oil: It can power your car, heat your home, and even run entire factories. And the cost of this fuel is zero. It's free. Click here.
Bloomberg reasons that OPEC members can't agree on which oil forecasts will be most accurate in 2018. OPEC itself, for instance, expects demand for oil to rise, while the IEA just downgraded its forecast. The two forecasts are more than 1 million barrels apart.
Plus, Russia, the leader of the 11 other non-OPEC members participating in the cuts, is reluctant to extend the agreement beyond the March 2018 expiration date.
The news isn't all bleak, however...
Money Morning Global Energy Strategist Dr. Kent Moors thinks OPEC won't have much trouble extending the deal in Vienna.
"The next OPEC meeting will be an agreement in principal to continue the cuts and the caps through the end of 2018," Moors said.
Moors says declining production in Venezuela is collapsing thanks to an economic crisis, while Libya and Nigeria simply can't maintain their recent production levels. That means OPEC members won't have to work as hard to keep oil production down, and that makes extending the agreement in their best interests.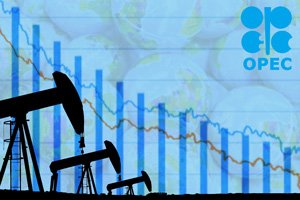 And if OPEC extends its production cap, that will be a bullish signal for oil traders.
But there's another catalyst that will keep pushing oil prices higher in 2018...
According to Moors, there's finally a balance in the oil market.
What he means is that the supply of oil is finally matching demand. In other words, when demand outstripped supply, the prices rocketed to unsustainable highs, like the $107 price in 2014. When there was too much oil supply, the price crashed.
These drastic swings between oil supply and demand explain oil's volatility over the last three years.
Trending: Oil and Gas Prices Are About to Unlink
Now supply and demand are in harmony.
Moors says that means oil prices will continue to rise, but they'll do so sustainably. Consistently rising prices won't trigger a new glut of oil.
And that's creating a new opportunity for oil investors...
Investing in oil stocks will become profitable once again. That's especially true with the United States' oil companies operating in the Permian Basin, where $20 billion worth of oil was just discovered late last year.
Now that the oil price floor is rising, it's only a matter of finding the right oil stocks to invest in.
And Moors has identified one small company that's about to cash in, and you can find out all about it in his latest report...
You Could Multiply Your Money 10 Times Over with American Oil Stocks