Socially responsible investments (SRIs) align shareholders' personal values with profit opportunities, and investors are pouring their hard-earned money into ethical companies.
Between June 2015 and June 2017, investors paid more than $2 trillion for socially responsible investments, according to CNBC.
What makes these investments different are the companies' social, environmental, and governance philosophies.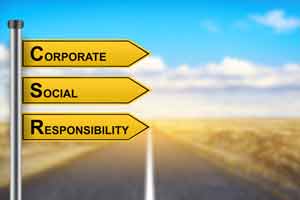 And thanks to the dividends of the three stocks we have today, shareholders feel even better following this new investing strategy.
Combined with dividend payouts and stock price increases, some of these socially responsible stocks have turned $10,000 investments into nearly $60,000 in the last 20 years. Those are the types of steady returns that give investors their dream retirements.
Now, it's true not every socially responsible company is worth investing in...
The iShares MSCI KLD 400 Social Idx Fd (NYSE ARCA: DSI) is an index that tracks "U.S. companies that have positive environmental, social, and governance characteristics."
But DSI has only climbed 17.58% in the last 12 months, while the Dow Jones Industrial Average has climbed 23.60% in that same time.
There are some laggards in DSI weighing it down.
That's why we did the research and found the top three holdings that are socially responsible AND will make you exceptional long-term profits.
In fact, one of the dividend payouts for this company has climbed over 8,300% over the last 30 years...
All three socially responsible stocks also have a dividend yield of at least 2.5%. In comparison, the average dividend yield of the S&P 500 is just 1.87%, according to Multpl.com.
Here's the first socially responsible dividend stock on our list today...
Socially Responsible Investments, No. 3: Clorox Co.
Clorox Co. (NYSE: CLX) has been in business since 1913 and is best known today for its bleach and disinfecting wipes.
But its diverse portfolio contains some of the most well-known brands, from condiments to cat litter, including:
Hidden Valley Ranch
Burt's Bees
Brita
Glad
Kingsford
Fresh Step
In terms of social responsibility, Clorox's 2020 Strategy plan guides its business on reaching goals for corporate responsibility, workplace safety, and philanthropy.
It also includes Clorox's goals for addressing environmental sustainability, diversity, and inclusion.
Thanks to its transparency, Clorox received the Most Innovative Corporate Social Responsibility Disclosure Policy Award from Corporate Secretary magazine in 2013.
This Book Could Make You a Millionaire: The secrets in this book have produced 42 chances to double, triple, and even quadruple your money this year alone. Claim your free copy...
The award recognized the company's "Think Outside the Bottle" report, which Clorox says was its first time combining its environmental, social, and financial performance in one report.
Clorox also founded the Clorox Company Foundation in 1980, which has given more than $100 million to nonprofit organizations, schools, and colleges.
And not only is Clorox a socially responsible company, it will also make shareholders more money.
In the next 12 months, financial service provider BMO Capital Markets projects the CLX stock price will climb to $150 per share. From today's opening price of $133.84, that's a potential profit of 12.07%.
Clorox also pays a dividend of $0.84, good for a 2.5% yield. Clorox has been increasing its dividend payout every year since 1977, but it wasn't until 1983 that the dividend payout reached $0.01 per share.
With the payout now $0.84 per share, that's an 8,300% dividend increase over 34 years.
And reinvesting those dividends has built a nice nest egg...
If you invested $10,000 in CLX on Nov. 17, 1997, when the stock price was $34.87 per share, your investment today would now be worth $58,513.87 if you had reinvested those dividends.
Video
Here's How DRIPs Work
That's a 485.13% return in 20 years.
During the same time, the Dow climbed just 208.62%. So, if you put your money in an index fund tracking the Dow's performance, your original investment would only be worth around $30,000 right now.
That's an extra $28,000 just for letting your dividends go to work for you...
The next stock on our list has been named one of the most ethical companies for three years straight.
It also rewards its shareholders with a $0.54 dividend, a 3.30% yield....