European Central Bank President Mario Draghi generated some buzz after saying that digital currencies like Bitcoin are not a threat to the central bank's control over monetary currencies.
"We think that all this is pretty limited. So it's not yet something that could constitute a risk for central banks," he said in remarks covered by Reuters.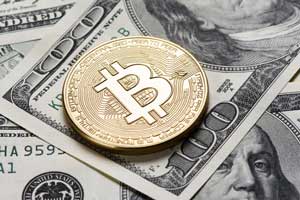 Bitcoin supporters, though, are paying more attention to a new price prediction.
Standpoint Research founder Ronnie Moas hiked his Bitcoin forecast for 2018 to $14,000 from $11,000.
Below is a recap of the top cryptocurrency prices at 11:00 a.m. EST
Bitcoin: $8,278.88, +0.59%
Ethereum: $367.23, +0.85%
Bitcoin Cash: $1,200.24, +0.95%
Ripple: $0.235, -1.96%
Dash: 507.29, +14.21%
Litecoin: $71.47, -0.78%
Now that we know all of today's price movements, here's what has been moving these cryptocurrencies...
Cryptocurrency Markets Today
On Tuesday, the market capitalization of the global cryptocurrency sector hit $244.85 billion. Bitcoin's market capitalization comprised 56.4% of the total crypto market capitalization.
Top performers from the largest 50 cryptocurrencies by market capitalization included Metaverse ETP (up 20.45%), Bitshares (up 18.50%), Dash (up 14.21%), Factom (up 5.96%), Populous (up 7.49%), Augur (up 4.54%), and Ardor (up 3.22%).
Must See: CoinDesk's Top 5 Analysts to Follow in the Cryptocurrency Market
The worst performers from the top 50 largest cryptocurrencies by market capitalization included TenX (down -10.74%), NEO (down -10.22%), Power Ledger (down -9.15%), Veritaseum (down -9.00%), and Byteballs Bytes (down -5.70%).
Investors Are Waiting for Bitcoin Futures
Despite reports that it will launch Bitcoin futures on Dec. 11, 2017, CME Group has issued a statement to the contrary.
The firm corrected a previous announcement and said the launch will occur sometime during Q4 2017.
Video
How Medical Marijuana Could End the U.S. Opioid Crisis
The Chicago-based firm's website now reads: "Effective Q4 2017, and pending all relevant regulatory review periods, please be advised that CME will launch Bitcoin futures."
Ethereum Eyes $400
The Ethereum price traded above $400 as investors continue to look to the company's ongoing upgrades as a source of optimism.
In an interview with Bloomberg, cryptocurrency investor and billionaire Mike Novogratz predicted that Bitcoin would hit $10,000 and Ethereum would hit $500 by the end of the year.
Dash Leads Altcoin Prices Higher
It was a big day for investors of Dash, as the cryptocurrency pushed into the top five by market capitalization.
This morning, the core team at Dash announced plans to partner with Kuvacash, a program that aims to solve rampant inflation in Zimbabwe.
The platform will provide a peer-to-peer, localized cryptocurrency payment service to anyone in the region who owns a phone-based messaging system.
Russia Dismisses Bitcoin Legalization
Russian Bitcoin enthusiasts received a rude awakening this week.
Russia's minister of communications and mass media said that his country will never consider the legalization of Bitcoin and other cryptocurrencies.
"Bitcoin is a foreign project for using blockchain technology, the Russian law will never consider Bitcoin as a legal entity in the jurisdiction of the Russian Federation," Nikolai Nikiforov said, according to state media organization TASS.
Up Next: Never Miss a Cryptocurrency Opportunity Again
Did you know we have a free research service that finds the most profitable opportunities in cryptocurrencies today? It gives you real-time recommendations and price updates on only the best ways to make money now.
Here's everything you need to know.
Follow Money Morning on Twitter, Facebook, and LinkedIn.