With an abridged trading week last week, the price of silver was unable to gain any significant traction, climbing just 0.6% for the week. Despite the stagnant performance last week, I still see silver prices climbing significantly by the end of the year…
The only real possible driver was the weakening U.S. dollar, yet silver's modest gains were not commensurate with that opportunity.
Some encouraging gains came mid-week, as market observers focused on the Federal Reserve. It seems their interpretation of the FOMC's concerns over "persistently weak inflation data" potentially leading to lower inflation expectations for a longer period weighed on the dollar and boosted silver prices.
The U.S. Dollar Index (DXY) shaved off 150 basis points in just four days, pushing silver from $16.85 to $17.13 post-Fed minutes release.
To be sure, seasonal trends and the dollar are likely to be the biggest near-term drivers for this metal. And despite the dollar's recent sell-off, I think it may be a little early to call the end of its recent counter-trend rally…
How the Price of Silver Is Trending Now
As silver opened for trading on Tuesday, Nov. 21, the precious metal changed hands at $16.90.  The DXY was pretty flat, though, moving from just above 94 in morning trading to just below that level for the remainder of the day. That seems to have been enough to help push silver higher. By 10:00 a.m., it had popped to $17, before it retreated back to $16.94 by the 5:00 p.m. close.
On Wednesday, silver got another turbo boost, as traders saw the DXY cascade and anticipated the dovish stance the Fed's minutes would reveal. Silver was at $16.96 as 8:00 a.m. arrived, and shot to $17.11 by 10:00 a.m. The move was prompted by the DXY, which peaked at 93.9 around 9:00 a.m., then proceeded to weaken to 93.25 by 5:00 p.m. On that cue, silver gained to close at $17.14.
Urgent: Executive Editor Bill Patalon just saw something on his precious metals charts he's only seen twice in 20 years. He calls it the "Halley's Comet of investing" – and it could lead to windfall profits. Read more…
Thursday's silver price action was pretty muted, as was the dollar's. Silver opened at $17.08, and after quiet Thanksgiving trading, it closed just $0.01 lower, at $17.07.
Here's tracking the DXY's movements over the past five trading days.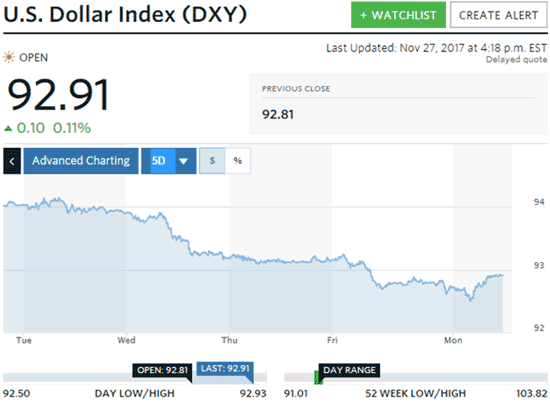 Then, on Friday, as trading opened following the holiday, silver was unable to make any real headway despite a cooperative dollar. The DXY stood at 93 at 8:00 a.m., but weakened shortly after to about 92.75 the rest of the day. Silver started New York trading at $17.01, ran up to $17.08 by 9:00 a.m., then gave all of that back to end the abbreviated trading day right back at $17.01.
On Monday, Nov. 27, silver saw a mini-spike at the open as the dollar weakened further. The DXY was at 92.60 at 8:00 a.m., and it bottomed at 92.50 just before 9:00 a.m. It then reversed and climbed back to 92.93 by 5:00 p.m. Still, this dollar revival didn't hurt silver, which spiked to $17.14 at mid-morning, then pared back to maintain itself above $17 into the close.
Now that we've taken a look back at last week's silver price movement, here's my price target for the end of 2017…
My Bullish Silver Price Target for the End of December 2017
Join the conversation. Click here to jump to comments…
About the Author
Peter Krauth is the Resource Specialist for Money Map Press and has contributed some of the most popular and highly regarded investing articles on Money Morning. Peter is headquartered in resource-rich Canada, but he travels around the world to dig up the very best profit opportunity, whether it's in gold, silver, oil, coal, or even potash.