In the past week, the silver price has been a victim of the same negative drivers as gold.
New records for the Dow and Bitcoin, as well as oil hitting highs not seen since mid-2015, lured silver investors away. That's why I've created a new silver price target for the end of the year.
The recent pullback has been enough to maul even the most ardent of silver bulls. But I'd like to warn any doubters against giving up.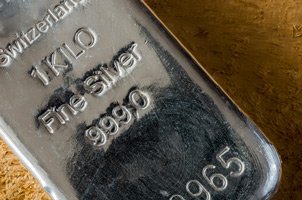 It's true that, thanks to its most recent weakness, silver's gone nowhere for two months. And on a year-to-date basis, the metal is positive, but just barely. There's no doubt it's been a struggle and weak hands are selling.
Yet, there's a high probability that on cyclical, seasonal, and fundamental bases, silver's getting ready to rally to much higher levels in the next months and years.
The challenge is to not pay any attention to the "white noise" surrounding this metal.  Instead, stay focused and stay invested.
Here's a closer look at the most recent moves in the market, along with my brand-new silver price target…
Silver Prices Pulled Back This Week
Silver prices opened on Tuesday, Nov. 28, on weakness, which was to set the tone for the balance of the week.  The grey metal started at a peak of $17.05, but quickly succumbed to a rally in the U.S. dollar that was just getting started. The DXY was at 93.08 by 8:00 a.m., and climbed to 93.25 by the close, which helped pushed silver down to $16.84 by that time.
Urgent: Executive Editor Bill Patalon just saw something on his precious metals charts he's only seen twice in 20 years. He calls it the "Halley's Comet of investing" – and it could lead to windfall profits. Read more…
On Wednesday, a very similar pattern played out. The DXY reached 93.35 at 8:00 a.m. and consolidated high to 93.25 by 5:00 p.m. That action again weighed on silver, which opened at $16.82 but quickly sold down to $16.50 by 1:00 p.m., and closed at that same price.
On Thursday, silver opened slightly lower, at $16.45, and reached its low of $16.30 for the day at 1:00 p.m., despite weakness in the DXY, which took it down to 92.73 at 10:45. From there the DXY bounced back, but it was only able to consolidate around the 93 level after testing 93.50 in the early morning. So silver buyers stepped in mildly, pushing the metal back to $16.41 at its close.
Here's the DXY's action for the past week: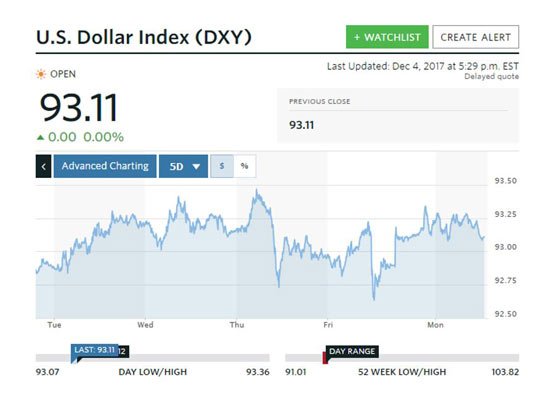 As we reached the first day of the last month, Friday's action would bring a test of another low for silver.  The grey metal opened at $16.36, but a morning rally in the DXY to 93.20 pushed silver down to $16.25 by 9:00 a.m. But the dollar sold off, with the DXY hitting 92.75 just before noon, helping silver to recover and close at $16.41.
Then, as a new trading week began on Monday, Dec. 4, silver's nemesis the dollar maintained its strength until late afternoon. The DXY would consolidate around the 93.25 level, pushing silver to a $16.31 open. At 10:00 a.m., it touched $16.23, then bounced back to close at $16.29.
While this dip has be undoubtedly frustrating for silver investors, there are technical indicators in the silver market that show how prices could climb significantly by the end of the year…
Why I've Just Released My Bullish New Silver Price Target
Join the conversation. Click here to jump to comments…
About the Author
Peter Krauth is the Resource Specialist for Money Map Press and has contributed some of the most popular and highly regarded investing articles on Money Morning. Peter is headquartered in resource-rich Canada, but he travels around the world to dig up the very best profit opportunity, whether it's in gold, silver, oil, coal, or even potash.