The Trump White House is taking a page right out of President Reagan's playbook. When Reagan took office in January 1981, he sought to rebuild a military depleted by years of war and tough congressional budgets.
Trump took office last January after campaigning on a defense buildup from a budget of around $580 billion. He said he wanted to beef up the military after prolonged battles in the Middle East and annual defense budget fights on Capitol Hill that limited weapons spending.
That's why Trump called for a fiscal 2018 defense budget that is 10% larger than the year before, making it the biggest increase since the Reagan years.
Make no mistake, this gives us a "target-rich" opportunity for the new year. After all, Trump wants more airplanes, tanks, and troops, as well as technology for missile defense and a wide range of other platforms.
And today, I'm going to reveal the defense trends I see for 2018 and show you how to play them with a market-crushing investment...
Defense Investing Is in My Blood
When it comes to analyzing defense trends, I do have a bit of an insider's advantage. See, I grew up in a military high-tech household and have been following the industry for some 45 years now.
Breaking: California Marijuana Legislation Sparks the Most Profitable Opportunity of 2018. Click Here for Details...
Not only that, but my dad was the award-winning senior military editor for Aviation Week and Space Technology magazine, the bible of the industry. That's how I ended up with a front-row seat to the Reagan defense investments of the 1980s.
Trump is far from alone in his defense ambitions. Last month, the U.S. Senate passed a 2018 military spending bill worth $700 billion, a figure that was actually more than what Trump had sought.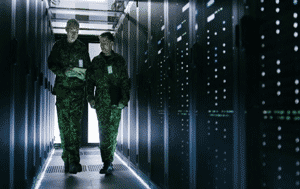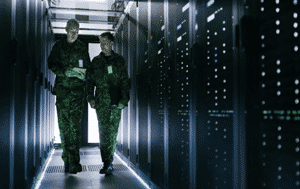 (Note: At the deadline, the final figure still was not known because the White House and Congress had agreed to a stop-gap spending measure designed to avert a government shutdown before passage of the entire U.S. fiscal budget.)
Trump wants to upgrade the military from stem to stern with more troops, tanks, ships, and aircraft. Bear in mind that we expect to this to be a long-term trend as well. Trump wants to increase the defense budget another $683 billion over the next 10 years.
But the year ahead should be particularly good for investors because of the trends embedded in the White House's defense vision.
Take a look at five key defense trends for 2018...[mmpazkzone name="in-story" network="9794" site="307044" id="137008" type="4"]
A Year Packed with Threats and Opportunities
North Korea will dominate the headlines next year, and not just because the rogue nation keeps testing long-range missiles and is building a nuclear arsenal. Fact is, the 2018 Winter Olympics take place in a portion of South Korea just a 268-mile drive from the border with the North. This is going to lead to daily talks among average Americans about the danger North Korea poses.
Missile Defense is closely related to the situation with North Korea. Not only is there a growing sense that we need to be able to shoot down that country's missiles, the Pentagon also wants that technology to become pervasive, meaning we would be able to defend against multiple missile launches from anywhere.
Hypersonic Technology. As part of its own military buildup, China wants to soon start testing hypersonic weapons and aircraft. Traveling at seven miles per second, missiles of that nature could hit the United States in 14 minutes. Last September, Orbital ATK Inc. said it's helping the Pentagon develop hypersonic aircraft that can fly at more than five times the speed of sound.
Cybersecurity. Most folks don't know this, but the Pentagon and defense contractors are already at war - a cyber war, that is. Hackers from around the world, but especially from Russia and China, try to steal our military secrets on an hourly basis.
For 2018, I'm looking for the Defense Department to put renewed emphasis on protecting its computer networks and electronics from hacking.
Here's the Best Way to Play All of This
That's why I think investors would do well to take a good look at the PowerShares Aerospace & Defense ETF (NYSE Arca: PPA). This is a cost-effective ETF made up of 80% defense and aerospace stocks from companies that are proven leaders.
The fund has a solid mix of companies that includes cutting-edge small caps like FLIR Systems Inc. (Nasdaq: FLIR), the world's predominant maker of commercial thermal-imaging cameras.
There's also the advanced materials firm Hexcel Corp. (NYSE: HXL), which supplies honeycomb composites to some of the biggest names in the aerospace industry.
Aerovironment Inc. (Nasdaq: AVAV) is a leader in drone technology and supplies the Pentagon with unmanned vehicles used for battlefield intelligence gathering.
But the heart of this ETF play is found in its top 10 holdings. They include many well-capitalized companies that have succeeded for decades regardless of Washington's defense budget battles.
These firms also are set up to take advantage of Trump's plans for more soldiers, aircraft, and ships, as well as advanced technology.
Raytheon Co. (NYSE: RTN) is a full-spectrum company that provides the Pentagon with systems for electronic warfare, laser rangefinders, military training, and advanced radar.
Plus, the company's intercept vehicles, radars, and space sensors work together to protect the United States and its allies against ballistic missiles, cruise missiles, aircraft, and other threats.
For its part, Lockheed Martin Corp. (NYSE: LMT) is well-known for making military aircraft. But the firm also supplies combat ships and ground vehicles as well as advanced radar and tactical communications.
Lockheed Martin's reach also includes space exploration, satellite systems, and climate monitoring. Moreover, the company has deep expertise in biometrics, cybersecurity, and the booming field of cloud computing.
And Northrop Grumman Corp. (NYSE: NOC) has a wide spectrum of operations that cover everything from advanced sensors to missile defense to cybersecurity.
The company makes manned and unmanned aircraft for defense applications. It's also collaborating with Yamaha to develop an autonomous helicopter with onboard intelligence gathering equipment for such civilian uses as search and rescue and forest fire observations.
Meantime, Northrop Grumman also provides the military with electronic warfare and infrared countermeasures. In addition, the firm gives us a strong play on sensor technology, advanced materials, and laser weapons systems.
In other words, this ETF literally covers every aspect of the U.S. military's programs with an emphasis on sophisticated technology.
PPA has returned 28% so far this year. That's about 51.3% better than the S&P 500's 18.5% gains over the same period
And this ETF is set to pile up profits for years to come as Trump ushers in a new era in the nation's defense program.
Pot Stock Profits: $20.2 billion... that's the amount of money expected to pour into California's cannabis market following their upcoming legalization of recreational marijuana. This could spark the most profitable opportunity of 2018. For details on three tiny pot stocks that could hand you the biggest gains, click here now...
Follow Michael on Facebook and Twitter.
About the Author
Michael A. Robinson is a 36-year Silicon Valley veteran and one of the top tech and biotech financial analysts working today. That's because, as a consultant, senior adviser, and board member for Silicon Valley venture capital firms, Michael enjoys privileged access to pioneering CEOs, scientists, and high-profile players. And he brings this entire world of Silicon Valley "insiders" right to you...
He was one of five people involved in early meetings for the $160 billion "cloud" computing phenomenon.
He was there as Lee Iacocca and Roger Smith, the CEOs of Chrysler and GM, led the robotics revolution that saved the U.S. automotive industry.
As cyber-security was becoming a focus of national security, Michael was with Dave DeWalt, the CEO of McAfee, right before Intel acquired his company for $7.8 billion.
This all means the entire world is constantly seeking Michael's insight.
In addition to being a regular guest and panelist on CNBC and Fox Business, he is also a Pulitzer Prize-nominated writer and reporter. His first book Overdrawn: The Bailout of American Savings warned people about the coming financial collapse - years before the word "bailout" became a household word.
Silicon Valley defense publications vie for his analysis. He's worked for Defense Media Network and Signal Magazine, as well as The New York Times, American Enterprise, and The Wall Street Journal.
And even with decades of experience, Michael believes there has never been a moment in time quite like this.
Right now, medical breakthroughs that once took years to develop are moving at a record speed. And that means we are going to see highly lucrative biotech investment opportunities come in fast and furious.
To help you navigate the historic opportunity in biotech, Michael launched the Bio-Tech Profit Alliance.
His other publications include: Strategic Tech Investor, The Nova-X Report, Bio-Technology Profit Alliance and Nexus-9 Network.