Gold prices in 2018 are already up nearly 2% on the year, and the biggest gains are still on the way...
According to an indicator called the "January Effect," assets that start strong in early January tend to do well for the remainder of the year.
That's exactly what's happened with gold prices.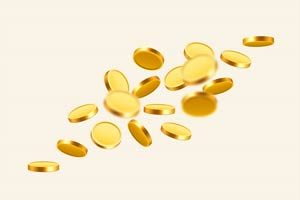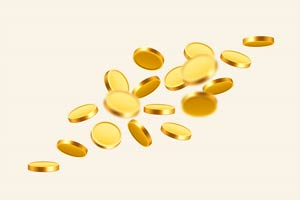 In just the first trading week of 2018, gold prices jumped $17, for a 1.3% gain. Helping it along were hedge funds and other speculators jumping onto the precious metals bandwagon as the U.S. dollar took a hit.
Now, the price of gold just marked five consecutive weeks of gains, hitting a four-month high in the process.
Free Book: The secrets in this book helped one Money Morning reader make a $185,253 profit in just eight days. Learn how to claim your copy here...
With such impressive momentum on its side, 2018 is shaping up to be a banner year for gold.
Today, I'm breaking down gold's price movement over the last week, plus I'll show you where gold prices are heading next...
Gold Prices in 2018 Are Extending 2017's Gains
The start of the last trading week was flat to negative, as the U.S. dollar continued a small bounce higher.
On Monday (Jan. 8), gold opened at $1,318, just $1 lower than the previous Friday's (Jan. 5) close. The headwind for the metal was the rising dollar, with the U.S. Dollar Index (DXY) rising above 92.3 by 8:00 a.m. It would maintain that level most of the day, yet gold still managed to close $2 higher, at $1,320.
On Tuesday (Jan. 9), the DXY's rally intensified, rising to 92.6 for a good part of the day. That weighed on gold prices, which opened lower at $1,314 and declined on balance to close out at $1,312.
But a strong dollar sell-off came on Wednesday (Jan. 10), fed by a rout in the global government bond market.
A Bloomberg story said the Chinese government may be rethinking its massive hoard of U.S. Treasuries. That news fueled heavy gold buying prior to the New York's market open, which pegged gold prices at $1,322. They then fell, but still managed to close at $1,317.
But the DXY really began to fall on Thursday (Jan. 11), which you can see right here...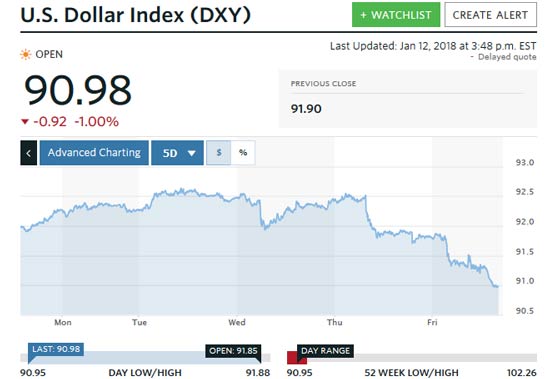 On Thursday, dollar selling intensified, pushing the DXY from 92.5 at 7:30 a.m. to 91.8 by 10:00 a.m. Gold buyers came back into the market, lifting gold to $1,319 by the open and steadily higher to close at $1,322. With that, the dollar's recent bounce increasingly looked like it was over.
Then, on Friday (Jan. 12), U.S. consumer price inflation came in slightly above expectations. But the dollar suffered another bout of selling, dropping below 91.5. Gold opened at $1,326 and popped to test $1,340 by late afternoon, as the DXY fell further to lows just below 91.
As the dollar continues to weaken, the price of gold will continue to rise in 2018.
Here's my gold price prediction for the next month, plus my 2018 gold price forecast...
My 2018 Gold Price Prediction
Join the conversation. Click here to jump to comments…
About the Author
Peter Krauth is the Resource Specialist for Money Map Press and has contributed some of the most popular and highly regarded investing articles on Money Morning. Peter is headquartered in resource-rich Canada, but he travels around the world to dig up the very best profit opportunity, whether it's in gold, silver, oil, coal, or even potash.