Just three days ago, the widely followed U.S. Dollar Index (DXY) was trading at 92.5.
Today, it's already 200 basis points, or more than 2%, lower. The dollar has now clearly broken down like I've been saying we should expect.
That, combined with overly negative sentiment, a strong seasonal bias, and a return to a bull market, have silver trending higher. In the immediate term, silver prices today are down 1.4%, to $17.20, but don't expect this dip to last. However, silver prices are still up roughly 9.2% since mid-December.
If the dollar continues to weaken, expect that to help drive even further gains for this underappreciated and dramatically undervalued metal.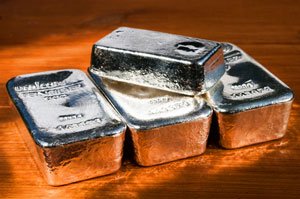 I think 2018 could see silver do even better than the current king of cryptos, Bitcoin.
But perhaps one of the biggest near-term drivers is going to be a return to positive sentiment as silver runs out of sellers…
Here's How Silver Prices Are Trending Now
Silver actually had a flattish week, as the DXY managed to consolidate high around 92.5. On Tuesday, Jan. 9, silver opened at $16.99 then trended downward on balance through the day.  That took the metal steadily lower to finally close at $16.93.
BREAKING: Executive Editor Bill Patalon just saw something on his precious metals charts he's only seen twice in 20 years. He calls it the "Halley's Comet of investing" – and it could lead to windfall profits. Read more…
On Wednesday, the DXY dipped just below 92 around 7:00 a.m., then rallied back to 92.3 by 5:00 p.m. Silver prices popped to $17.10 on the dollar's short-lived weakness at 7:00 a.m., then retreated to open at $17.07, and kept declining to eventually close at 16.94.
Thursday would turn out to be calm as well, despite a sell-off around 7:20 a.m. that took the DXY to 92.08 by 8:00 a.m., then lower still to 91.81 by 10:00 a.m. Silver opened flat at $16.93, but gained only slightly to close at $16.96.
Here's the DXY's action of the past week.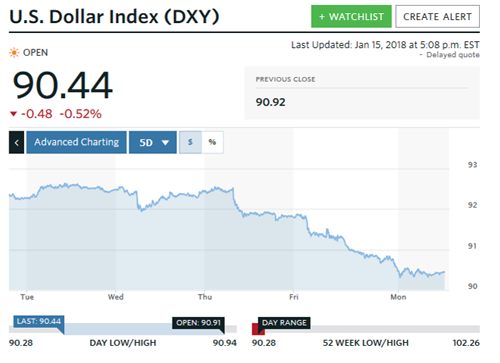 Friday brought nearly identical action in the DXY as Thursday, only earlier in the day. The DXY sold off again, this time around 3:00 a.m., from 91.77 to 91.4 by 4:00 a.m. By 8:00 a.m., when silver began New York trading, the DXY was at 91.3, and silver had jumped to $17.12. By 2:00 p.m., the DXY was just above 91 but trending downward, and silver had rallied higher yet to $17.19, eventually closing at $17.21.
On Monday, Jan. 15, silver rallied further as selling pushed the dollar lower. The DXY was at 90.43 by 8:00 a.m., and silver buying had pushed the metal to $17.33, where it closed out the day as the dollar had remained basically flat.
Now that we've examined how silver prices have been trending, here's my bullish outlook for the metal in 2018…
Here's How High Silver Prices Are Headed in 2018
Join the conversation. Click here to jump to comments…
About the Author
Peter Krauth is the Resource Specialist for Money Map Press and has contributed some of the most popular and highly regarded investing articles on Money Morning. Peter is headquartered in resource-rich Canada, but he travels around the world to dig up the very best profit opportunity, whether it's in gold, silver, oil, coal, or even potash.