The United States doesn't want a peaceful resolution to the North Korea conflict right now.
And for a good reason - one that transcends China's repeated calls for diplomatic talks in a time of relative tranquility between Seoul and Pyongyang.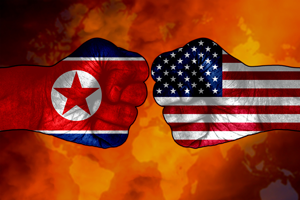 And China has been putting on the pressure. China's Foreign Ministry spokesman Lu Kang accused the United States of maintaining a "Cold War mentality" toward North Korea yesterday (Jan. 16), Reuters reported.
"Only through dialogue, equally addressing the reasonable concerns of all parties, can a way to an effective and peaceful resolution be found," Lu added, in response to news that America was still considering a military strike on the Hermit Kingdom.
But "equally addressing the reasonable concerns of all parties" comes with an inexcusable catch.
Here's what we mean...
Diplomacy Without Conditions for North Korea Is Not an Option
The West doesn't want a peaceful resolution with North Korea at this point, because right now, North Korea still has nuclear weapons.
And the flat-out truth of the matter is it shouldn't.
Defense Stocks Are Skyrocketing - See How You Could Profit from This Incredible Company Before It's Too Late
U.S. Secretary of State Rex Tillerson said as much at yesterday's meeting, when he pushed for greater economic pressure on the regime.
"We must increase the costs of the regime's behavior to the point that North Korea comes to the table for credible negotiations," he said, according to The Washington Post today. "The object of negotiations, if and when we get there, is the complete, verifiable and irreversible denuclearization of North Korea."
To back off from pressuring Kim Jong Un now in order to "keep the peace" - as China suggests - would be akin to telling him, "If you stop making more weapons and knock off the threats, you can keep what you have."
And that's not an option.
That's why the United States and Canada cohosted a 20-nation meeting in Vancouver yesterday to consult on how best to increase sanctions on North Korea. China was not invited.
It's not that the West wants a preemptive strike. Quite the opposite.
A senior State Department official said yesterday that when U.S. Defense Secretary Jim Mattis briefed the Vancouver summit participants Monday evening, he stressed the U.S. preference for a diplomatic solution to denuclearize North Korea while keeping a military option on the table, reported WaPo.
Basically, this means that the ball's in North Korea's court when it comes to diplomacy, but the United States can still maintain the safety of its people in the interim.
Editor's Note: Don't miss a single update on North Korea's weapons advancements and what the U.S. defense industry is doing to halt its progress. Get real-time alerts sent to your inbox, completely free, here.
Should U.S. President Donald Trump be forced to exercise a military option, he would immediately have the U.S. military's nuclear forces at his disposal. Those forces include submarine-launched ballistic missiles, land-based ICBMs, and bombers carrying either cruise missiles or gravity bombs.
And it's the manufacturers of these forces that American investors should put their money in now.
Here's one of our favorite plays to do just that...
Investors Should Preemptively Strike on This Defense Play
Investors would do well to take a good look at the PowerShares Aerospace & Defense ETF (NYSE Arca: PPA). This is a cost-effective exchange-traded fund (ETF) made up of 80% defense and aerospace stocks from companies that are proven leaders.
Take a look at the companies PPA holds...
Aerovironment Inc. (Nasdaq: AVAV) is a leader in drone technology that supplies the Pentagon with unmanned vehicles used for battlefield intelligence gathering.
Raytheon Co. (NYSE: RTN) is a full-spectrum defense firm that provides the Pentagon with systems for electronic warfare, laser rangefinders, military training, and advanced radar.
Lockheed Martin Corp. (NYSE: LMT) is well-known for making military aircraft. But the firm also supplies combat ships and ground vehicles, as well as advanced radar and tactical communications.
And Northrop Grumman Corp. (NYSE: NOC) has a wide spectrum of operations, which covers everything from advanced sensors, to missile defense, to cybersecurity.
The PPA ETF just about covers every aspect of the U.S. military's programs, with an emphasis on sophisticated technology.
And in the past year, it's outperformed the S&P 500's 23% gains with 34% gains of its own.
And this ETF is set to pile up profits for years to come as Trump ushers in a new era in our nation's defense program.
You Can Double Your Money No Matter What Happens with North Korea
We're offering a "free" book for Money Morning readers.
With the secrets you'll find in this book, we've produced 89 chances to double, triple, and even quadruple your money in the past two-and-a-half years - 42 chances this year alone!
You'll also learn how to play market volatility, meaning that no matter what North Korea does to the markets, you can still find money-doubling opportunities.
Fun fact: You only have to double $500 11 times to turn it into $1 million.
Click here to learn how you can claim your free copy today.
Follow Money Morning on Twitter @moneymorning, Facebook, and LinkedIn.