A gold bull market is underway. In fact, Money Morning Resource Specialist Peter Krauth predicts gold prices will hit $1,500 by the end of 2018 and could surge more than 300% by 2020.
That's why today we'll show you our best gold stock to buy in 2018.
Investors could take advantage of rising gold prices by owning physical gold or gold-backed exchange-traded funds (ETFs) like SPDR Gold Shares (NYSE: GLD). But Krauth says one of the most lucrative ways to play the gold bull market is through gold mining stocks.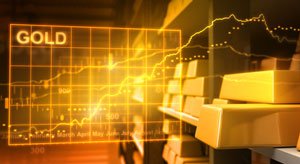 Not only do their share prices move alongside gold's price, but stocks like the one we're about to show you deliver investors nearly three times greater returns than gold ETFs.
We'll reveal our best gold stock for 2018 in just a minute. But first, let's look at why the price of gold will continue to soar...
Gold Remains the Strongest Safe-Haven Asset
As we all know, 2017 was a banner year for the stock market. The S&P 500 climbed 18.4%, and the Dow Jones Industrial Average picked up an astonishing 24.3%.
But the stock market will never go in one direction forever. That's why investors flock to gold as a safe-haven asset when they're concerned the stock market will have a major correction.
Urgent: Executive Editor Bill Patalon just saw something on his precious metals charts he's only seen twice in 20 years. He calls it the "Halley's Comet of investing" - and it could lead to windfall profits. Read more...
Gold is also a hedge against inflation.
Inflation is the rate at which the price of general goods and services increases and the purchasing power of the dollar decreases.
That's why the U.S. Federal Reserve started raising interest rates in Q4 2016 to manage inflation.
The current 1.6% inflation rate is at its second-highest level in the last five years. And that number is expected to climb as the stock market keeps reaching higher highs.
There's been a growing sense of uncertainty among investors as the stock market keeps hitting records. Rising inflation often convinces people the economy is growing unstable, which can cause investors to exit the stock market.
Since assets like gold are considered safe havens during times of economic uncertainty, gold prices will rise as people protect themselves.
And, there's also a shocking, predictive relationship between rising interest rates and gold prices...
As Interest Rates Rise, So Do Gold Prices
Since 1986, Fed interest rate increases have been followed by strong gold gains.
Before the rate increase, you'll see gold prices skid. But then, after the actual rate increase, they'll rally. This is supported by 30 years of data.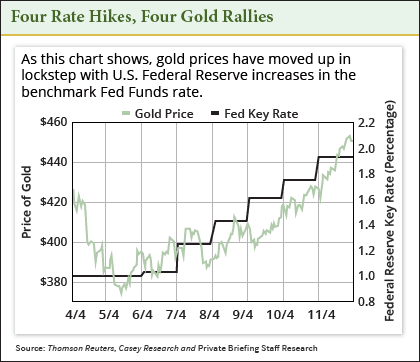 And this trend is happening again right now. The Fed's September 2017 meeting showed an interest rate hike wouldn't be likely until December 2017. And gold prices peaked last year at $1,348.80 on Sept. 8, before falling to $1,240.
When the Fed raised interest rates for the third time in 2017, on Dec. 12, the price of gold shot up from $1,240 to $1,309 by Dec. 29, for a 5.56% gain in 17 days.
Investors know gold entered an uptrend two years ago, in 2015. It hit its most recent low that year, when gold sold for $1,045 per ounce, and it has been climbing since then. At the current price of $1,332 (Jan. 18), gold has risen more than 27% since then.
As a result, Krauth envisions the trajectory of gold prices from here could mirror their performance in the 1970s. During that decade, gold prices rose a stunning 1,429.3%, from $38.90 in 1970 to $594.90 in 1980.
The point is, long-term gold investors can enjoy whopping profits. If you'd purchased an ounce of gold in 2001, you would have paid $255. In 2008, it would have been worth more than $1,923, for a 654% gain in seven years.
Video
Meet the Trading Expert Who Could Help Make You a Millionaire
The price of gold is in an uptrend across the globe. Since 2013, gold prices in the European Union have risen more than 25%. In Australia, it's climbed 24% since 2014. In India, the price has advanced 14% since bottoming in 2015. Lastly, in Japan, the price of gold has gained 11% since the 2015 bottom.
Now that we've explained why gold prices will continue climbing, here's our best gold stock to buy in 2018...