Gold prices in 2018 are already gaining thanks to the "January Effect" I told you about last week, and the government shutdown this week won't slow them down.
After breaching the $1,300 level on the very last trading day of 2017, the price of gold has pushed even higher in 2018.
Editor's Note: 10 Reasons Why Gold Could Hit $3,000 in 2018
The yellow metal peaked at $1,343 early last week (Tuesday, Jan. 16). That marked a four-month high as the gold traders realized central banks around the world were likely to start "catching up," which means raising rates as their economies begin improving.
Ongoing weakness in the U.S. dollar has also supported higher gold prices, and I don't see that trend ending anytime soon. Rather, I think an even lower dollar lies ahead and should help fuel further gains for the precious metal.
And a recent Commitment of Traders report shows money managers have been adding to their long gold futures positions as they follow its price higher.
That's just one more reason my 2018 gold price target is within reach. I'll show you that prediction in just a minute, but first, I want to show you how gold prices moved last week…
The Price of Gold Last Week Hit Its Highest Point Since September
After a strong start last week, with gold hitting a high of $1,343, the metal seems to have moved, at least temporarily, into consolidation mode.
On Monday (Jan. 15), gold opened at $1,342 as the U.S. Dollar Index (DXY) fell below previous support levels to fresh multi-year lows. The DXY had been working its way lower already on Friday, but Monday brought fresh lows that sent commodities soaring. The DXY dropped to 90.43 by 8:00 a.m. and meandered around that level through the day. After a strong open, gold gave back $2 to close at $1,340.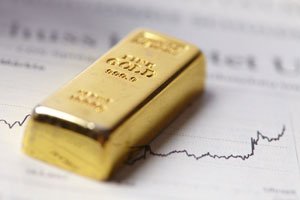 Then on Tuesday (Jan. 16), gold profit-taking became the order of the day, as the DXY clawed back slightly. Dollar-buying helped push the DXY back to 90.63 by 8:00 a.m., with gold opening at $1,335. Renewed afternoon weakness in the dollar pushed the DXY back to 90.47 by the close, pushing gold prices up to $1,338.
Another small bout of dollar-buying sent the DXY higher, to 90.77 by 8:00 a.m. Wednesday (Jan. 17), and gold backed off to $1,335. But an afternoon DXY rally to 91 caused gold to tank after 2:00 p.m., falling to $1,327 by the end of New York's trading day.
Urgent: Executive Editor Bill Patalon just saw something on his precious metals charts he's only seen twice in 20 years. He calls it the "Halley's Comet of investing" – and it could lead to windfall profits. Read more…
But the dollar saw the most action on Thursday (Jan. 18). Check out how steep the DXY fell…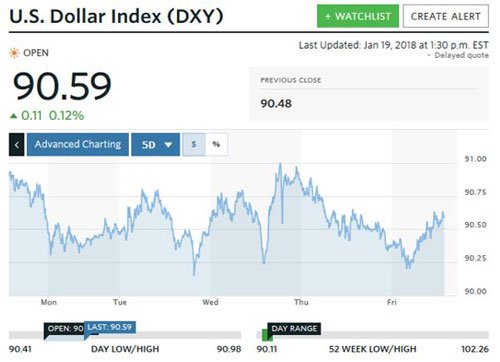 The dollar's decline on Thursday brought a small rebound for gold prices. At 8:00 a.m., the DXY retreated to 90.60, and gold opened at $1,328. The dollar weakened even more as the day progressed, as did gold, which backed off to close at $1,326.
On Friday (Jan. 19), gold finally benefited from the dollar's weakness at the open, when the DXY was at 90.47, helping gold start out at $1,335. But the DXY was bouncing back from early morning lows and kept climbing. By early afternoon, it had reached 90.60, pushing gold back to about $1,333 by 2:00 p.m.
Despite the DXY's volatile week, it's trending down over the long term. The DXY is down over 10% since this point last year.
And that means last week's gold price high will be the first of many this year.
Here's where I see gold prices reaching in the next month and by the end of the year, even with the government shutting down…
Gold Prices in 2018 Can't Be Slowed by a Government Shutdown
Join the conversation. Click here to jump to comments…
About the Author
Peter Krauth is the Resource Specialist for Money Map Press and has contributed some of the most popular and highly regarded investing articles on Money Morning. Peter is headquartered in resource-rich Canada, but he travels around the world to dig up the very best profit opportunity, whether it's in gold, silver, oil, coal, or even potash.