Welcome to a trader's dream: earnings season. There's nothing that gets my blood pumping more than this time of year.
It gives us a target-rich environment, with multiple trading opportunities virtually every day.
Why? It's because of something I call the "FAR Principle," which means in order to beat the market with trading, you need the underlying stock to move fast, aggressively, and in the right direction.
Earnings is the one event that we can usually count on to take care of the fast and aggressive requirements.
Now I'll show you how to make sure you're right, and you know the direction of the stock's move.
In fact, it's the most important of the three FAR elements.
Let me show you…
Here's How You Get the Direction Right
I use a number of indicators to gauge where professional and retail traders think a stock is headed. And as those expectations reach an extreme or are at odds with a stock's performance, that's when my trading endorphins start flowing.
MONEY ERUPTION: Regular stocks can throw off rapid triple-digit gains in just days – This guy can find them…
Here's the list…
Short Interest: High short interest can set a stock up for a short-squeeze rally on any move higher in the stock.
Analyst Rankings: The number of analysts recommending a stock as a "buy," "sell," or "hold." Analysts tend to over-rank a stock with buy ratings, so when I see a lot of holds or even a few sells, that tells me the market is bearish. That leaves room for a lot of upgrades that can boost a stock's price.
On the other hand, when analysts are overwhelmingly in the buy camp, upgrades are hard to come by. The expectation bar is high, and even a decent earnings report can cause a few downgrades that can drag a stock lower.
I don't rely solely on the expectational environment. I also use the charts to judge whether a stock is in a bullish or bearish pattern. For that, I key in on the 50-day moving average. I'm bullish if the stock is above the rising 50-day and bearish if it's below a declining 50-day.
Price Action: Price action heading into an earnings report. Is a stock pulling back to its bullish 50-day moving average? That may signal a "sell the rumor, buy the news" situation. In other words, this stock is poised to take off, especially if short interest is high.
We're in the thick of the current earnings season right now. Last week was the busiest week yet, with 100 S&P 500 companies on the schedule. Another 108 are due during the following two weeks.
So now is when I'm providing my Seismic Profit Alert subscribers with the most profitable opportunities.
Here are three trades that have popped up on my radar.
Earnings Blast No. 1: C.H. Robinson Worldwide Inc.
Seismic Profit Alert Members just logged their fourth 100%-plus profit of the month on a CHRW call that I recommended in late December. But I don't think the party is over quite yet, especially with earnings around the corner.
CH Robinson reports on Jan. 30, and the stock has a penchant for running up into the report. The chart below shows that CHRW has been a beast, gaining nearly 50% since August. The rally pulled the 50-day moving average above the 200-day moving average and into a steep incline, both signs of a powerful stock.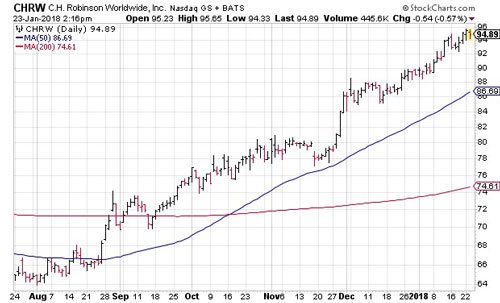 Chris showed his paid-up subscribers 589.63% in total winning moves, closed over just five days in January. And now he's offering a stunning performance guarantee for those who get in now. Click here for details…
Yet, expectations for CHRW shares are muted. Short interest is high and showing signs of rolling over. That tells me the shorts are finally throwing in the towel and unwinding their positions. To do that, they need to buy the stock, which just adds more buying power to the shares.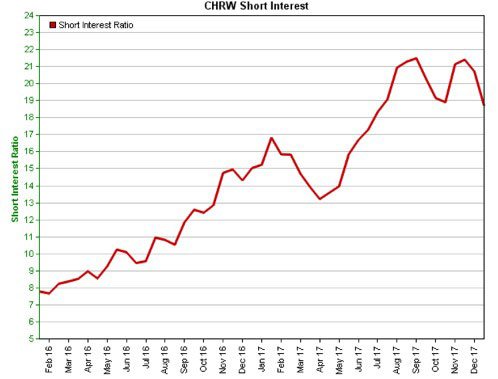 Analysts are also skeptical of the stock. Just one-third of covering analysts rate the stock a "buy," while more than half consider CHRW a "hold." I'm not sure what chart these guys are looking at, but I expect them to come around and start passing out CHRW upgrades.
With short interest unwinding and plenty of room for more analyst "buy" rankings, look for this rally to continue. To leverage the expected FAR move, look at buying the Feb. 16 $95 call.
Earnings Blast No. 2: Bristol-Myers Squibb Co.
Over the past four-plus months, Bristol-Myers Squibb has been a disappointment. While the broader market indexes set record highs nearly every week, BMY stock has been flat.
Currently, the shares are stuck in a trading range between 60 and 63 that is bisected by the flat 50-day moving average.
There's not much to get excited about in this chart.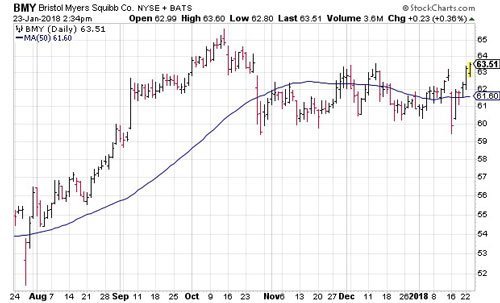 The most compelling aspect to my bearish view on BMY, however, is the market's view of the stock. Nearly half the covering analysts rate the stock a "buy." By itself, I don't consider that fact terribly meaningful. What interests me is that analysts have become more bearish toward BMY in recent months, which is a trend that won't help the stock break free from its current range.
What's more, short interest is low and continues to decline. This takes a short squeeze out of play. More importantly, it tells me that investors have higher expectations than are justified by Bristol-Myers Squibb's recent price action. This is a dangerous combination, especially heading into earnings on Feb. 5, 2018.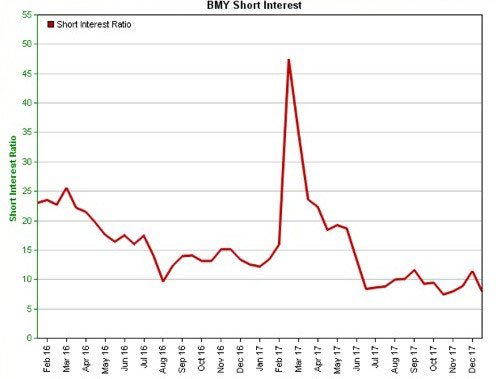 Traders looking to play BMY shares for weakness with earnings approaching should play the Feb. 16 $63 put.
Earnings Blast No. 3: Harley-Davidson Inc.
Here's a stock that I just recommended to my Seismic Profit Alert subscribers, so why not come along for the ride?
The Harley HOG has been on a tear of late, gaining more than 20% in a little over two months. The powerful move has pulled the 50-day moving average into a strong uptrend so that the trendline is poised to cross above the 200-day moving average for the first time since July 2016.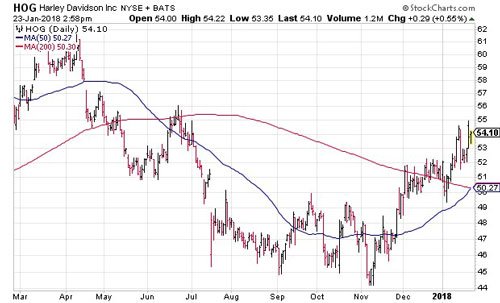 Given HOG's 30% decline from the March 2017 high, it's not surprising that sentiment toward the stock has been anything but cheery. Short interest has steadily risen to a two-year high. Analysts have likewise been unimpressed, with just 12% "buys," 76% "holds," and 12% "sells."
But here's the key to my bullish stance: Both indicators are showing signs of turning. Short interest may be peaking and should start to rapidly decline into a short squeeze should the stock continue its upward path. And a few recent upgrades suggest that analysts are warming up to HOG shares. Further upgrades should give the stock a boost, which should help the shorts unwind even further.
This stock may be a HOG, but it's no pig. Ride Harley into earnings on Feb. 5, 2018, with the Feb. 16 $55 call.
Don't let earnings season pass you by. It's the best time to be a trader, especially if you know how to figure out future direction.
Learn How You Could Turn a Small Stake into $31,000 in Just 10 Weeks
Dozens of S&P 500 companies will be making major announcements over the next several weeks that could send shockwaves throughout the market, setting off massive potential price jumps.
Knowing how to get in two full days ahead of the biggest, most promising share-price potential gains is an advantage that's never been available – until now.
Chris Johnson has developed a tool that gives 48-hour advance notice of these kinds of price eruptions – with 100% certainty.
His recommendations this year are off to an incredible start – like 153.59% on FCAU on Jan. 8…
56.70% on ADBE on Jan. 8… 102.78% on OZRK on Jan. 11…
…and then an additional 276.47% on FCAU on Jan. 12. That's 589.63% total winning moves in just five days!
Right now, Chris is tracking dozens more opportunities that could help you trade your way to some serious cash – fast.
In fact, with just a small stake, you could see as much as $31,000 in just 10 weeks.
Go here now to see how this works…
Follow Money Morning on Twitter @moneymorning, Facebook, and LinkedIn.
Join the conversation. Click here to jump to comments…
About the Author
Chris Johnson is a highly regarded equity and options analyst who has spent much of his nearly 30-year market career designing and interpreting complex models to help investment firms transform millions of data points into impressive gains for clients.
At heart Chris is a quant - like the "rocket scientists" of investing - with a specialty in applying advanced mathematics like stochastic calculus, linear algebra, differential equations, and statistics to Wall Street's data-rich environment.
He began building his proprietary models in 1998, analyzing about 2,000 records per day. Today, that database, which Chris designed and coded from scratch, analyzes a staggering 700,000 records per day. It's the secret behind his track record.
Chris holds degrees in finance, statistics, and accounting. He worked as a licensed broker for 11 years before taking on the role of Director of Quantitative Analysis at a big-name equity and options research firm for eight years. He recently served as Director of Research of a Cleveland-based investment firm responsible for hundreds of millions in AUM. He is also the Founder/CIO of ETF Advisory Research Partners since 2007, noted for its groundbreaking work in Behavioral Valuation systems. Their research is widely read by leaders in the RIA business.
Chris is ranked in the top 99.3% of financial bloggers and top 98.6% of overall experts by TipRanks, the track record registry of financial analysts dating back to January 2009.
He is a frequent commentator on financial markets for CNBC, Fox, Bloomberg TV, and CBS Radio and has been featured in Barron's, USA Today, Newsweek, and The Wall Street Journal, and numerous books.
Today, Chris is the editor of Night Trader and Strikepoint Trader and contributes to Money Morning as the Quant Analysis Specialist.