We are in the midst of a gold bull market, and Money Morning Resource Specialist Peter Krauth says gold will trade for $1,500 an ounce by the end of 2018. But he has another shocking gold price prediction we'll reveal today...
But rest assured, 2018 will be a great year for investing in gold. Krauth's $1,500 price target implies a gain of 12.62% from today's prices of $1,331.90.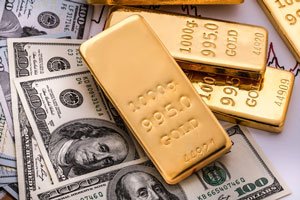 Today, we're going to show you three reasons why you should own gold, and the best way to invest in gold in 2018...
Why You Should Invest in Gold Now, Reason No. 3: Inflation Hedge
Because gold holds its value over time, the precious metal remains a reliable hedge against inflation. Throughout history, gold has protected the savings and wealth of people from the breakdown of paper currencies and inflation.
Ibbotson Associates has shown that as inflation increases, so does the price of precious metals.
This study suggests investors could strategically reduce portfolio risk and improve returns by allocating between 7% to 15% of their portfolios to precious metals.
Sign up for SMS so you never miss special events, exclusive offers, and weekly bonus trades.
Along with providing a hedge against inflation, gold also serves as a safe-haven investment...
Why You Should Invest in Gold Now, Reason No. 2: Safe Haven
No one can predict whether a stock market crash or downturn is on the horizon.
But owning gold helps protect your portfolio during times of economic uncertainty.
Gold always has value, unlike banks, corporations, or even fiat money. While these other entities can fail and lose their value, gold's history as the world's oldest currency shows its value isn't going away anytime soon.
It Only Takes 10 Minutes a Week to Double Your Way to $1 Million: This strategy doesn't require any special training - yet it could potentially put $1 million in your bank account faster and easier than you ever dreamed...
Even the U.S. government continues to hoard $10 billion worth of gold bullion despite doing away with the gold standard in 1971. This is because gold has been known as a universal currency since 700 B.C.
As we continue to face global uncertainty in financial markets and beyond, the price of gold will soar in the coming year...
Why You Should Invest in Gold Now, Reason 3: Primed to Rally
Krauth not only predicts that gold prices will hit $1,500 by the end of 2018, but there is much more profit in store for investors of this precious metal.
According to Krauth, gold prices have the potential to soar nearly 300% by 2020, which is a massive windfall for investors in just under two years.
Now that we've explained why gold is an excellent investment this year, here is the best way to profit from the precious metal in 2018...
The Best Way to Buy Gold in 2018