The Boeing Co. (NYSE: BA) nearly doubled its share price in 2017 when it rose a whopping 98.4%, from $155.68 to $308.84. Over the same time period, the S&P 500 climbed just 22.5%, for comparison.
And thanks to Money Morning Executive Editor Bill Patalon, our readers have been able to take part in those gains.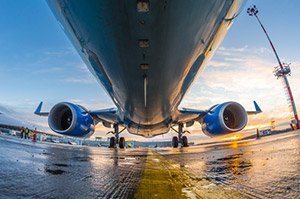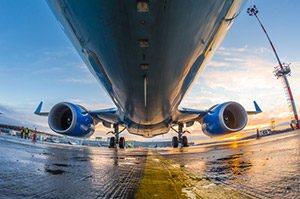 Boeing stock currently trades at about $344, which is 121% higher than its January 2017 price.
Behind the stock's stellar performance is a massive backlog for more than 5,860 passenger jets.
And it still has upside remaining, but after its incredible run, new investors shouldn't expect it to double again anytime soon.
That's why, in a bit, we'll reveal another excellent defense stock that we expect could double your money in 2018.
But first, we'll go over exactly what drove Boeing's meteoric rise…
Here's Why Boeing Stock Doubled in 2017
Boeing stock rewarded investors with almost 100% gains for the year, but it also showed significant growth potential for a stock most investors considered to be a boring, mature U.S. large-cap stock.
And fortunately for our loyal readers, Bill Patalon has been beating the drum on Boeing for seven years, advising them to keep buying on every dip.
One good buying opportunity came in 2013, when a series of fires occurred from the Li-ion batteries on the then-recently rolled out 787 Dreamliner.
As a result, between January 2014 and December 2016, the stock traded sideways between $108 and $158, with a brief opportunity on Feb. 8, 2016, to buy shares at the $108 low.
Bill pointed out at the time that Boeing would solve the issue and come back to be a premier company in aerospace. He said shareholders who stayed the course would be rewarded.
Those who bought BA shares after he first recommended them in 2013, when they traded at $75, ended up with astounding 358.66% returns five years later.
Silicon Valley Breakthrough: This tiny company's revolutionary new device is expected to "change the world on a scale hardly seen in human history." It could hand early investors a $78,000 windfall in the process. Here's how to get in…
That's pretty good for a stock some had written off as boring and mature.
And all the while, Boeing's innovation in aerospace never stopped. Boeing's super-efficient 787 Dreamliner is still way in front of its biggest rival, Airbus and its A380 Mega-Jumbo.
Today, Boeing has an order backlog of more than 5,860 model 737 and 787 Dreamliners. The company added an additional 912 orders in 2017 alone.
And the innovation doesn't stop with passenger jets. The company also has a solid foothold in the drone business.
But because of its meteoric rise last year, BA stock is getting close to being fully valued.
Our mission at Money Morning isn't just to find you high-quality stocks. We're also looking out for the highest possible returns on investment with reasonable risk.
Here's a company that could double your money by 2019 with its secretive black budget program that's the envy of the entire defense sector…