In an attempt to capture part of the $476 billion crypto currency market, famed video game maker Atari is launching its own token, dubbed the "Atari Token."
There aren't many details on how the video game maker plans to use the token, as it already has one for in-game purchases, according to CoinDesk.com.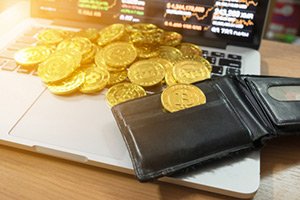 In addition, Atari may create another token, called "Pong Token," that could be used on gaming sites and crypto casinos.
Again, few details are available.
While the news is interesting, we don't see it as a profit opportunity for our readers.
But there is a way Money Morning readers can still profit from cryptocurrencies.
This is a cryptocurrency everyone else will regret not owning…
The No. 1 Crypto Tom's Buying Right Now
Tom Gentile just shared an urgent video giving the name of a cryptocurrency he thinks could surge in the very near future.
And when Tom speaks, we listen…
With nearly 30 years' experience in the securities industry, Tom Gentile is regarded as America's No. 1 pattern trader. Known as a master of developing rules-based trading strategies, he has invested millions of dollars to develop the most technologically advanced investing tools in the world.
The No. 1 Crypto Tom's Buying Right Now: Tom Gentile is predicting a massive price surge for a little-known cryptocurrency trading under $0.30. Click here to see his pick and exactly how to trade it.
And his readers have benefited from this breakthrough programming by being introduced to trades worth millions of dollars in profits.
Starting his investment career from his parents' home in 1986, Tom quickly climbed the ranks of the American Stock Exchange (AMEX). In 1993, Tom and a group of partners stared an educational company called Optionetics, which became a leader in the field of options education.
Optionetics was sold in 2009 to OptionsXpress, and eventually to Charles Schwab. After helping to facilitate a smooth transfer to Schwab, Tom could've easily sauntered off to a cozy retirement.
But that kind of thinking is not a part of the Tom Gentile DNA.
Since 2009, Tom has taught more than 300,000 traders the specific secrets of spotting high-probability and low-risk trade opportunities, and now he is going to use his years of options experience to pick winners to share with you.
Tom is an author and co-author of over a half dozen books, including "The Options Course," "The Volatility Course," "The Index Course," and "The Stock Market Course," each of which is accompanied by a hands-on practice workbook.
Tom has appeared on financial programs featured on CNBC U.S. Europe and Asia Squawk Box, Bloomberg, Reuters, and Fox Business Network with Neil Cavuto, and is a contributing columnist to Stocks and Commodities Magazine.
And he just shared an urgent video with his followers about cryptocurrencies…
Click here to see his crypto trade recommendation now…
Follow Money Morning on Facebook, Twitter, and LinkedIn.