Penny stocks have the potential to deliver massive returns off a small investment thanks to their affordable share prices below $5.
That's why today we'll show you the top penny stocks to watch this week, plus one of our best small-cap stocks to buy right now...
To see just how profitable penny stocks can be, just look at POET Technologies Inc. (OTCMKTS: POETF), which gained 85.1% last week, when it climbed from $0.225 to $0.4165.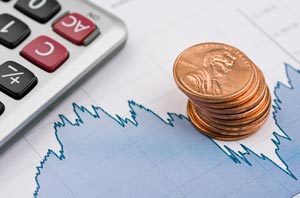 Today (Feb. 20), company executives were asked to respond to POET's increasing share activity at the request of the Investment Industry Regulatory Organization of Canada on behalf of the TSX Venture Exchange.
Company executives said that nothing materially changed in the business' operations last week. However, they also said the increased share activity could indicate growing interest or adoption for the photonic integrated circuits (PIC) the company makes.
PICs serve a similar function as electronic integrated circuits except specifically for devices with optical inputs and outputs. In simpler terms, any device with a tunable laser probably uses PICs.
And while an 80% gain for shareholders is great, the fact that POET's stock climbed over 80% in a week without any clear catalyst should underscore the risk of investing in penny stocks.
If a penny stock can swing up 80% for no reason, it could also swing down 80% for no reason.
That's why today we'll show you one of our expert recommendations along with the 10 top-performing penny stocks to watch this week...
Penny Stocks
Current Share Price
(as of Feb. 20)
Feb. 12-20 Gain
(as of Feb. 20)
POET Technologies Inc. (OTCMKTS: POETF)
$0.4165
85.1%
Finjan Holdings Inc. (Nasdaq: FNJN)
$2.94
67.05%
Intelsat SA (NYSE: I)
$3.50
38.89%
Genesis Healthcare Inc. (NYSE: GEN)
$1.39
37.62%
Paringa Resources Ltd. (OTCMKTS: PNGZF)
$0.41
32.30%
CytoDyn Inc. (OTCMKTS: CYDY)
$0.76
31.03%
Iconix Brand Group Inc. (Nasdaq: ICON)
$1.65
30.95%
AMERI Holdings Inc. (Nasdaq: AMRH)
$2.49
29.69%
Pangea Logistics Solutions Ltd. (Nasdaq: PANL)
$2.87
26.99%
MoSys Inc. (Nasdaq: MOSY)
$1.47
25.68%
FREE PROFIT ALERTS: Get real-time recommendations on the best penny stock opportunities the moment we release them. Just sign up here, it's completely free...
You see, penny stocks are speculative investments and can be extremely risky.
For instance, VistaGen Therapeutics Inc. (Nasdaq: VTGN) shot up from $0.92 to $2.55 on Dec. 6. Since then, the stock pulled back to $1.19. Investors who bought at $2.55 are sitting on a 53.3% loss today (Feb. 20).
Check out the sidebar for our rules for safely trading penny stocks.
Instead of finding speculative plays, our Money Morning experts are more interested in finding companies that will increase in value over the long term.
That's where Money Morning Small-Cap Strategist Sid Riggs comes in.
He's an expert at bringing readers profit opportunities with massive potential at an affordable price. Consider his pick from December 2013 - Neurocrine Biosciences Inc. (Nasdaq: NBIX). NBIX was trading for just $9 per share when Sid recommended it, and now it has surged 846.66%, to $85.20.
And today, we'll show you one of his top picks in the red-hot semiconductor space. Plus, this stock is still affordable for penny stock investors, with a share price under $10.
The company's revenue is now growing at a 20% clip, far faster than the 11.5% average growth of the broader semiconductor industry. But that's only part of the story.
Here's why this stock could soar next year...
The Best Small-Cap Semiconductor Stock to Buy for 2018