Last Friday (March 23), the U.S. Senate passed a $1.3 trillion federal funding bill that included an additional $61 billion for the nation's defense budget.
With the Pentagon set to invest billions of dollars in defense, we're bringing you the top defense stocks to buy in 2018, so you can profit from Congress' spending spree.
While the additional $61 billion assigned to the Pentagon is a small portion of the $700 billion allocated towards defense spending annually, there's a significant catch - this new $61 billion must be spent in the next six months.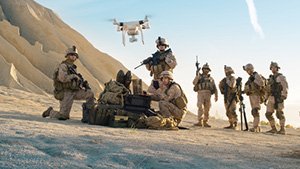 This means that the Pentagon will be pouring billions of dollars into the defense industry in the immediate future - a move that is sure to have a direct impact on the profit potential of our top defense stocks to buy in 2018.
Money Morning Director of Technology & Venture Capital Research Michael Robinson has identified three stocks that are perfectly positioned to take advantage of this avalanche of new funding
These companies have returned an average of 27% over the past 12 months and are sure to experience explosive growth in the wake of even more aggressive defense spending.
Let's take a look at our top defense stocks to buy and how you can position yourself for profit...
Top Defense Stocks in 2018, No. 3: Huntington Ingalls Industries Inc.
Huntington Ingalls Industries Inc. (NYSE: HII) is a major U.S. shipbuilding company that is involved in the design, construction, maintenance, and repair of both nuclear and non-nuclear vessels on behalf of the U.S. Navy and Coast Guard. It also refuels, overhauls, and deactivates nuclear-powered ships.
The Budget Control Act of 2011 put a damper on the U.S. shipbuilding industry when it reined in defense spending by $1.2 trillion over the following decade. However Congress' generous approach to military spending is likely to revitalize the industry.
Sign up for SMS so you never miss special events, exclusive offers, and weekly bonus trades.
In fact, it's already happening.
Over the last year, Huntington obtained $8.1 billion in new contracts, while the company's shares gained nearly 20%. The company's Q4 2017 earnings were $3.11 per share, which was roughly $0.20 over the forecast.
Don't Miss This Shot at a $78,000 Windfall: This tiny firm is about to make the entire world wire-free. As its game-changing technology revolutionizes the global power structure, its stock could hand investors a massive return. Learn more...
And it's shaping up to be a profitable 2018.
On Feb. 16, the government awarded the company with a massive $1.43 billion contract for designing and building the LPD 29, a San Antonio-class amphibious transport dock.
This is a 684-foot-long ship that is a major player in the U.S. Navy's modern amphibious assault force. With these ships, soldiers, equipment, and supplies can reach land simultaneously and then disembark via different types of landing craft.
Shares of Huntington are currently trading at $261. However, analysts have a high price target of $335 on the company - a gain of nearly 30%.
While those are strong gains, our next pick has even more explosive profit potential...
Top Defense Stocks in 2018, No. 2: The Boeing Co.
Aircraft and defense system manufacturer Boeing Co. (NYSE: BA) is on track to be a key player as the nation bolsters its defense spending.
Boeing is already in talks to take on several contracts with the U.S. government to build everything from refueling planes to helicopters. The U.S. Air Force is planning to spend $3 billion on 15 KC-46A Pegasus tankers, a Boeing aircraft that fuels other planes while in flight.
The company is also slated to produces several Apache, Chinook, and P-8 Poseidon helicopters. These are used in anti-surface ship and anti-submarine warfare.
In addition to its role in the defense sector, Boeing has a strong presence in the commercial aerospace business. It continues to receive ongoing orders for its 787 Dreamliner and 737 MAX 8 planes.
The company's 20% gains last year made it the top-performing Dow stock of 2017, and it is already the top Dow Jones Industrial Average stock this year.
But its growth is only going to continue...
The company reported earnings of $9 billion in 2015, which it expects to grow to roughly $13.6 billion in 2018. The increase in defense spending could push those numbers even higher.
Boeing stock is currently trading at $333. With such strong financials and demand behind the company, analysts see Boeing heading to $470 in the near future - a spectacular gain of 41% in just a year.
Both Boeing and Huntington are great buys for the defense spending boom. However, our top defense stock to buy has even more potential.
This defense stock's profits are set to soar 40% in the next 18 months. And that's before any additional military spending.
Here it is...